In an abrupt turnaround, Netanyahu cancels deal to resettle African migrants in Israel. Now what?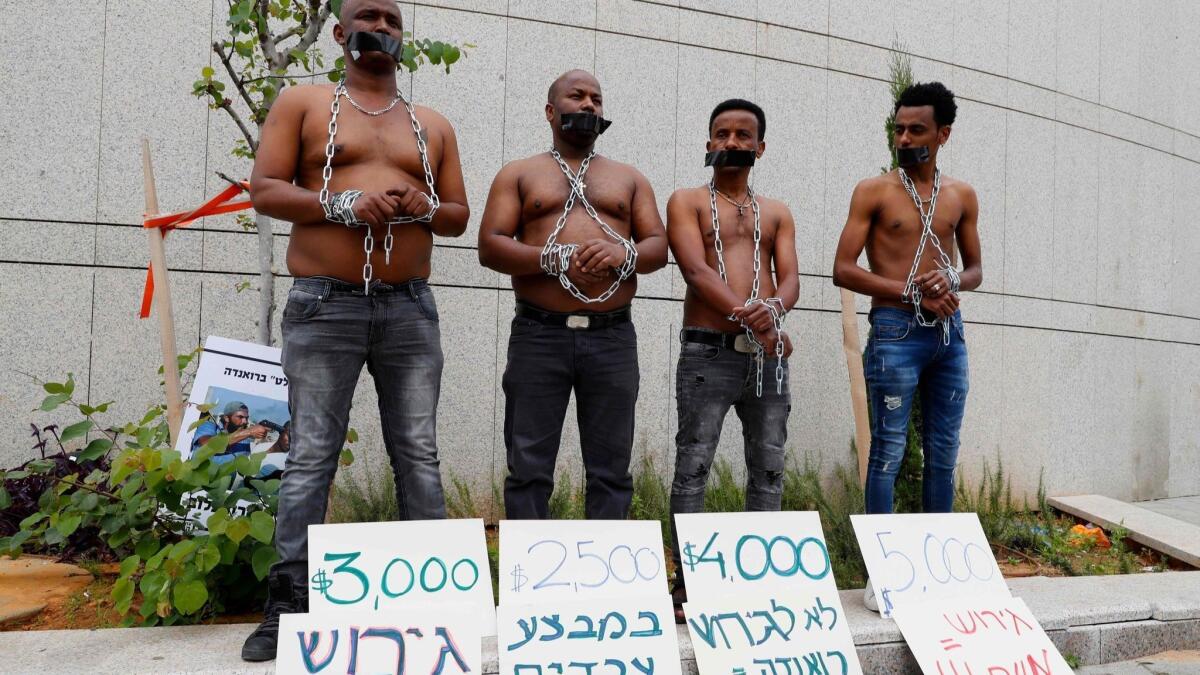 As political flip-flops go, this one was as dramatic as they come.
In an elaborately staged address to the nation Monday, Israeli Prime Minister Benjamin Netanyahu announced a new policy regarding refugees and migrants achieved through an agreement signed with the United Nations High Commissioner for Refugees.
By Tuesday, he unceremoniously and unilaterally canceled the agreement, leaving about 39,000 migrants feeling deflated, along with international authorities and many Israelis.
What happened?
The subject of undocumented migrants has become a political football in Israel, which, despite its long history as a refuge for persecuted Jews, has almost no legal provisions for non-Jewish immigration.
For almost two years Netanyahu kept his discussions with the U.N. a closely guarded secret, shared only with his interior minister, an important ally in his shaky coalition. In announcing the surprise deal, he badly miscalculated the potential backlash to an arrangement he touted as his own personal achievement and "the best possible deal."
Feeling left out and betrayed, his ministers and Facebook followers lashed out against an agreement that flew in the face of the tough stand Netanyahu always had taken against undocumented migrants.
Taken aback, the prime minister announced the deal's suspension within two hours of presenting it, and then, within less than a day, canceled it.
"This proves everything is political," said Mickey Gitzin, the head of the Israeli branch of the New Israel Fund, one of the organizations that has led the refugee movement in Israel. "Everyone said it was the best possible deal. Netanyahu himself said it was the best possible deal. His zigzag is proof the real issue isn't how many refugees Israel admitted, but who controls the Israeli narrative."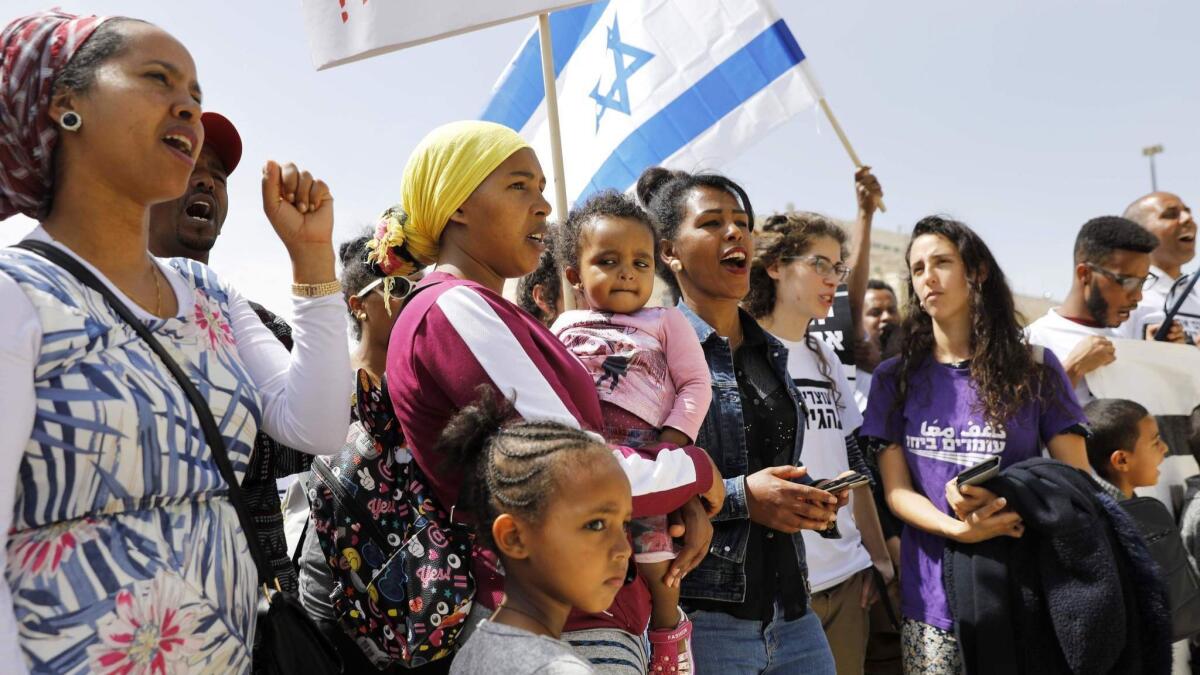 Can he do that?
It seems so. For now, there appear to be no immediate diplomatic repercussions to Netanyahu's decision.
Ironically, the principal effect of the 24-hour somersault is that undocumented migrants who were previously threatened with deportation no longer face that prospect. In rolling out the deal, Netanyahu also announced the cancellation of deportation orders — and that, it appears, cannot be undone. Having made a deal with the U.N. High Commissioner for Refugees, the entire group of people under discussion is, by definition, now defined as refugees. That recognition cannot be revoked. And refugees can't be deported.
"On one hand, deportations are off the table," said Adi Har Tzvi, an activist with the grass-roots Stop the Deportation movement. "On the other hand, no real solution has been found. We won't stop till there is."
She foresees a continuation of mass Saturday night demonstrations that have drawn tens of thousands of protesters railing against deportations.
How many immigrants are in Israel illegally, and where does this leave them?
It is estimated that about 40,000 undocumented migrants live in Israel, a country of almost 9 million people. Most are from African nations, with almost all the rest from Eastern Europe. Israel has no established procedure for determining the status of asylum seekers, refugees, work migrants or, in the term preferred by hard-liners, "illegal infiltrators." As a result, it is impossible to know their actual legal predicament.
The deal's cancellation leaves them all undocumented and in Israel, with no visible permanent solution.
Julie Fisher, a founder of the Consortium for Israel and the Asylum Seekers, said she was "devastated" by the policy reversal. "The lives and safety of asylum seekers are what is being thrown around in this crisis. The status quo is untenable," she said.
Can Israel deport them to their home countries or elsewhere?
That ship has sailed. Israel's policy of not defining the undocumented migrants left the government with no wiggle room when Netanyahu agreed to a deal with the U.N. refugee agency, in effect acknowledging their status as protected refugees.
In 2017, Israel's Supreme Court approved the deportation of migrants to safe "third countries," as long as decent humanitarian conditions could be guaranteed. This approval was withdrawn when the conditions in Rwanda and Uganda, the unnamed nations to which Israel planned the deportations, were determined not to be acceptable.
At the same time, the Rwandan government withdrew from the agreement, saying it was misled into believing the refugees' return to Africa was voluntary, not forced.
Koby Sudry, an attorney who hosts a drive-time political radio show, said that Netanyahu's game, in effect, was up.
"No one has checked to see if they are refugees or illegal infiltrators," Sudry said. "Most migrants from Sudan and Eritrea are admitted to Western countries as refugees. Now there is literally nowhere for them to go, so they stay here. All this talk about third nations? You don't hear of Ukrainians or Georgians who overstay a work visa being sent to a third country. They get sent home."
How did Netanyahu get into this mess?
According to Amnon Abramovitch, a political analyst with more than 20 years of Netanyahu-watching under his belt, the prime minister's misrepresentations are catching up with him. "It has all been a collection of bluffs," he said. "Netanyahu did not negotiate in good faith with the U.N. He never had an agreement with Rwanda. He's lied all over the place."
In part, Netanyahu created his own problems by repeatedly assuring his base he'd deport all the migrants, whom he calls "illegal infiltrators." As early as 2012, he promised his followers he'd find a way around any strictures. "International law makes deportation very difficult," he said, but "we can deport them, and we will."
"Just as we solved other problems," he said, "we will solve this problem methodically and responsibly, in accordance with international agreements."
"My conclusion?" Abramovitch said. "He wants early elections."
Does he?
This is the Israeli consensus. Political analyst Yaakov Bardugo says Netanyahu, who is doing well in recent polls despite being the target of police investigations into alleged corruption, "lives and breathes elections. He sees only elections, elections all the time."
"He misunderstood the situation," Bardugo said on Israel Army radio. "With his base, he can make mistakes and they'll let him fix them. But make no mistake, this is a vacuum of leadership."
Sign up for Essential California for news, features and recommendations from the L.A. Times and beyond in your inbox six days a week.
You may occasionally receive promotional content from the Los Angeles Times.