Neither Israel nor Hamas wants another war in Gaza. That might not be enough to stop one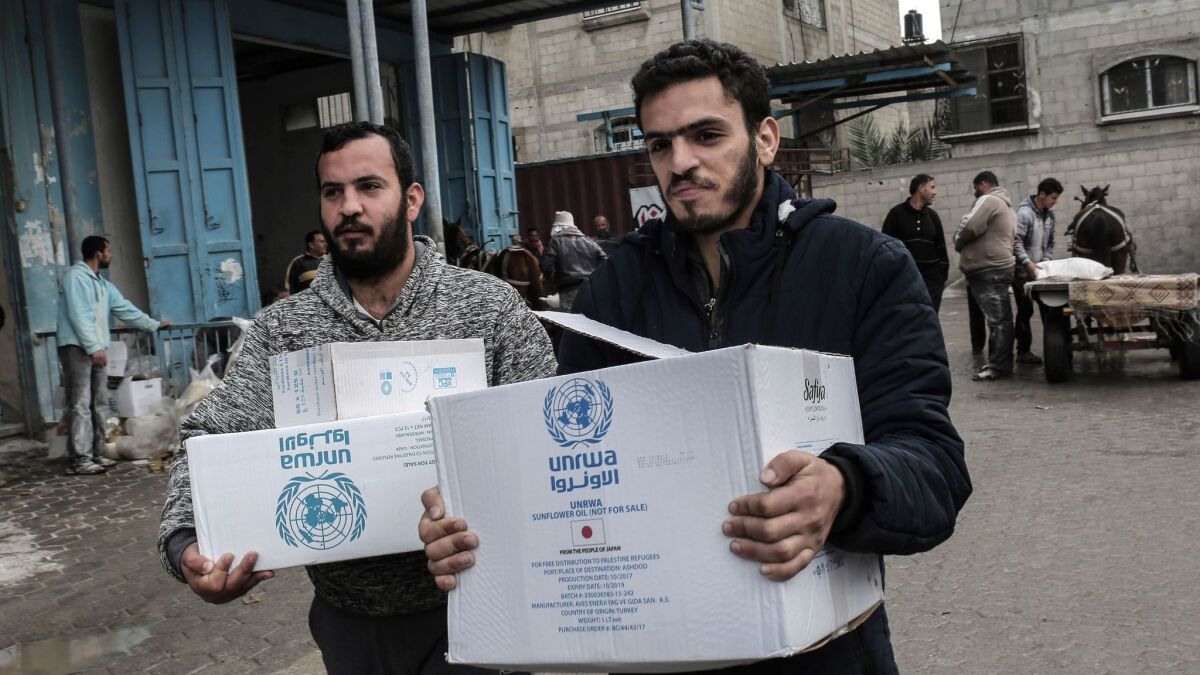 Reporting from Gaza City —
If one thing unites Israel and its Islamist archenemy Hamas, the militia that governs the Gaza Strip, it is the prospect of tens of thousands of angry Palestinians demonstrating at the fence that marks the border between the two.
For Hamas, this would symbolize loss of control over a territory it has ruled with an iron fist since 2007, years that have included three armed conflicts with Israel and the torture and summary killing of people identified as opponents of the militant organization.

For the record:
5:15 p.m. Feb. 20, 2018This article incorrectly says the number of supply trucks entering the Gaza Strip from Israel has gone from 900 to 300 weekly. The figures are for daily crossings.
For Israel's army, the possibility of a protest in which thousands of unarmed civilians attempt to storm the border or even, in some projections, attempt to uproot the fence offers two nightmare scenarios: the army acting with force against civilians, or thousands of Gazans streaming into southern Israel.
Such a shift in the status quo in Gaza could also trigger another war between Israel and Hamas — something that neither side appears to want but that analysts fear could be triggered by a violent incident.
After nine weeks of Friday protests at the fence following President Trump's decision to recognize Jerusalem as Israel's capital, each side faces the very real possibility that the next "day of rage," as the demonstrations are called, could escalate from hundreds to thousands of protesters.
The Trump administration's subsequent decision to suspend $65 million of funds to the United Nations Relief and Works Agency, an organization responsible for most of the health, education and welfare services in Gaza, has further exacerbated tension.
"You have a desperate feeling here," Sami Obeid, an analyst for Gaza's Al-Manar radio station, said in a telephone interview. He called his home "the biggest jail on Earth."
"People feel that if Hamas doesn't solve our problems, we'll come to the fence and lift it. Instead of one or two hundred people, you'll have entire families with their kids, thousands of people who have no other option," Obeid said.
And while neither side may want a war, that doesn't guarantee that one won't erupt.
Gen. Yom-Tov Samia, who retired from the Israeli army as head of its southern command, noted that before each of Israel's three recent wars with Hamas, in 2009, 2012 and 2014, "all analysts agreed they were completely unwanted by all sides."
"Sometimes you have a confluence of circumstances that leads to war without anyone actively wanting war," he said in an interview.
"Hamas doesn't want war," Obeid said. "Gazans don't want war. Israel doesn't want war. But people are starting to think that maybe a war will change the situation, maybe it'll get better. Anything."
On Sunday, the London-based Arabic-language newspaper Al Hayat reported that Hamas was preparing for "imminent war" with Israel that could break out as soon as this week.
According to the newspaper, Hamas' political leader in Gaza, Yahya Sinwar, assessed the chance of conflict "at 95%."
That's not the word on the street in Gaza, for the most part. People are desperate but have seen enough war to be wary of another.
"I think the chances of a war are limited because of the bad humanitarian crisis in Gaza. Any Israeli escalation will aggravate the crisis, which the international community will not accept," said Naji Louh, 36, who owns a clothing shop in the central Gaza City market and supports a family of five. He called the business climate in Gaza a "disaster," but added, "War will make it worse."
Hussam Dajani, a professor of political science at Ummah University in Gaza, said that "the deterioration of the humanitarian situation in Gaza may push Gazans and the resistance movement" — as Islamist militias are referred to — "to explode," but that Israel has strategic reasons to try to avoid a conflict.
Israeli Prime Minister Benjamin Netanyahu said Sunday that "Israel is not interested in war but will do everything to defend itself."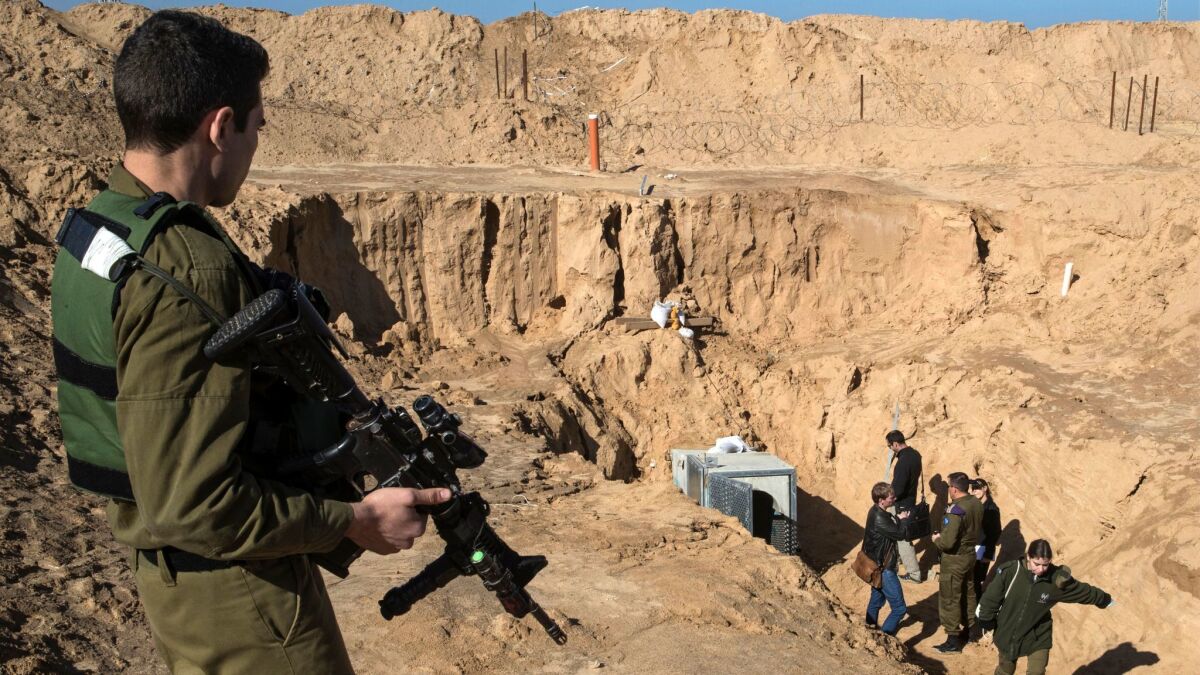 Addressing a weekly Cabinet meeting, Israeli army Chief of Staff Gen. Gadi Eisenkot said Israel should "make a significant effort to prevent a humanitarian collapse in the Gaza Strip" so as to avert war in the coming year.
He was immediately contradicted by Defense Minister Avigdor Lieberman, who said at a gathering of the political party he leads that "the economic state is complicated and must be dealt with, but there's no humanitarian crisis" in Gaza.
He added that "we have no intention of initiating military action in Gaza, and it's good that Hamas leadership is panicking."
Mustafa Sawaf, a political analyst allied with Hamas, said the question is not whether war is near, but "whether the resistance is ready … to defend its people."
"I will not say there is no war or the war will be tomorrow, but we have to prepare fully as if the [Israeli] aggression were now, and for months or years."
Obeid, the analyst, said: "Gaza is boiling and Hamas is afraid of rebellion, so it is claiming Israel is about to start war. Maybe this warning to Israel will be enough."
Almost 2 million Palestinians live in the Gaza Strip, a tiny territory wedged between Egypt, Israel and the Mediterranean Sea. It has about half the area and six times the population of Lexington, Ky. Since 2007, when Hamas took over control of the strip in an armed revolt against the West Bank-based Palestinian Authority, it has been locked down and under siege.
Hamas is listed as a terrorist organization by Israel, Europe and the United States.
Egypt's border with Gaza is closed and Israel allows only trucks carrying food or other humanitarian necessities in and out.
In what the Israeli army is calling an indication of the dramatic drop in Gazans' purchasing power, the number of supply trucks entering the strip weekly from Israel has recently gone from an average of 900 to about 300.
In June, as a punitive measure against Hamas, the Palestinian Authority reduced the flow of electricity into Gaza to three to four hours a day. Some service has been restored, but last week, a hospital serving 66,000 people in the northern Gaza Strip halted operations because of lack of power to fuel its generators, and a children's hospital reduced its services to a bare minimum.
Obeid, who gets about four hours of electrical power a day, said: "I don't know what to tell my kids. There is no TV, no refrigerator. They tell me it's not life."
Last week, an emergency meeting of the "ad hoc liaison committee of the international donor group for Palestine" was convened in Brussels. It included representatives of the United States, Israel, the Palestinian Authority; the foreign ministers of Jordan, Egypt and Morocco; and senior officials from four Mideast nations that do not recognize Israel: Tunisia, Saudi Arabia, the United Arab Emirates and Kuwait.
Israel presented a $1-billion plan to rehabilitate the strip, with one condition: that the Palestinian Authority take over from Hamas. That is unlikely to occur. The most recent reconciliation agreement between Hamas and the internationally recognized Palestinian government was announced with great fanfare in October but has since foundered.
The European Union announced a $52.7-million assistance package for Palestinians. In an apparent jab at Trump's Jerusalem decision, $18.6 million of that is destined "to preserve the Palestinian character of East Jerusalem."
The rest of the sum is allocated for "a democratic and accountable Palestinian state through targeted policy reform."
It is unclear whether any of the money will be directed to Gaza.
ALSO
In Palestinian territories — and in Israel — jitters over Trump's threat to cut aid to Palestinians
WWE just got its first Arab woman in the ring, and she's ready to rumble
A Lebanese director's new film opens old wounds
Special correspondents Tarnopolsky reported from Jerusalem and abu Alouf from Gaza City.
---
Must-read stories from the L.A. Times
Get the day's top news with our Today's Headlines newsletter, sent every weekday morning.
You may occasionally receive promotional content from the Los Angeles Times.