Israeli Prime Minister Netanyahu defiant after police recommend his indictment on corruption charges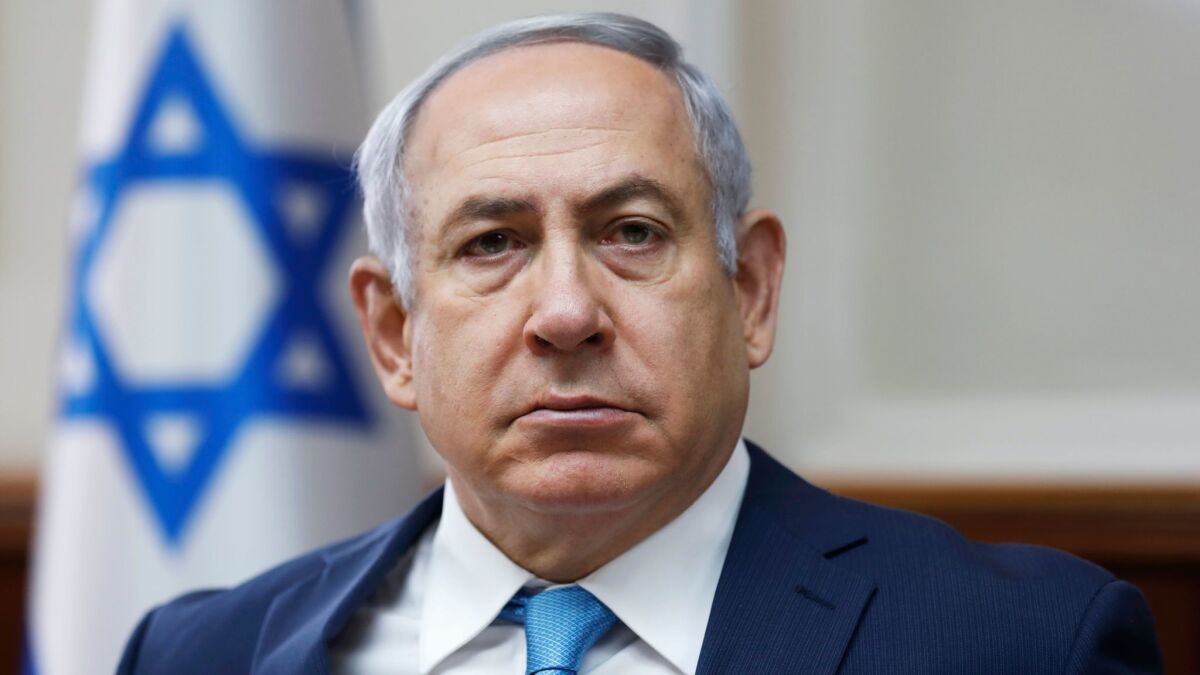 Reporting from Jerusalem —
The Israeli police have recommended the indictment of Prime Minister Benjamin Netanyahu on suspicion of bribery, fraud and breach of trust, casting the future of his government into doubt.
The announcement Tuesday came after a yearlong investigation. The decision on whether to prosecute Netanyahu rests with Atty. Gen. Avichai Mandelblit, who is expected to review the findings of the police and make a determination within weeks.
Netanyahu, who has dominated Israeli politics for the last decade and is known as an implacable survivor of Israel's rough-and-tumble leadership battles, made clear he plans to fight the allegations and has no intention of leaving office.
"There will be nothing, because there's nothing there," the 68-year-old prime minister said in a televised address Tuesday. "With God's help," he said, he expects to overcome "yet another attack from my enemies" and be reelected next year.
Outlining a public career going back three decades, he said that everything he has done has been for the sake of the country, "not for cigars from friends and not for improved media coverage," as has been alleged.
Following that speech, Miri Regev, the culture minister and a close ally, argued that Netanyahu could remain prime minister even if indicted and advised reporters "to take it easy and keep things in proportion."
But in a clear sign of the political landscape Netanyahu must now navigate, none of his coalition partners came to his defense.
With his Likud party holding only 30 out of 120 parliamentary seats, Netanyahu rules a delicate coalition of 61 legislators. Three senior members of his Cabinet — the ministers of defense, finance and education — each chair their own political parties and consider themselves possible successors to Netanyahu.
The police recommendation Tuesday concerns two cases against the prime minister.
In one case, Netanyahu is suspected of offering Arnon Mozes, the publisher of a popular Israeli tabloid, a wide range of improper benefits in exchange for positive coverage.
In the other, dubbed "Case 1000," he is accused using his position to help several prominent friends, including Hollywood producer Arnon Milchan and Australian businessman James Packer, in exchange for Cuban cigars, French champagne and other gifts worth more than $3,000. In that case alone, police said they have 180 witnesses.
The police also called for the indictments of Milchan and Mozes, on charges of graft. Both men have denied the allegations.
The police said the prime minister attempted to double the length of a 10-year tax exemption for expatriate Israelis, "a benefit with great economic benefit for Milchan," an Israeli citizen who has spent most of the last two decades in California.
Yair Lapid, the finance minister at the time, blocked the proposal as fiscally unsound and not in the interests of the state. Netanyahu fired him in December 2014.
In one of its most surprising revelations, the police recommendation said that Lapid was a star witness for the state.
Late Tuesday night, Netanyahu's coalition whip David Amsalem took to the floor of the parliament to call Lapid a "little snitch" and accuse the police of attempting to perpetrate "a coup."
Lapid, in a statement, said that when asked by the police, he "provided testimony like any law-abiding citizen," and that as finance minister he had "resisted political pressure to stop the 'Milchan law.'"
Israel's opposition reacted with jubilation to what it is calling the "end of Netanyahu."
Labor Party Chairman Avi Gabbay said "the Netanyahu era is over, either at the ballot box or through investigations."
Tamar Zandberg, a member of the center-left party Meretz, said: "It's a sad day for democracy, because another prime minister is going to jail."
Even if the attorney general decides not to follow the police recommendation, Netanyahu's legal problems may not be over.
In recent weeks, the police has moved forward in its investigation of another scandal, Case 3000, a controversial $2-billion deal for Israel's purchase of German submarines and naval attack vessels.
Netanyahu has not been named as a suspect in that case, but his closest circle of associates, including his personal lawyer — and cousin — David Shimron and his senior advisor Yitzhak Molcho, who are brothers-in-law, have been implicated or are under arrest.
The case of Netanyahu could take Israel into uncharted legal territory.
The Supreme Court has in the past ruled that ministers, who are appointed, cannot retain their posts if indicted, but whether an elected prime minister in that situation would be forced out has never been tested in court.
In 2008, then-Prime Minister Ehud Olmert resigned a week after police recommended his indictment on charges of fraud, bribery, breach of trust and money laundering.
Olmert was later convicted for misconduct relating to his previous post as mayor of Jerusalem, serving 19 months of a 27-month jail term before his release in 2017.
Tarnopolsky is a special correspondent.
---
UPDATES:
4:50 p.m.: This article has been extensively updated with details of the police recommendation, reaction and political analysis.
11:50 a.m.: This article was updated with reaction from Netanyahu.
11:10 a.m.: This article was updated with additional information about Netanyahu and the police recommendation.
This article was originally published at 10:45 a.m.
---
Must-read stories from the L.A. Times
Get the day's top news with our Today's Headlines newsletter, sent every weekday morning.
You may occasionally receive promotional content from the Los Angeles Times.