Police accuse Netanyahu associate of trying to bribe judge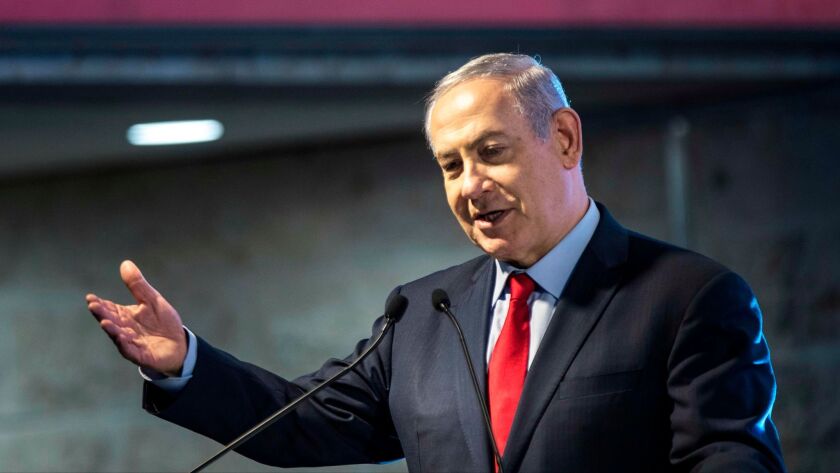 Reporting from Tel Aviv, Israel —
Israel continues to be rocked by new revelations in the cascading series of corruption investigations related to Prime Minister Benjamin Netanyahu. Two former associates have been arrested and one has agreed to turn state's witness against the Israeli leader.
In one twist, the Israeli police accused Nir Hefetz, Netanyahu's former communications director, of offering a judge the post of attorney general in exchange for dismissing an indictment against the prime minister's wife, Sara.
It is yet another charge linked to Netanyahu's efforts to protect himself and his family from police charges and unfavorable coverage in the media.
In another development that may prove devastating to Netanyahu, police announced at 1 a.m. Wednesday that another close associate of Netanyahu's, Shlomo Filber, had agreed to provide testimony against the prime minister.
The Hefetz investigation could come down to Netanyahu's word against that of the chief justice of Israel's Supreme Court.
The police accuse Hefetz, who remains a confidant of Netanyahu's and who was arrested Sunday, of offering retired judge Hila Gerstel a quid pro quo whereby Netanyahu would appoint her attorney general in exchange for closing a case in which Sara Netanyahu was alleged to have abused public funds.
Israeli media reports said a shocked Gerstel immediately recounted the events to her friend Esther Hayut, who is now chief justice of the Supreme Court. Hayut is expected to be questioned as a witness in the case.
Filber, a former director general of the Communications Ministry, was arrested on Sunday. He is suspected of granting financial and regulatory benefits to Bezeq, Israel's telecom giant, on behalf of Netanyahu. In return, police suspect that Shaul Elovitch, Bezeq's controlling shareholder, ordered the Walla news portal he owns to provide the Netanyahus with positive coverage.
Filber, in his early 50s and the father of young children, is expected to provide testimony about the privileges Netanyahu is alleged to have provided Bezeq and, crucially, about the prime minister's knowledge of the incident.
Netanyahu is a suspect in two unrelated criminal cases. Last week, the police recommended Israel's attorney general indict Netanyahu for bribery, fraud and breach of trust.
In a statement, Netanyahu said, "What has happened over the past two days is simply outlandish. It's a scandal. They've brought two delusional, false allegations as part of a campaign of persecution against me and my family that has been going on for years already. They show up with a new case every two hours."
Netanyahu has not been directly tied to the accusations that Hefetz attempted to bribe Judge Gerstel.
The prime minister spent much of Tuesday in the southern Israeli town of Ashkelon, where he inaugurated a fortified emergency room in the hospital that serves most of Israel's south.
On Monday, the police revealed that seven of Netanyahu's closest associates, including senior figures in his communications team, had been arrested as suspects in a wide-ranging case of abuse of power.
Tarnopolsky is a special correspondent.
---
UPDATES:
5:15 p.m.: This article was updated to report that Shlomo Filber has agreed to testify against the prime minister.
12:10 p.m.: This article was updated with additional details that include reports that another close associate of Prime Minister Benjamin Netanyahu, Shlomo Filber, is in "advanced talks to turn state's witness" against the prime minister.
This article was originally published at 9:50 a.m.
---
Must-read stories from the L.A. Times
Get all the day's most vital news with our Today's Headlines newsletter, sent every weekday morning.
You may occasionally receive promotional content from the Los Angeles Times.