He's facing possibility of criminal charges, but Israel's Netanyahu acts as if nothing is amiss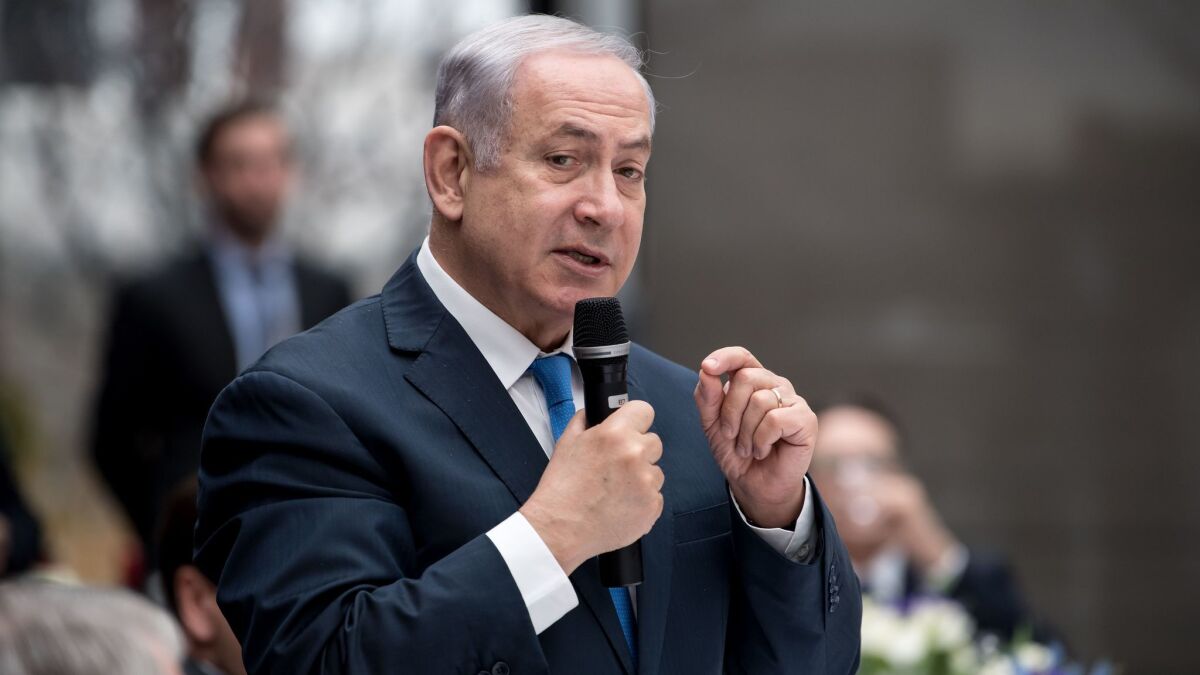 Reporting from Jerusalem —
Just days ago, Israeli police recommended that Benjamin Netanyahu be indicted in two corruption cases.
But on the first weekend after the bombshell development in the investigation into alleged wrongdoing, Netanyahu isn't holed up with lawyers or keeping a low profile. Instead, he's hobnobbing with other world leaders at the annual Munich Security Conference in Germany.
Netanyahu is expected to address the group on Sunday, and "tell the world if you want to avoid a huge war in Israel, stop Iran," Yaakov Amidror, a former Israeli national security advisor who is close to Netanyahu, said to journalists. Such an international venue is familiar ground for the Israeli leader, who has been in office for almost 10 years.
Tal Schneider, the political analyst for the Israeli financial daily Globes, who is accompanying Netanyahu in Munich, said the prime minister "appears unruffled, is projecting business is as usual, carrying on with scheduled meetings." Netanyahu has yet to make himself available to reporters since the police recommendation was announced.
But in Israel, new polls shows that a good portion of the Israeli public think he should face criminal charges after police recommended he be indicted on suspicion of bribery, fraud and breach of trust.
The police recommendations were the product of a yearlong investigation and presented Tuesday to Atty. Gen. Avichai Mandelblit, the nation's chief prosecutor, who will have to decide whether to indict Netanyahu.
Three polls taken in the 48 hours following the police announcement show many Israelis believing the police's version of events, and not that of Netanyahu, who claims he is the victim of a political witch hunt.
A poll aired on television channel Reshet said 49% of Hebrew-speaking Israelis believe Netanyahu has acted improperly. Twenty-five percent accept Netanyahu's claims of innocence and the remaining 26% do not know what to believe.
A poll by Channel 2 showed that 45% of Israelis believe Netanyahu should resign even before the attorney general decides whether to indict, versus 40% who said he should not.
In a signed editorial, Aluf Benn, editor-in-chief of Haaretz, a newspaper highly critical of Netanyahu, wrote that "with the police's recommendations to indict Benjamin Netanyahu for bribery, the prime minister begins the countdown to the end of his political life."
"Netanyahu made clear he won't step down without a fight," Benn noted, before mentioning a detail Israelis appear to be absorbing this weekend: "Netanyahu didn't try to contradict the hard facts published by the police."
Netanyahu, on the other hand, projects that nothing is amiss. He turned his attention instead to the recent downing of an Israeli F-16.
On Thursday, as he was boarding his flight to Munich, only days after the fighter jet was downed by a Syrian missile, Netanyahu announced, "I will again emphasize our determination to defend ourselves, of our own power, with no restriction."
The statement appeared to be a reference to the Israeli fear that Russia, the principal backer of President Bashar Assad in the 7-year-long Syrian civil war, may aim to limit Israel's freedom of operation in Syria.
Israel feels increasingly alone as is confronts a difficult dilemma on its northern border: to permit Iran to gain a permanent foothold just across its border with Syria, or to go to war to prevent it.
The White House took more than a full day before reacting to the first incident of Iranian-Israeli military engagement before releasing a generic statement reaffirming Israel's right to defend itself.
Other strains are beginning to show in the usually strong relationship between Netanyahu and President Trump, including a confrontation over the facts of that relationship earlier this week.
On Monday, Netanyahu announced that "for some time now I've been talking about [plans to annex areas of the occupied West Bank] with the Americans."
"I am guided by two principles in this issue … optimal coordination with the Americans, whose relationship with us is a strategic asset for Israel and the settlement movement, and the fact that it must be a government initiative rather than a private one because it would be a historic move."
Within hours, White House spokesman Josh Raffel issued a statement flatly disputing Netanyahu's contention.
"Reports that the United States discussed with Israel an annexation plan for the West Bank are false," he said. "The United States and Israel have never discussed such a proposal, and the president's focus remains squarely on his Israeli-Palestinian peace initiative."
On Friday, the White House, reverting to form, announced that Trump would be meeting with Netanyahu in Washington on March 5, leaving Israeli commentators to wonder if the prime minister would fly to the United States while under indictment, or at all.
"Netanyahu will keep meeting other leaders, he'll keep on acting as if everything is normal as long as he can," Meir Sheetrit, a former minister from Netanyahu's political party, Likud, said in an interview. "But we know what direction this is going in: political defeat."
"This is untenable in the long term," Sheetrit added. "Netanyahu and the Likud are disconnected from the people, floating along in a world in which their corruption doesn't matter. But it will, and this won't take long to come."
Must-read stories from the L.A. Times
Get the day's top news with our Today's Headlines newsletter, sent every weekday morning.
You may occasionally receive promotional content from the Los Angeles Times.