Israeli justice minister proposes controversial West Bank settlement legislation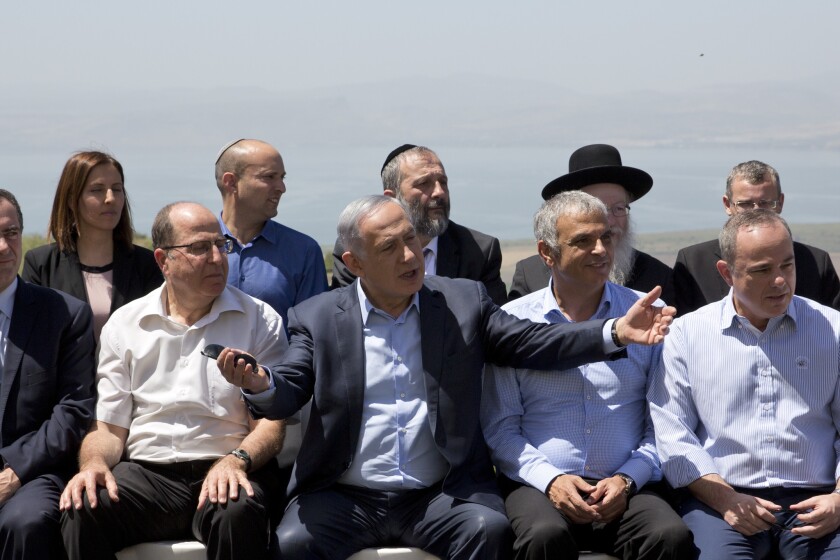 Reporting from Tel Aviv —
The Israeli justice minister has said she wants to extend civil laws to Jewish settlements in the West Bank, a move that critics say would put the country at odds with the international community.
Justice Minister Ayelet Shaked told a forum of right-wing lawyers she's pushing a policy that would ensure that all legislation passed by parliament, the Knesset, would automatically be applied to settlements in the West Bank.
The land has been under Israeli control since the 1967 Middle East War. Palestinians want to form an independent state in the West Bank and Gaza Strip, with East Jerusalem as its capital.
"My goal is that, within a year, for every law passed by the Knesset, there will be a team that will translate … it in Judea and Samaria," Shaked said Sunday, using the biblical names for the West Bank.
Shaked's right-wing Jewish Home party is a junior partner in Prime Minister Benjamin Netanyahu's coalition government. It's unclear whether Netanyahu would support such a policy because it would undercut his declarations of support for negotiations to create a Palestinian state and could deepen Israel's international isolation on such issues.
Opposition politicians and legal critics said Shaked's proposal would enhance the legal disparity between 370,000 Israelis living in West Bank settlements and 2.6 million Palestinians living in cities and villages.
Yair Lapid, leader of the centrist Yesh Atid party, said such a policy would hurt Israel's international standing and would likely be struck down by Israel's Supreme Court.
"Can two people live at a distance of 30 meters, and one person will have one law and the other will have another law?" he said in an interview with Israel Army Radio. "It's an unfounded proposal. There's no legal logic. It's not legal internationally or under Israeli law. It won't happen.''
See the most-read stories this hour >>
Since capturing territories from Arab neighbors in the 1967 war, Israeli governments have taken steps to extend Israel's laws to the Golan Heights and East Jerusalem and offer permanent residency to Arabs living there, but have avoided a similar move in the West Bank even though it has expanded settlements criticized by Palestinians as a land grab.
Shaked's comments are in line with a more explicit annexation supported by her party and are a political play for Netanyahu's voters, said Gilead Sher, a former legal advisor to Israeli government negotiating teams.
"There's no way to state that the direction that this government is going leads to a two-state reality when you have this kind of initiative and policymaking within the government," he said.
Mitnick is a special correspondent.
---
Must-read stories from the L.A. Times
Get all the day's most vital news with our Today's Headlines newsletter, sent every weekday morning.
You may occasionally receive promotional content from the Los Angeles Times.