Israel's disclosure that it struck a Syrian nuclear reactor in 2007 ignites a debate over censorship and security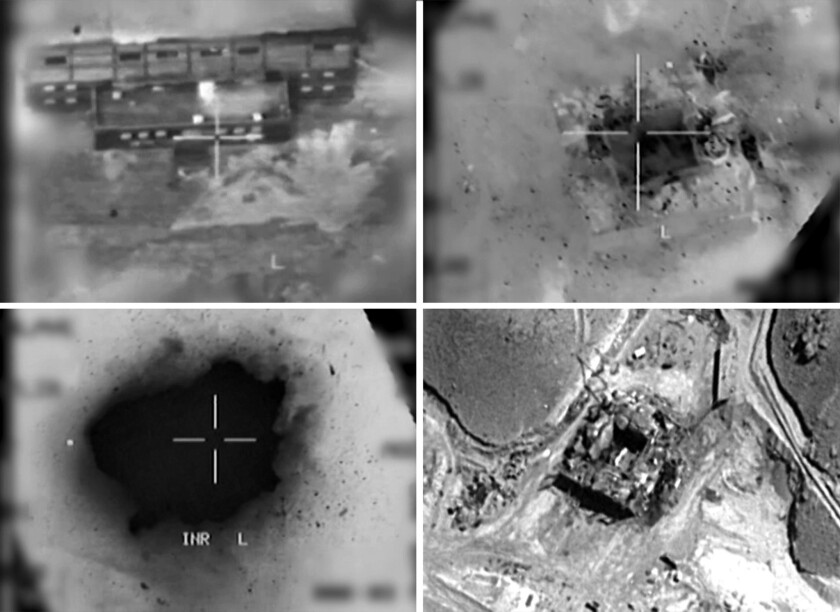 Reporting from Jerusalem —
It is the definition of old news: More than a decade after its air force destroyed a nuclear reactor in the middle of the Syrian desert, Israel on Wednesday finally acknowledged that, yes, its airplanes had bombed "the Cube."
Among the intriguing details to emerge is the code word Israeli pilots used to report back the successful completion of their mission: Arizona.
The bombing of the North Korean-built facility by Israel has been widely reported, with Israeli spokespeople repeating a rote "no comment" since September 2007 to maintain a policy of plausible deniability or ambiguity.
But its sudden declassification has unleashed loud regrets from former intelligence officials and furious political recriminations. The public also learned this week what had long been known in the Israel intelligence community: that although the raid was successful, Israel failed for years to detect that the mysterious construction in the Syrian desert was a nuclear reactor.
The story of the raid is nothing to gloat about, Yaakov Amidror, Israel's former national security advisor and a retired major general, lamented on Israel's Army Radio. At best "it is the story of a terrible intelligence failure that ended well."
The Haaretz newspaper said the incident represented "a big intelligence failure — the worst since the Yom Kippur War, according to a number of top intelligence people — in which Israel somehow managed for years not to notice a reactor being built right under its nose, in a neighboring country on whose surveillance Israel was spending vast amounts of money."
It is the story of a "thunderous failure," said Tamir Pardo, who led Israel's vaunted intelligence agency, Mossad, in 2007.
No reason was given for why Israel changed its policy of silence on the bombing, but memoirs by two prominent political rivals hint at a possible reason.
Former Prime Ministers Ehud Olmert and Ehud Barak, who respectively served as head of government and defense minister at the time of the raid, are releasing competing books this spring, arguing contradictory positions. Both books, following Israeli law, had to be approved by the military censor.
Barak describes Olmert, who ordered the bombing and whose book will be released Friday, as an alarmist, uncertain prime minister facing an existential threat.
Olmert describes Barak as a formalistic, showboating defense minister unwilling to take a firm yes or no position on launching a bombing even while claiming credit.
"If early copies of the two books are anything to go by, we're in for another bloody round of Ehud vs. Ehud battles," Haaretz said.
The squabbling prompted Israel's current defense minister, Avigdor Lieberman, visiting Africa this week, to call reporters to say that "the war over credit" for the raid and "the wave of mutual defamation" led him to regret he had ever approved the military censor's decision to declassify.
"People have crossed every line and are simply freely releasing information, some of which could cause serious harm to Israel's security," Lieberman said, adding that the media circus resembled "diarrhea."
The first Israeli to defy Israel's blanket gag order on any reference to the raid, widely viewed as a success until the latest revelations, was then-opposition leader and current Prime Minister Benjamin Netanyahu, who less than two weeks after the bombing announced on television that he'd known about the operation in advance — a notion widely derided in Israel — and had even congratulated Olmert after its completion.
"The ban was not only lifted for bureaucratic reasons," said Lt. Col. Peter Lerner, the army's recently retired spokesman and one of the men who maintained Israel's unwavering refusal to comment. "Israel's gag orders are truly about protecting matters of national security. In the case of destroying Syria's nuclear reactor, there were security risks posed by the information getting out that the IDF [Israel Defense Forces] was behind it," he wrote in an op-ed.
In a cautionary coda, a few hours after the declassification, the Institute for Science and International Security in Washington published a brief calling for the International Atomic Energy Agency to inspect a site in Qusair, Syria, where, according to the German magazine Der Spiegel, Syria may be constructing an underground nuclear reactor.
"The purpose of the site remains unknown," the institute said, although "some imagery observations are consistent with Der Spiegel's reporting."
"Any nuclear-related facility in Syria could involve considerable assistance from North Korea, given that Pyongyang provided extensive assistance in the construction of the Al Kibar reactor, which Israel destroyed in 2007," it added, acknowledging that "accomplishing such inspections may have to wait until the Syrian conflict ends," a prospect not currently in view.
Tarnopolsky is a special correspondent.
---
Must-read stories from the L.A. Times
Get all the day's most vital news with our Today's Headlines newsletter, sent every weekday morning.
You may occasionally receive promotional content from the Los Angeles Times.