Blunder turns deadly when two Israeli soldiers using Waze drive into a Palestinian camp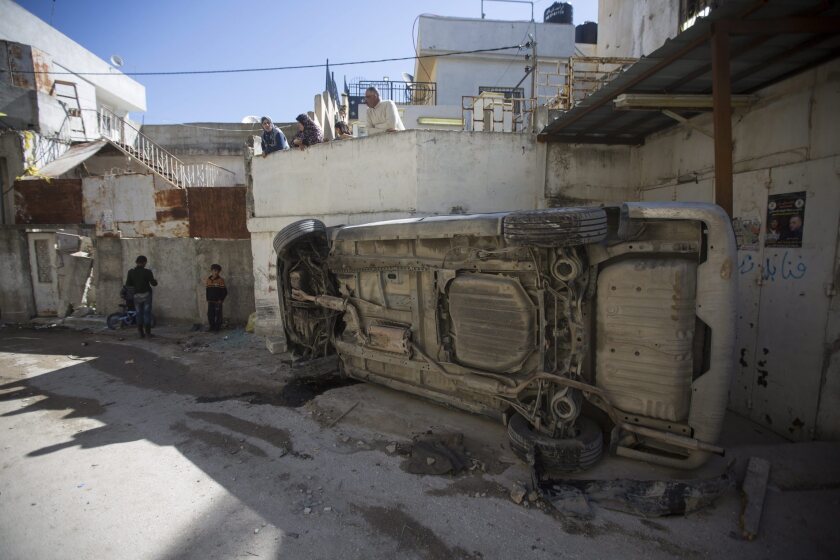 Reporting from Jerusalem —
Two Israeli soldiers took a wrong turn into a Palestinian refugee camp while using the popular smartphone navigation app Waze, sparking a gun battle that left a Palestinian man dead.
The pair, from the military's canine unit, mistakenly entered the Qalandia refugee camp at about midnight Monday in a fully marked Israeli army vehicle, sparking belief the soldiers were there to carry out a raid.
Palestinians pelted the jeep with rocks and firebombs, according to Lt. Col. Peter Lerner, a spokesman for the Israeli military.
The soldiers fled the burning vehicle on foot and ran in different directions.
One of the soldiers was able to retrieve his cellphone from the burning vehicle and escaped on foot to Kochav Yaakov, a Jewish settlement in the West Bank, authorities said. He called his army commanders and they rescued him within 20 minutes.
The other soldier left his cellphone in the burning vehicle, the military said. He hid in an abandoned building within the refugee camp, which is near the West Bank city of Ramallah, sparking a full-scale rescue mission.
"In October 2000 two reservists took a wrong turn into Ramallah and were abducted and killed. The army feared the incident could reach this level of seriousness," Lerner said.
During the rescue operation, helicopters, surveillance drones and special forces were deployed to the area.
A 22-year-old Palestinian man, identified as Iyad Sajadiyya, was shot and killed, and another four Palestinians were injured in a gun battle that also left 10 Israeli security forces wounded, the military said. The Palestinian Red Crescent Society said Sajadiyya was shot in the head. He was described in Palestinian media as a student nearing graduation from al-Quds University.
Waze, an Israeli-developed app, prevents navigation in the West Bank unless a "safe mode" setting is overriden. Even then, the app is often inaccurate when used in the West Bank, because large areas are unmapped or poorly mapped.
The army declined to answer questions about why or how the soldiers were using the app.
Waze, which was bought by Google for $1 billion in 2013, blamed the soldiers for the incident.
"Waze includes a specific default setting that prevents routes through areas which are marked as dangerous or prohibited for Israelis to drive through," the company said in a written statement.
"In this case, the setting was disabled, In addition, the driver deviated from the suggested route and, as a result, entered a prohibited area. There are also red signs on the road in question that prohibit access to Palestinian-controlled territories," the statement added. "It is the responsibility of every driver to adhere to road and traffic signs and obey local laws."
Lerner said four Israeli commanders had been punished for the incident, while the two soldiers involved were commended for their quick actions, which suggested — although he wouldn't confirm this — that the use of the app wasn't their decision.
He said two commanders will have the incident listed in their record; one was placed in detention for seven days; and the fourth, the platoon commander, will face seven days in detention and lose his job.
Israel's defense minister, Moshe Yaalon, said Waze had shown the soldiers the shortest route from Jerusalem to their destination and had led them into the refugee camp.
"I learned long ago, when the GPS was introduced, you can't forget how to navigate using a map, and you need to know your environment and not follow technology blindly," Yaalon said.
See more of our top stories on Facebook >>
The overnight violence on Monday is the latest in more than five months of almost daily Palestinian attacks on civilians and Israeli forces. So far, 28 Israelis have died in stabbings, shootings and attacks in which vehicles were used as weapons to ram soldiers. Since mid-September, nearly 200 Palestinians have been killed, mostly by Israeli forces who said they were attackers.
At Sajadiyya's funeral Tuesday, his father, Omar, said his son had "died a martyr in sacrifice for Palestine." Mourners reportedly chanted slogans denouncing "crimes against the Palestinian people."
Shuttleworth is a special correspondent.
MORE ON THE MIDDLE EAST
Israeli forces kill Palestinian gunman who wounded 3
Breaches reported in Syrian cease-fire, but it's mostly holding
Refugees buying one-way tickets home after finding Germany intolerable
---
Must-read stories from the L.A. Times
Get all the day's most vital news with our Today's Headlines newsletter, sent every weekday morning.
You may occasionally receive promotional content from the Los Angeles Times.