Palestinians no longer see role for U.S. in peace process, Abbas says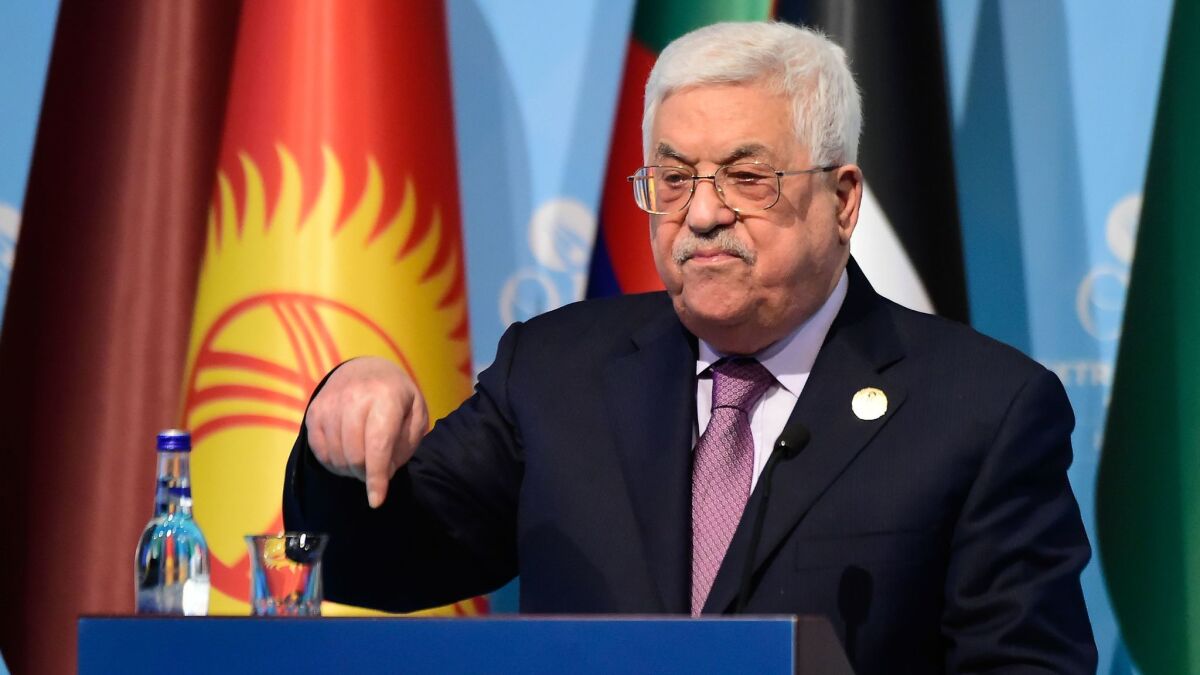 Reporting from JERUSALEM —
The Palestinian Authority, responding angrily to President Trump's recognition of Jerusalem as Israel's capital, said Wednesday that it would reject efforts by the United States to act as a peacemaker in the region.
"The United States has chosen to lose its qualifications as a mediator…. We will no longer accept that it has a role in the political process," Palestinian Authority President Mahmoud Abbas said.
Abbas spoke in Istanbul, Turkey, at a special session of the 57-member Organization of Islamic Cooperation, gathered to address the crisis over Jerusalem's status. He proposed that the United Nations take over as a neutral mediator.
The announcement came three days before Vice President Mike Pence is scheduled to land here for a visit aimed at advancing Trump's peace plan for the Israeli-Palestinian conflict.
The State Department said the U.S. would continue to work to put together ideas for a peace plan to be presented to the parties next year. "We hope to continue to work with both sides," department spokeswoman Heather Nauert said in Washington. "The president is committed to this peace process, as committed as he ever has been."
Abbas announced last week he would not meet with Pence, who, it now appears, will be meeting only with Israeli officials. The Joint List, Israel's third-largest political party, representing much of the Arab sector of Israeli society, said it too would boycott Pence's visit.
Christian leaders in the Middle East also denounced Trump's decision on Jerusalem, and it was unclear whether Pence will meet with any of the local Christian leadership during his visit.
Last week, the patriarchs and heads of Jerusalem churches published a rare joint letter addressed to Trump, beseeching him to reconsider. "Our solemn advice and plea is for the United States to continue recognizing the present international status of Jerusalem," they wrote.
Pope Tawadros II, the head of Egypt's Coptic Church, which is the largest Christian community in the Arab world, also announced he would be boycotting Pence.
Such snubs are rare, if not unprecedented, for a senior American official visiting Israel.
The international community has considered Jerusalem a disputed territory since the end of the Six-Day War in 1967, when Israeli forces gained control of the eastern part of the city that had been held by Jordan since 1948. West Jerusalem is widely recognized as legitimately Israeli, though embassies have remained in Israel's economic capital, Tel Aviv.
On the other side of the divide, the Israeli government has staunchly supported Trump's announcement.
Speaking at a ceremony honoring outstanding members of the Israeli intelligence services, Prime Minister Benjamin Netanyahu urged Palestinians "to recognize reality and to work for peace, not for radicalization, and to recognize another fact about Jerusalem: Not only is it Israel's capital, but we also maintain freedom of religion in Jerusalem for all faiths and we are the ones who keep this promise in the Middle East like none others do, and they often fail disgracefully."
Of the widespread dismay over Trump's action, Netanyahu said, "All these statements do not impress us."
Trump's decision on Jerusalem has been widely condemned across the globe by nations and international organizations, such as the European Union and the Arab League.
On Wednesday, a Saudi Arabian Cabinet session headed by King Salman called on Trump to rescind his proclamation and emphasized the long-held Saudi position that Palestinians have "the right to establish their independent state with East Jerusalem as its capital."
The statement, by focusing on East Jerusalem, implied recognition of Israeli sovereignty over West Jerusalem, where all Israeli government ministries, the Supreme Court and the parliament are located.
Abbas, in an impassioned speech in Istanbul lasting more than an hour, called on nations "to reconsider their recognition of Israel over its conduct toward Palestinians and its dismissal of decisions by the international community with the backing of the United States."
Abbas also announced that the Palestinian Authority, which has political autonomy and some shared security responsibility with Israel but no fixed borders, would ask the Security Council of the United Nations for full membership as a state.
A joint communique issued at the end of the Organization of Islamic Cooperation summit branded Trump's decision as "irresponsible, illegal and unilateral" and "null and void legally." Even Iran and Saudi Arabia, antagonists that oppose each other on almost every Middle Eastern conflict, both endorsed the communique.
Trump has long talked of brokering a Middle East peace plan, which he has referred to as "the ultimate deal." But details of the plan remain a mystery. European diplomats who attended a Monday meeting in Paris between Netanyahu and French President Emmanuel Macron said that neither leader has seen any plan.
On Tuesday, Secretary of State Rex Tillerson said that moving the U.S. Embassy from Tel Aviv to Jerusalem may take three years, but former U.S. Ambassador to Israel Dan Shapiro said in an interview that he believes a time frame of "five to 10 years" is more realistic.
Ending his remarks on Wednesday, Netanyahu predicted that "the truth will win in the end, and many countries will recognize Jerusalem as the capital of Israel and will transfer their embassies."
Tarnopolsky is a special correspondent.
Staff writer Tracy Wilkinson in Washington contributed to this report.
ALSO
In southern Madagascar, local custom presses girls into sex at a young age
He's been running for president in Mexico for more than a decade. He's floated amnesty for drug criminals. Could he win?
How the humble KitKat conquered Japan with ever-changing flavors. Anyone for sushi KitKat?
---
UPDATES:
2:09 p.m.: This article was updated with a comment from the U.S. State Department.
This article was originally published at 1:30 p.m.
Must-read stories from the L.A. Times
Get the day's top news with our Today's Headlines newsletter, sent every weekday morning.
You may occasionally receive promotional content from the Los Angeles Times.