For displaced Syrians, an offer to return home presents agonizing choices
Reporting from Arsal, Lebanon —
Standing amid a crush of trucks and cars, Khadija Rifai watched her sons load a beat-up white minivan with crates of lettuce, tomatoes and zucchini.
After four years as refugees in Lebanon, she and her husband were about to join a convoy home to Syria. But five sons and four daughters with families of their own were staying behind in the Lebanese border town of Arsal.
"Now is not the time for the youth to go back," Rifai said matter-of-factly before settling into a dusty seat next to her husband. "They will have to go into the army, and security is not 100%."
Two sons ran up and kissed her hand. Another tucked a few more rounds of flat bread on the dashboard. A niece buried her face in her headscarf and sobbed.
"Don't worry about me," Rifai, 57, told them with a reassuring smile. "I will be waiting for you in Syria."
It was one of many heart-wrenching farewells that July day. Now that Syrian President Bashar Assad's army, backed by Russia and Iran, has recaptured large parts of the country from rebels, Lebanese security forces and their Syrian counterparts have started repatriating refugees to areas where fighting has subsided.
More than 2,000 Syrian refugees have left in convoys like the one that departed from Arsal, part of a small but growing exodus since June.
Defenders of the repatriation program emphasize that participation is voluntary. But critics contend that mounting hostility toward refugees in Lebanon — and the increasingly harsh restrictions imposed on them — have left many feeling they have no choice but to go back to a country still fighting a war that began in 2011.
The agonizing decision over whether to stay or go has divided families like the Rifais, touching off a public spat between members of the Lebanese government and the United Nations refugee agency UNHCR, which says conditions in Syria are not stable enough to organize returns.
Last month, Russia waded into the dispute, offering to facilitate the return of more than 1.7 million refugees from Syria's neighbors and Europe in the "near future." That is welcome news to countries like Lebanon that share a border with Syria and host the vast majority of the displaced.
As the United States and European nations started closing their doors to refugees, more than 5 million Syrians poured into neighboring countries. Tiny Lebanon welcomed more than a million, and refugees make up almost a quarter of the population.
But the country's economy, never robust, has been hurt by the war next door. As fighting drags on, public resentment is building against refugees, who are seen as taking jobs, even if menial ones, and driving down wages. The U.N. has provided billions of dollars in aid, but donor contributions have not kept pace with growing needs.
"Our economy is collapsing. Why do we have to wait?" Lebanese Foreign Minister Gebran Bassil said on a visit to Arsal in June.
Underpinning much of the hostility are fears that the influx of Syrians, most of them Sunni Muslims, will upset the delicate sectarian balance in Lebanon, which fought its own civil war from 1975 to 1990.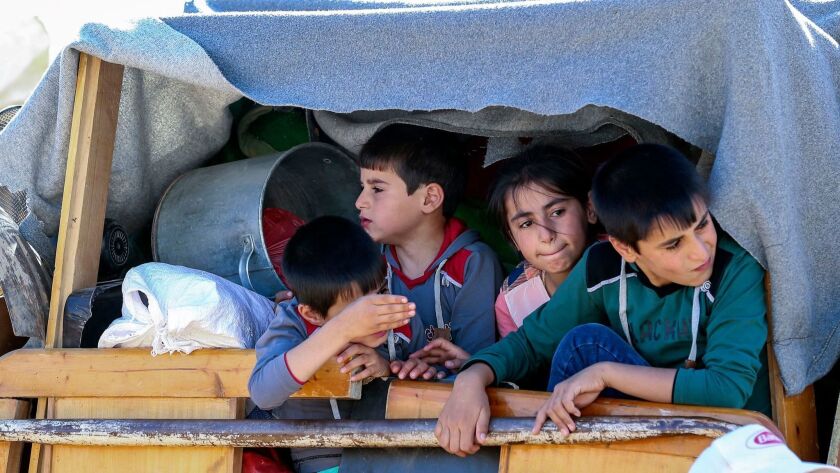 Bassil in June ordered a freeze on the processing of residency applications by UNHCR employees, accusing the agency of dissuading refugees from going home by asking them questions about the conditions they will face, including the security risks and the possibility of losing aid.
UNHCR officials deny that, saying the goal of such interviews is to understand the concerns refugees have and offer help when they can.
"If a refugee decides he wants to go back … we don't try to change their mind," said Rula Amin, a UNHCR spokeswoman based in Amman, Jordan. "We respect their decision."
However, Amin said the UNHCR would need to see some safeguards before it starts organizing the returns.
"It's not just about active combat," she said. "Asylum seekers are sometimes entitled to asylum even if there is no war in their country — if they are persecuted, if they don't have their rights, if they show that there's a threat to their life."
The Kremlin has provided few details about its proposals, presented after President Vladimir Putin's recent summit with President Trump in Helsinki. But the move appears to be part of a Russian gambit to legitimize Assad in the eyes of the United States and its allies, ease sanctions imposed on his government and raise funds for reconstruction.
"People want to return to their homes," the Kremlin's special envoy for Syria, Alexander Lavrentyev, said last week according to Russia's Tass news agency. "It is also in the interests of European nations to offer assistance to the return of Syrian refugees to their homeland and create corresponding conditions for that."
The destruction in cities like Homs and Aleppo, pummeled by shelling and airstrikes, is massive. The World Bank estimated last year that it would cost between $200 billion and $350 billion to rebuild. But the U.N. and European Union, whose member states are home to about a million Syrian refugees, are adamant about withholding reconstruction funds until a credible political solution is reached.
"Both the Russians and the Syrians understand very well that this refugee issue is something that they can use in their favor," said Heiko Wimmen, project director for Iraq, Lebanon and Syria at the International Crisis Group, a nonprofit organization that researches conflict prevention.
"If you hold out this prize — even if it's an illusion — that refugees will return in large numbers, that is obviously something that can be attractive to European politicians, or that European politicians can sell at home."
Russian officials say the refugees have nothing to fear from Assad's government, but many dispute that. Those who returned to opposition-held areas in recent years were frequently displaced anew — and in some cases killed — in government offensives, according to New York-based Human Rights Watch.
Some refugees fear they could be arrested, tortured or killed if they go back. Others worry about how they will rebuild homes damaged or destroyed in the fighting and stripped down to the wiring by looters.
"If the U.N. doesn't coordinate, then what guarantee do we have?" asked a 50-year-old lawyer in Arsal, who asked to be identified by a traditional nickname, Abu Mohammed, to avoid endangering relatives in Syria. "Before, the border was open, but now there is an army checkpoint. No one can go and come back."
Many of those leaving are elders or children. For men of fighting age, one of the biggest fears is being drafted into Assad's army. The government has offered them a six-month grace period to get their affairs in order.
Meanwhile, living conditions in Lebanon have grown increasingly harsh. New regulations have barred refugees from white-collar jobs and made residency permits difficult to obtain. Education options are limited and healthcare prohibitively expensive for many.
Authorities have refused to set up formal camps for Syrians, citing the experience with camps for Palestinians that morphed into permanent neighborhoods.
Syrians with means rent houses and apartments. But hundreds of thousands are crammed into makeshift dwellings, including tents, shacks and disused factories. They are still required to pay rent, though. And when tensions flare with host communities, they sometimes are evicted en masse.
Tented settlements dot the landscape in Arsal, tucked in mountainous and rocky terrain on the northern edge of Lebanon's Bekaa Valley. Its Sunni residents mostly welcomed the refugees, many of them relatives.
But the addition of tens of thousands of newcomers to a town with a prewar population of fewer than 40,000 has put a strain on public services, which were never good, according to Mayor Basil Hujeiri. There aren't enough schools, and residents only have electricity for about 12 hours a day.
Just over 3,000 of the town's refugees have registered to go home, but their applications must first be vetted by authorities in Syria, the mayor said.
Early on their appointed day, departing refugees assemble at a checkpoint on the edge of town. They travel in cars, trucks and tractors piled high with their belongings — stacks of mattresses, bags of food and clothing, the occasional motorcycle. Lebanese security officers check their identification cards against a list of approved names before allowing them to drive to the nearest border crossing.
The mayor makes a point of accompanying them whenever he can, stopping along the way to inquire after broken=down vehicles and pass out bottles of water to those waiting for help to arrive.
"The most important thing in this situation is nobody is forcing the refugees to go back to Syria," Hujeiri said. "They go by their own choice."
From the point of view of human rights advocates, however, Lebanese authorities aren't giving refugees much of a choice.
"They adopted a set of policies that make it very difficult for refugees to stay in Lebanon, and most of them will, as a result, return," said Sara Kayyali, a researcher for Human Rights Watch.
In Syria, the Rifais were wealthy farmers with 2,000 fruit trees, including peaches, cherries and apricots. In Lebanon, they barely make ends meet, said Mahmoud Rifai, 34, who was cradling a sleeping son when he arrived at the checkpoint to say goodbye to his parents.
Only one of the brothers has found steady employment, teaching refugee children. The others do occasional construction work and count themselves lucky if they make $10 a day.
They sold most of their furniture and moved into a collection of canvas tents, which each rent for $13 a month. Water seeps in when it rains, and in the summer they are unbearably hot.
The brothers say they can't look for work outside Arsal because the Lebanese armed forces won't let them through their checkpoints.
In 2014, the town was overrun by fighters from Syria, including members of Islamic State and an affiliate of Al Qaeda. Although the armed groups have been pushed out, authorities continue to enforce tight security measures.
"The army gives us too many problems here," grumbled Ali Rifai, a 66-year-old in-law of Khadija Rifai's, who hails from the same western town, Ras Maara.
A year ago, he said, soldiers picked up his son in the mountains and held him for 45 days before releasing him without charge. "They hit him so many times, and he didn't do anything. He was just minding the sheep."
He too concluded it was time to go back to Syria.
"It was a difficult decision because I don't know what the situation is there, or what will happen to us," Ali Rifai said. Still, he added, "If I'm going to drink a cup of poison, I'd rather do it in my own home."
Twitter: @alexzavis
Special correspondent Abdel-Monhem Amiri contributed to this report.
---
Must-read stories from the L.A. Times
Get all the day's most vital news with our Today's Headlines newsletter, sent every weekday morning.
You may occasionally receive promotional content from the Los Angeles Times.