Netanyahu meets with victim of videotaped police beating, promises action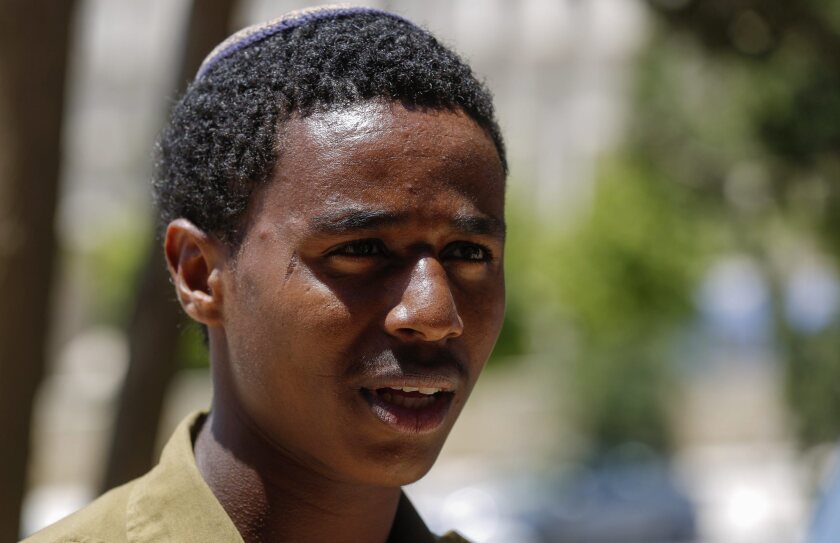 Reporting from Jerusalem —
Israeli Prime Minister Benjamin Netanyahu expressed shock Monday over a videotaped police beating of an Ethiopian Israeli man, and promised action to improve relations with the Ethiopian Jewish community.
The Israeli leader's strong response came after he met with the beating victim, an Israel Defense Forces soldier who appeared in the video to have done nothing to warrant the beating. Anger over the incident prompted a large demonstration in Tel Aviv on Sunday that devolved into violent clashes with police.
"I was shocked by the pictures that I saw. We cannot accept this," Netanyahu said, referring to the video. "We cannot accept inflammatory rhetoric, racism, looking down on people and the beating of an IDF soldier."
He spoke after meeting with Damas Pakada, the soldier whose treatment at the hands of police has galvanized the Ethiopian community, which is still struggling to fit in more than three decades after arriving in the country as immigrants.
The video, in which two police officers attack Pakada for no apparent reason and continue to assault him while he lies on the ground, mirrors similar recent incidents in the United States involving, as in the Israeli case, police violence against black men.
The incident has prompted activists for Israelis of Ethiopian descent to delineate a long list of problems the community of nearly 140,000 immigrants and native Israelis face, including prejudice on the part of society and police, education and housing policies that deny Ethiopians an equal starting point, and discrimination in employment and other spheres of life.
While calling for police reform, Netanyahu also acknowledged the need for comprehensive policies to address the wider needs of Israelis of Ethiopian descent.
"There is a deep problem here that needs to be resolved. This outburst is the result of genuine distress," the prime minister said.
In addition to meeting with Pakada, Netanyahu held an expanded discussion with community leaders, activists and government ministers, including representatives of the departments of interior, immigrant absorption, housing and public security, law enforcement, justice and prisons.
Afterward, Netanyahu said a plan addressing the main problems would soon be presented to the Cabinet, and that a ministerial committee would be appointed to oversee implementation and advance solutions for other problems not addressed by the initial plan.
"We must all line up against racism, condemn it and work to eradicate it," Netanyahu said.
As a soldier in mandatory service, Pakada was barred from participating in the protests but told the prime minister he opposed the violence from both sides.
"What happened, the confrontations between the police and civilians, breaks my heart," he said. "We are trying to integrate as best we can in Israeli society. ... I hope that you will work against discrimination and racism."
Israelis were reeling from Sunday's late-night clashes in Tel Aviv between police and protesters.
Police continued their efforts to identify demonstrators they said engaged in violence. Nearly 20 protesters who had been arrested during the violence were brought before a judge, who ordered that they remain in police custody for another day or two.
Activists continued to accuse police of excessive force and demanded a full-blown investigation into Sunday's events, and police deployed heavily in Jerusalem for another demonstration that was tense but peaceful.
National police commissioner Yohanan Danino expressed regret about Pakada's beating, and emphasized that one officer involved was dismissed immediately. The video, he said, "speaks for itself."
It was not immediately clear why one officer was singled out for swift punishment but not the other.
Young Israelis of Ethiopian descent were no strangers to police violence, said Fentahun Assefa-Dawit, executive director of the Tebeka advocacy organization for Justice and Equality for Ethiopian Israelis. In many cases when young men are "beaten up, violated and discriminated against," they will also be arrested, he said.
"The difference this time is the footage. Now all those youths have a case, they have proof," he said.
Sobelman is a special correspondent.
---
Must-read stories from the L.A. Times
Get all the day's most vital news with our Today's Headlines newsletter, sent every weekday morning.
You may occasionally receive promotional content from the Los Angeles Times.