French investigators believe another attacker could still be at large
Sylvain Perriot stops to take a picture of the flag at half mast above the Presidential Palace in Paris. France's Sate of Emergency will continue, with flags at half mast.
(Carolyn Cole / Los Angeles Times)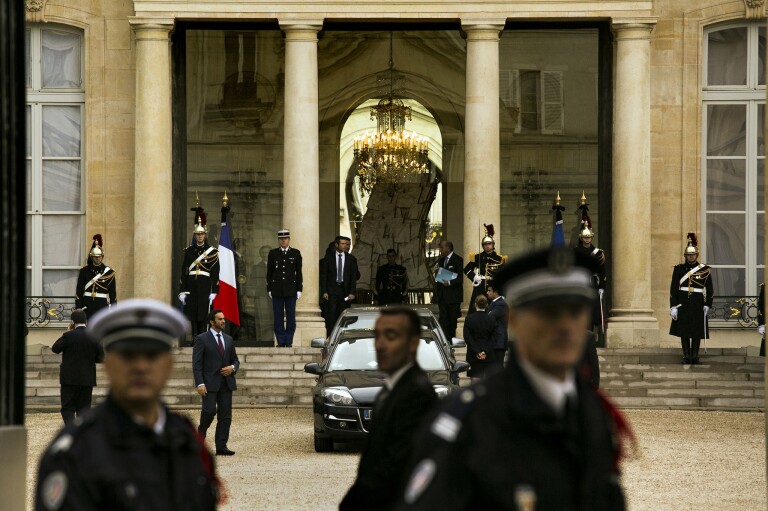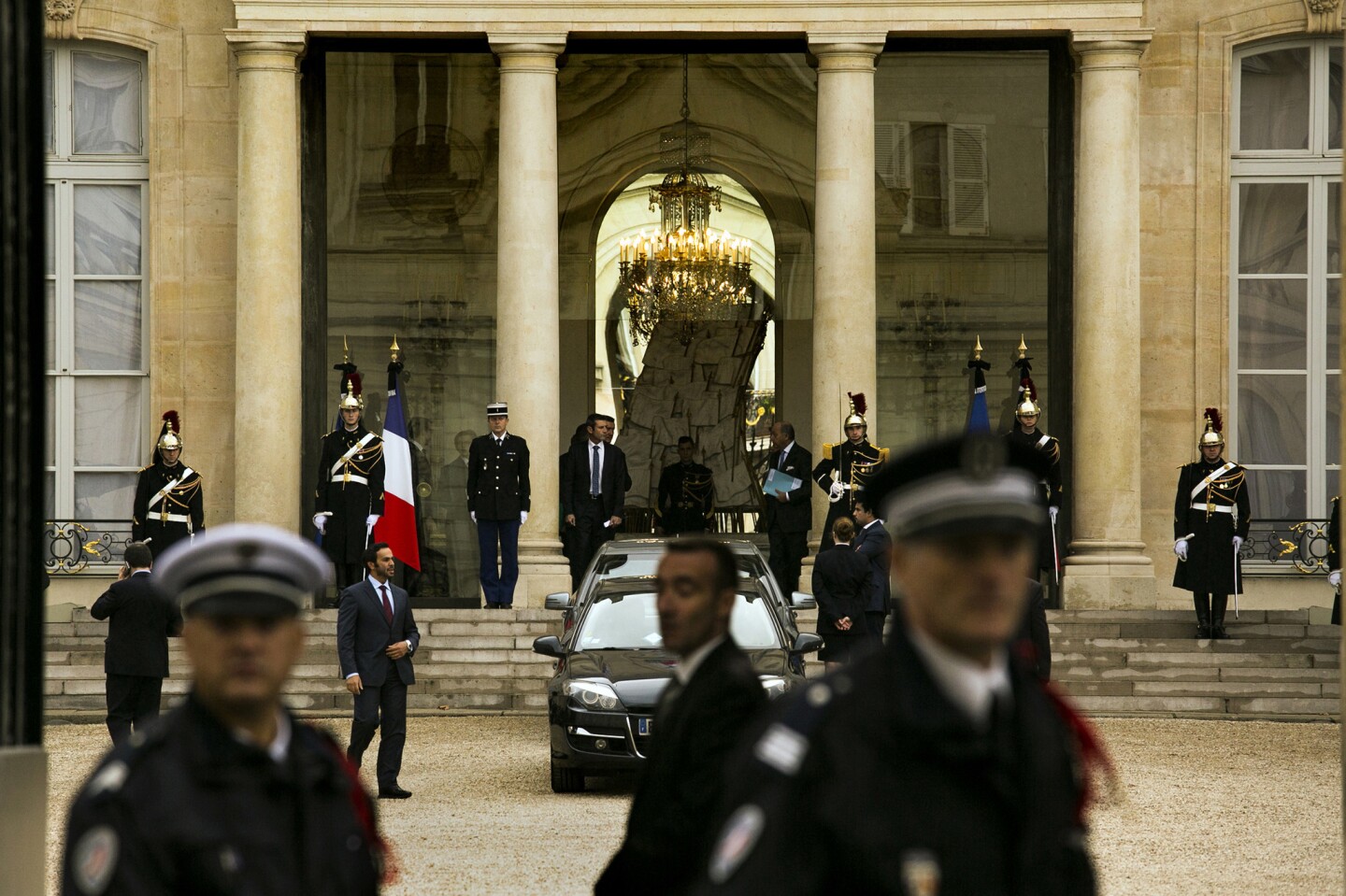 Looking inside the courtyard of the Presidential Palace, guards stand at attention for the departure of Secretary of State John Kerry after his meeting with French President Francois Hollande.
(Carolyn Cole / Los Angeles Times)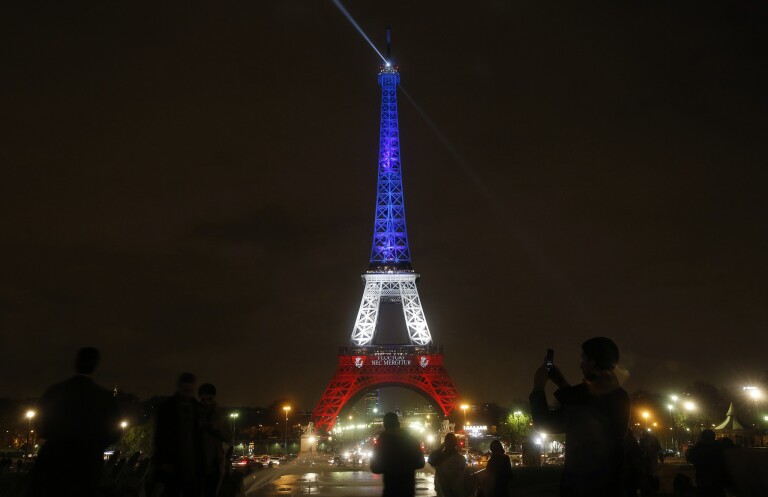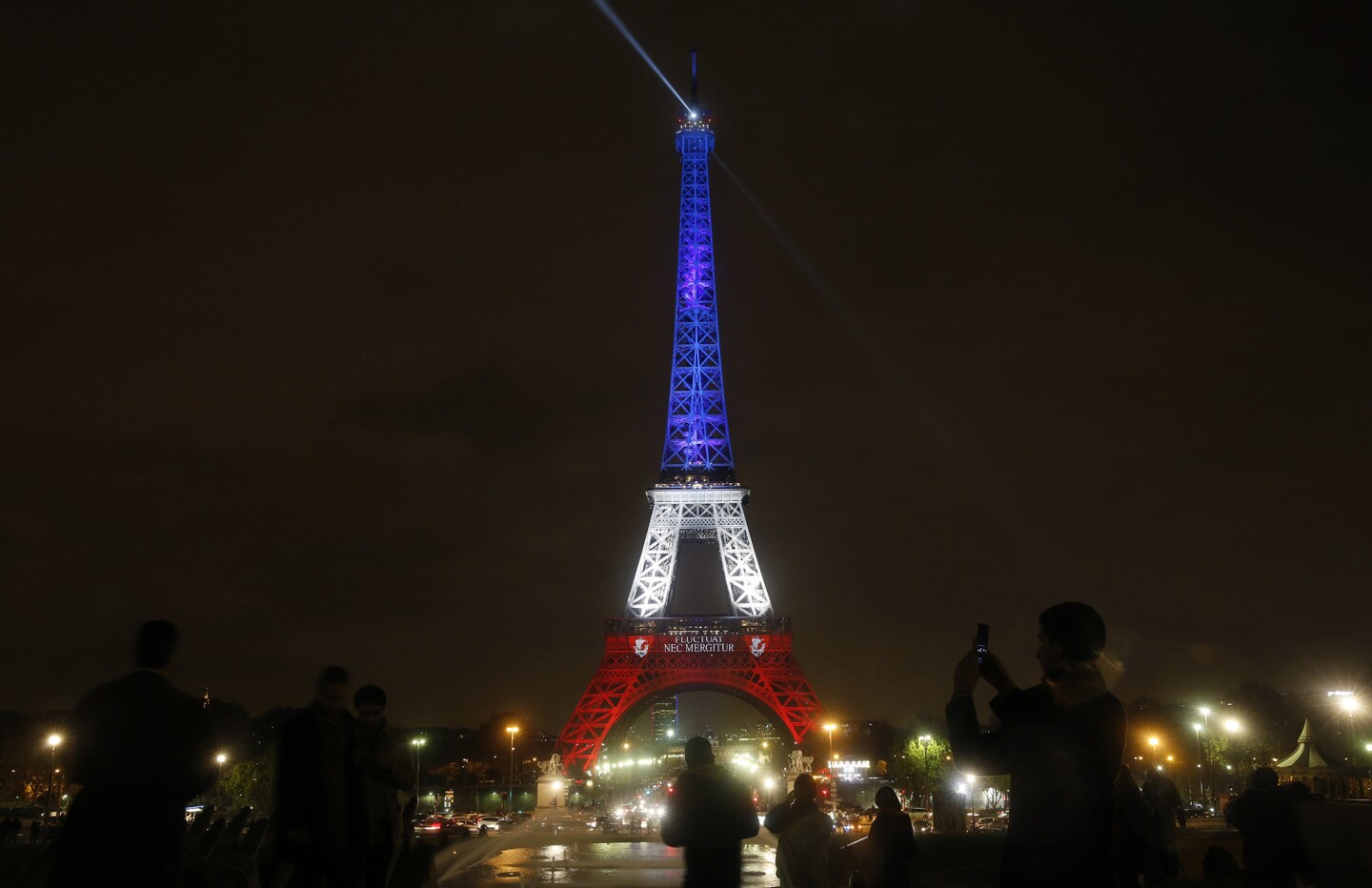 On the third day of national mourning, the Eiffel Tower was illuminated in the colors of the French flag after going dark.
(Carolyn Cole / Los Angeles Times)
On the third day of national mourning, people continue to gather in public places like the Place de la Republique, including Tao Cisse, age 5, and Maya Sutej.
(Carolyn Cole / Los Angeles Times)
People observe a minute of silence in front of the Le Carillon cafe in Paris on Nov. 16, paying tribute to victims of the terror attacks.
(Lionel Bonaventure / AFP/Getty Images)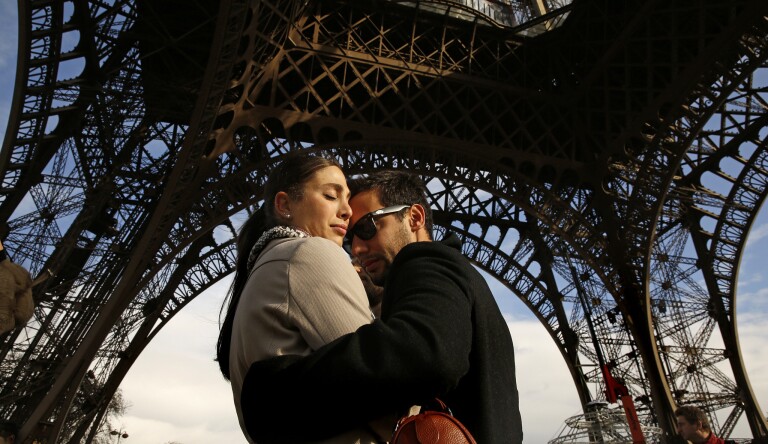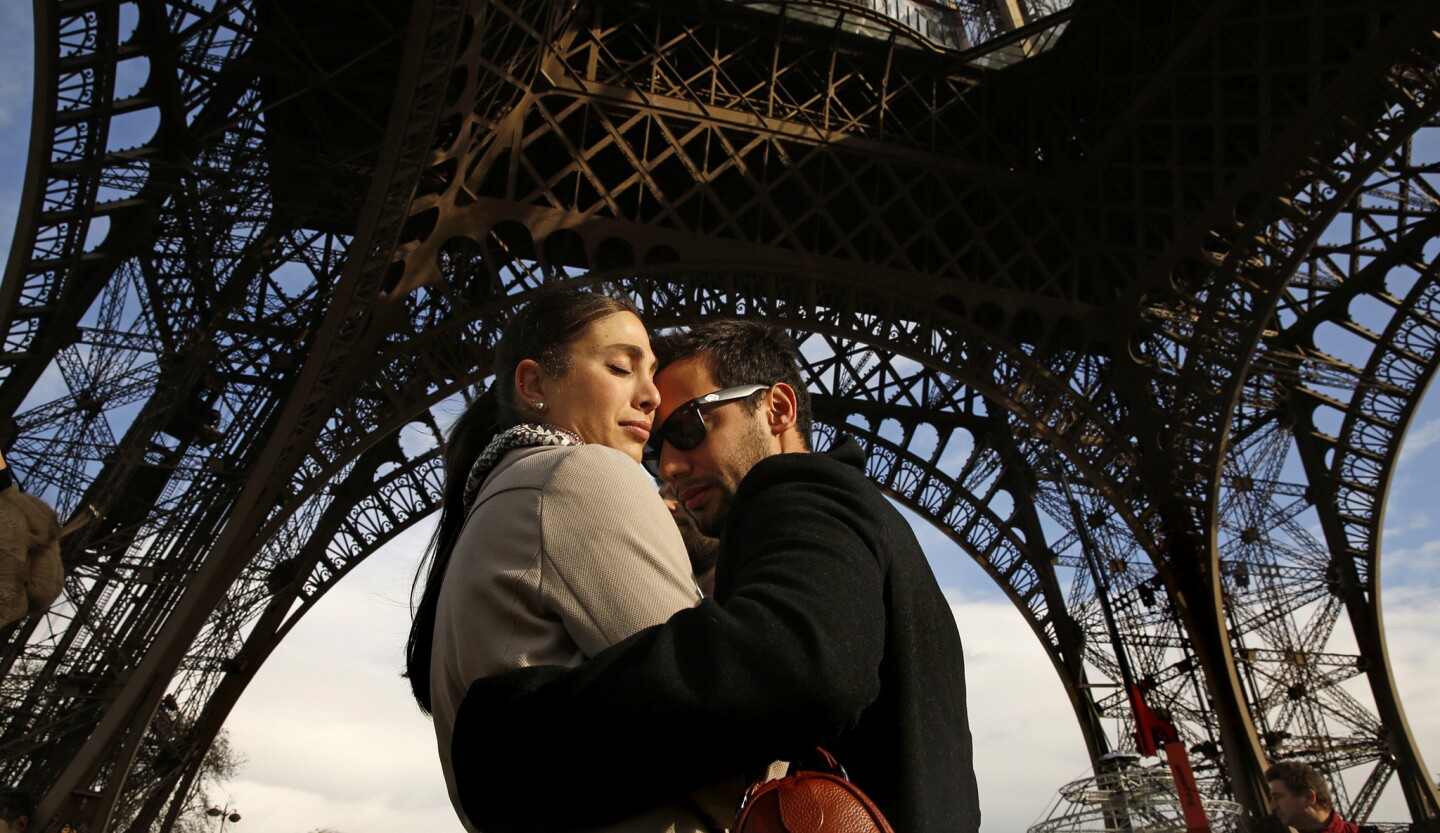 Paris residents take part in a Nov. 16 moment of silence under the Eiffel Tower in observance of those who died during the terrorist attacks three days earlier.
(Carolyn Cole / Los Angeles Times)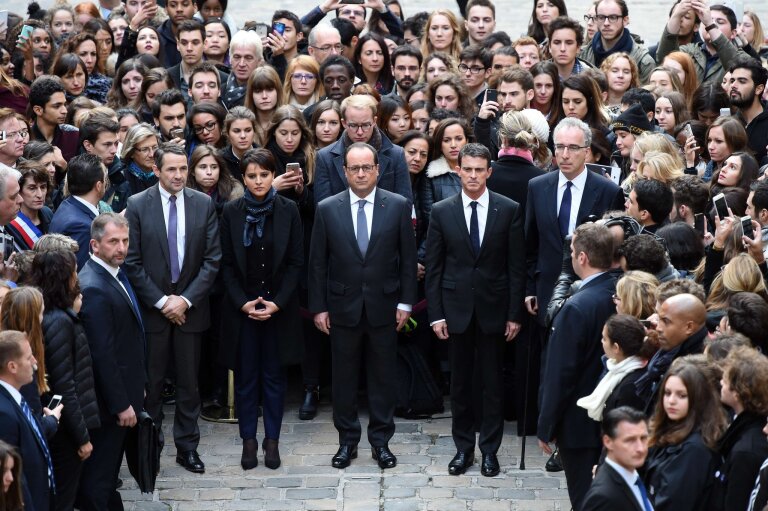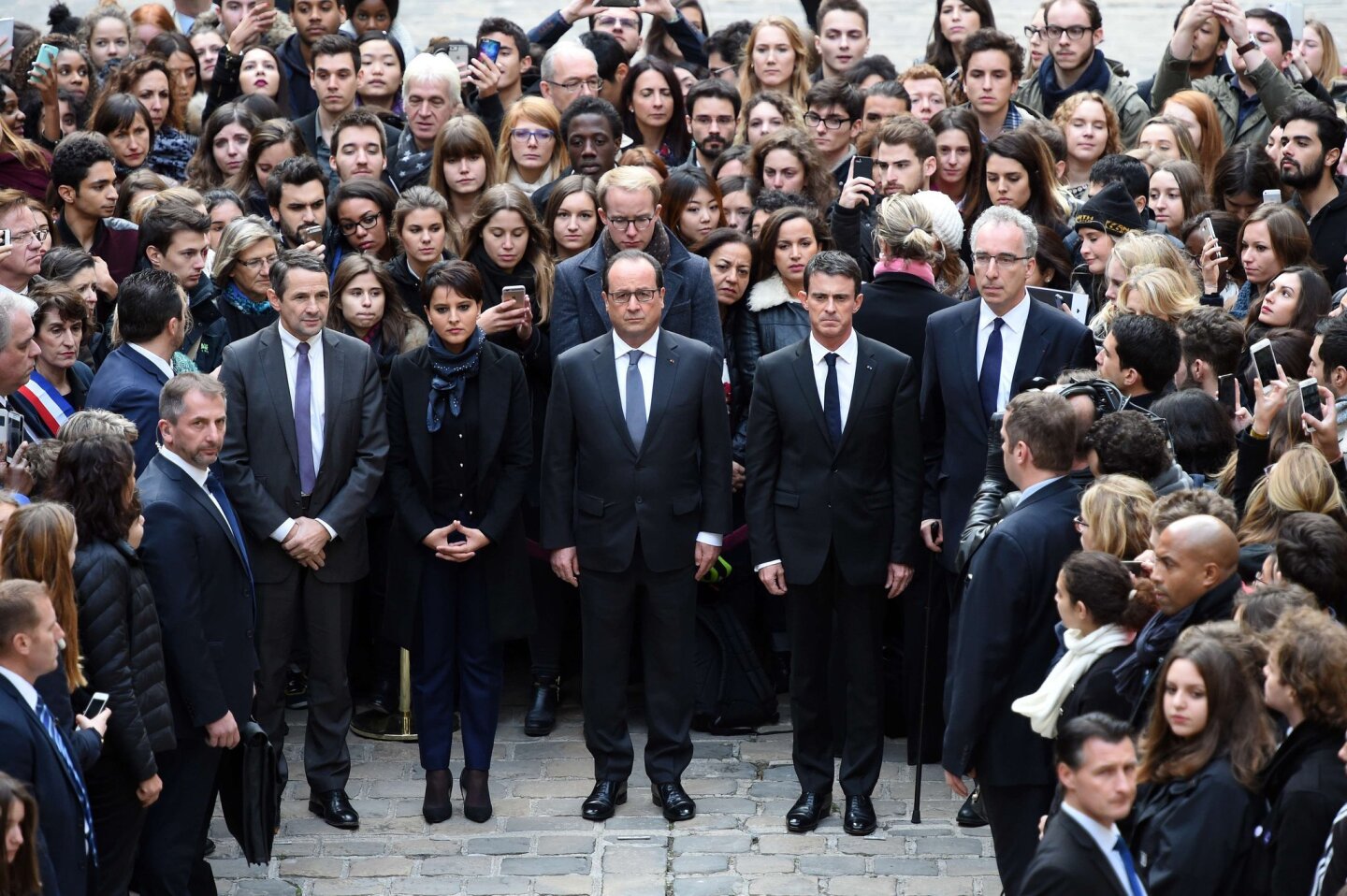 French President Francois Hollande, center, stands with government officials to observe a minute of silence Nov. 16 at the Sorbonne University in Paris.
(Stephane De Sakutin / AFP/Getty Images)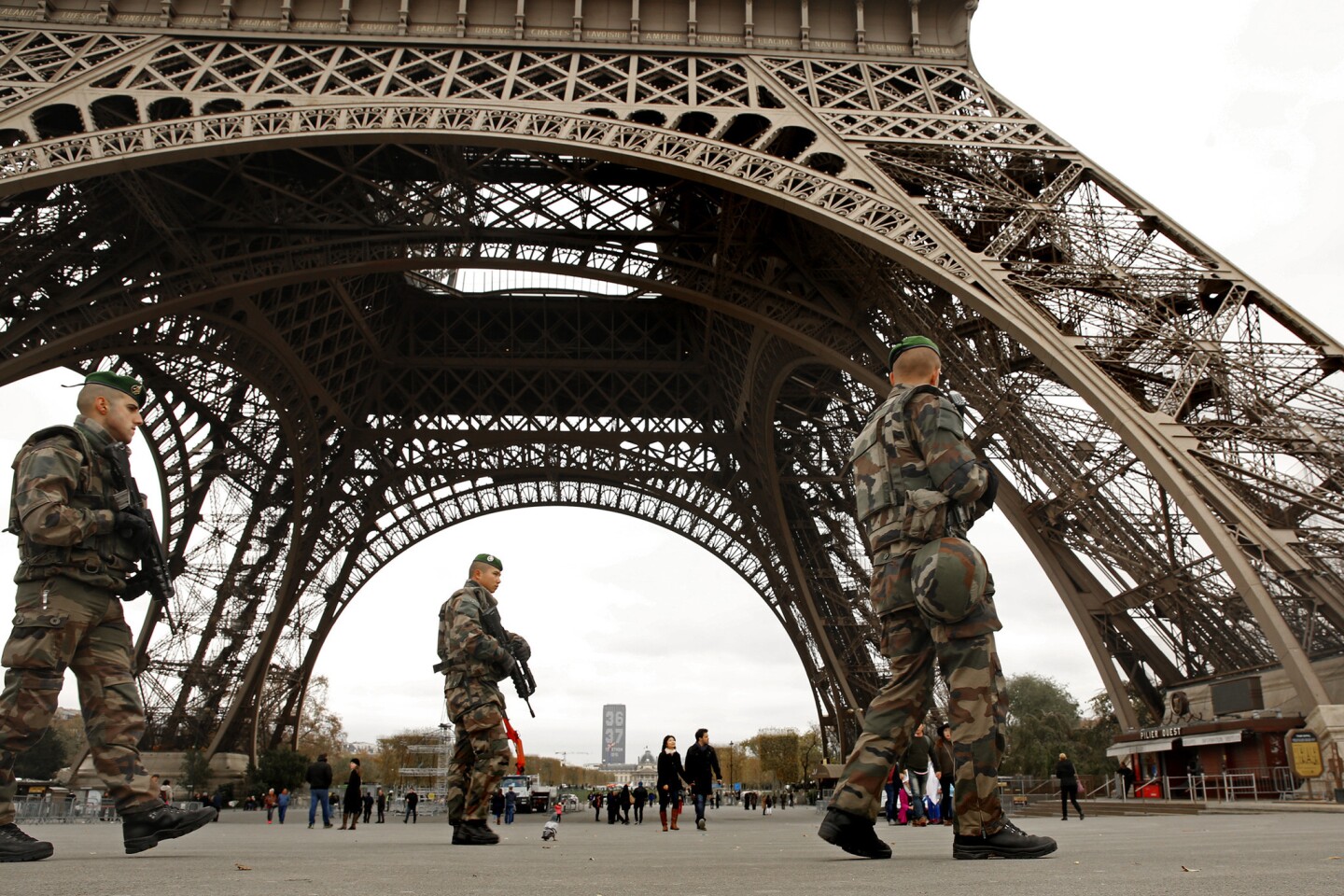 Members of the French Foreign Legion stand guard near the Eiffel Tower on Nov. 16.
(Carolyn Cole / Los Angeles Times)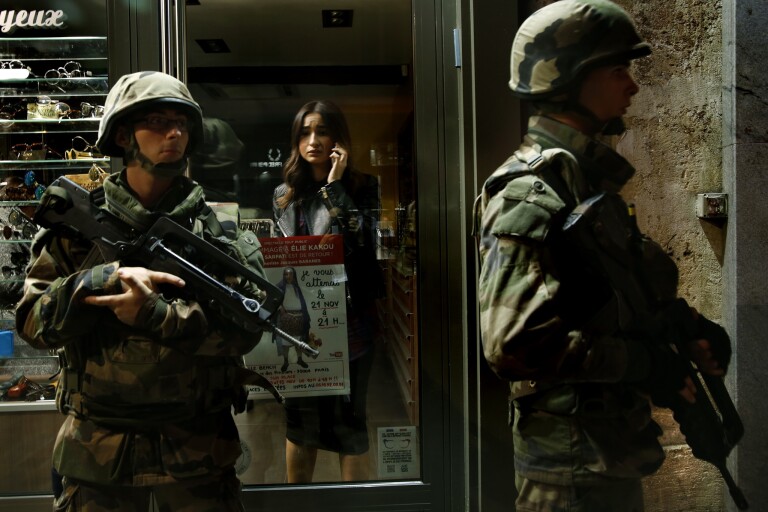 A Paris shopkeeper stays inside Sunday as soldiers guard the street where she works.
(Carolyn Cole / Los Angeles Times)
A sign that reads 'Not even afraid' is draped on the statue on Republique plaza in Paris.
(Ian Langsdon / European Pressphoto Agency)
Women run past French soldiers as panic spread through the streets of Paris when rumors spread of another possible terrorist attack, which turned out to be a car left running in the street.
(Carolyn Cole / Los Angeles Times)
French police have released a photo of Abdeslam Salah, a 26-year-old sought in connection with the Paris attacks.
(National Police)
Prelates arrive to celebrate a Mass in memory of the attack victims at the Notre Dame cathedral.
(LIONEL BONAVENTURE / AFP/Getty Images)
An emotional crowd gathers in front of Le Carillon restaurant.
(Carolyn Cole / Los Angeles Times)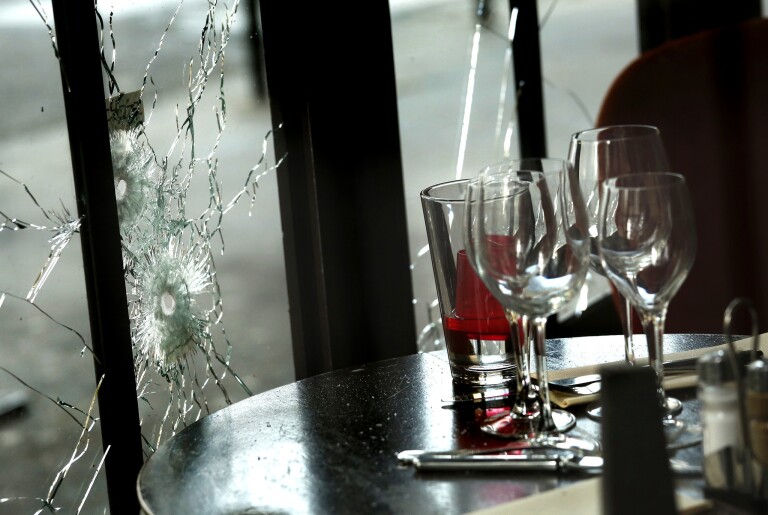 The glasses and silverware remain on the table where bullets were fired at Cafe Bonne Biere.
(Carolyn Cole / Los Angeles Times)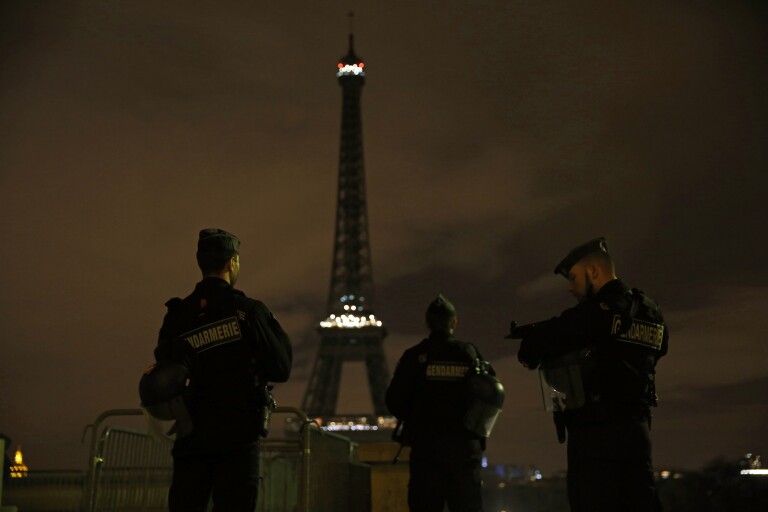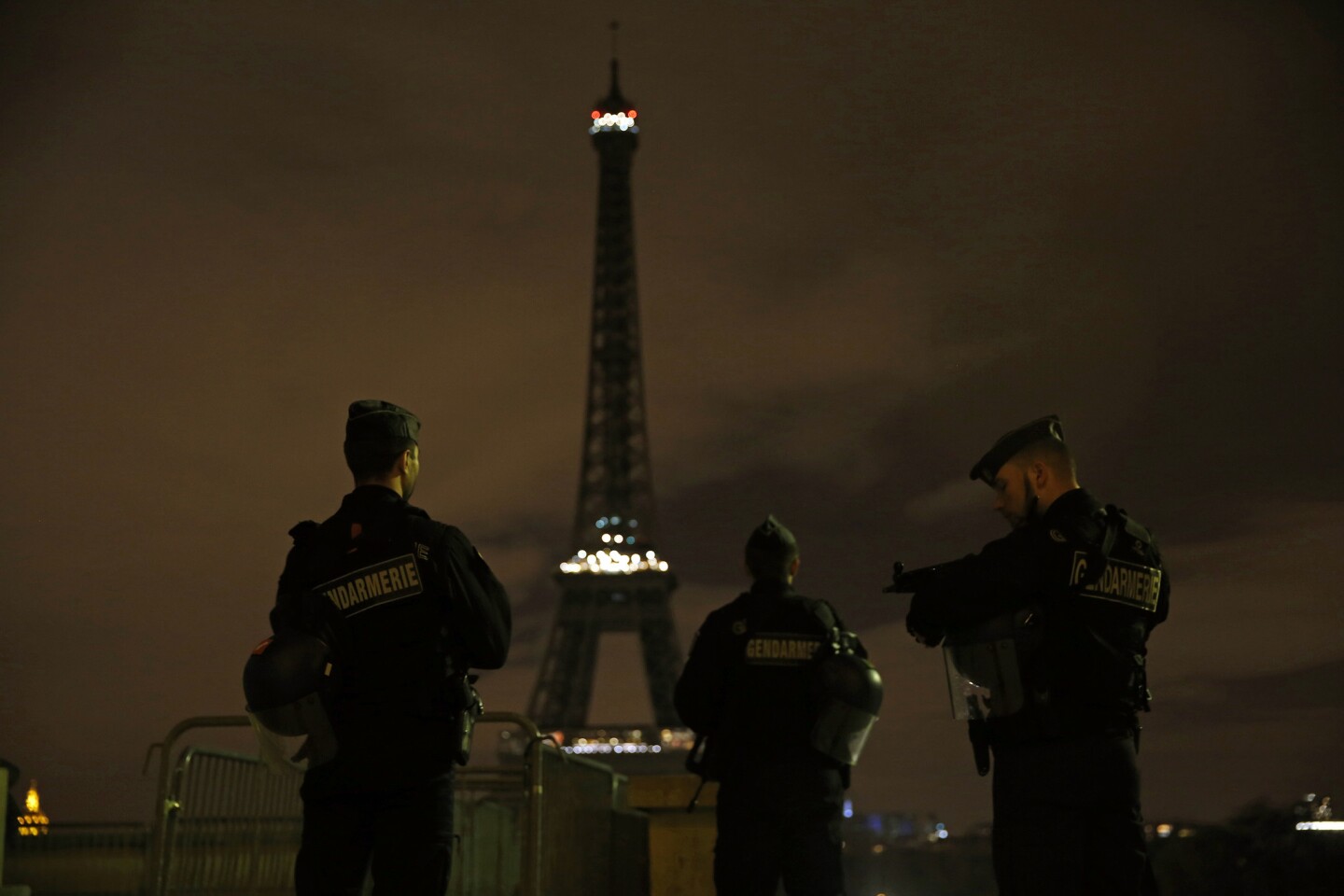 Armed police stand guard Nov. 14 near the Eiffel Tower, which was kept dark in honor of those who died in the terrorist attacks.
(Carolyn Cole / Los Angeles Times)
Mourners place flowers and candles outside the Bataclan theater in Paris.
(Carolyn Cole / Los Angeles Times)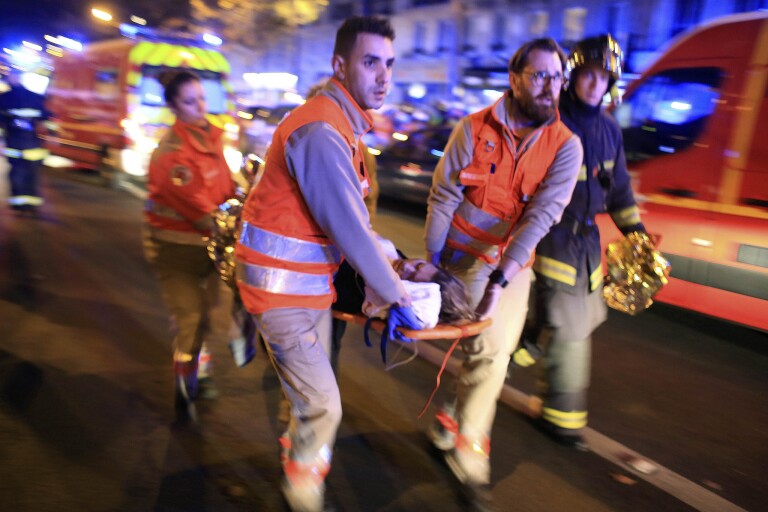 A woman is evacuated from the Bataclan theater after the shootings in Paris.
(Thibault Camus / Associated Press)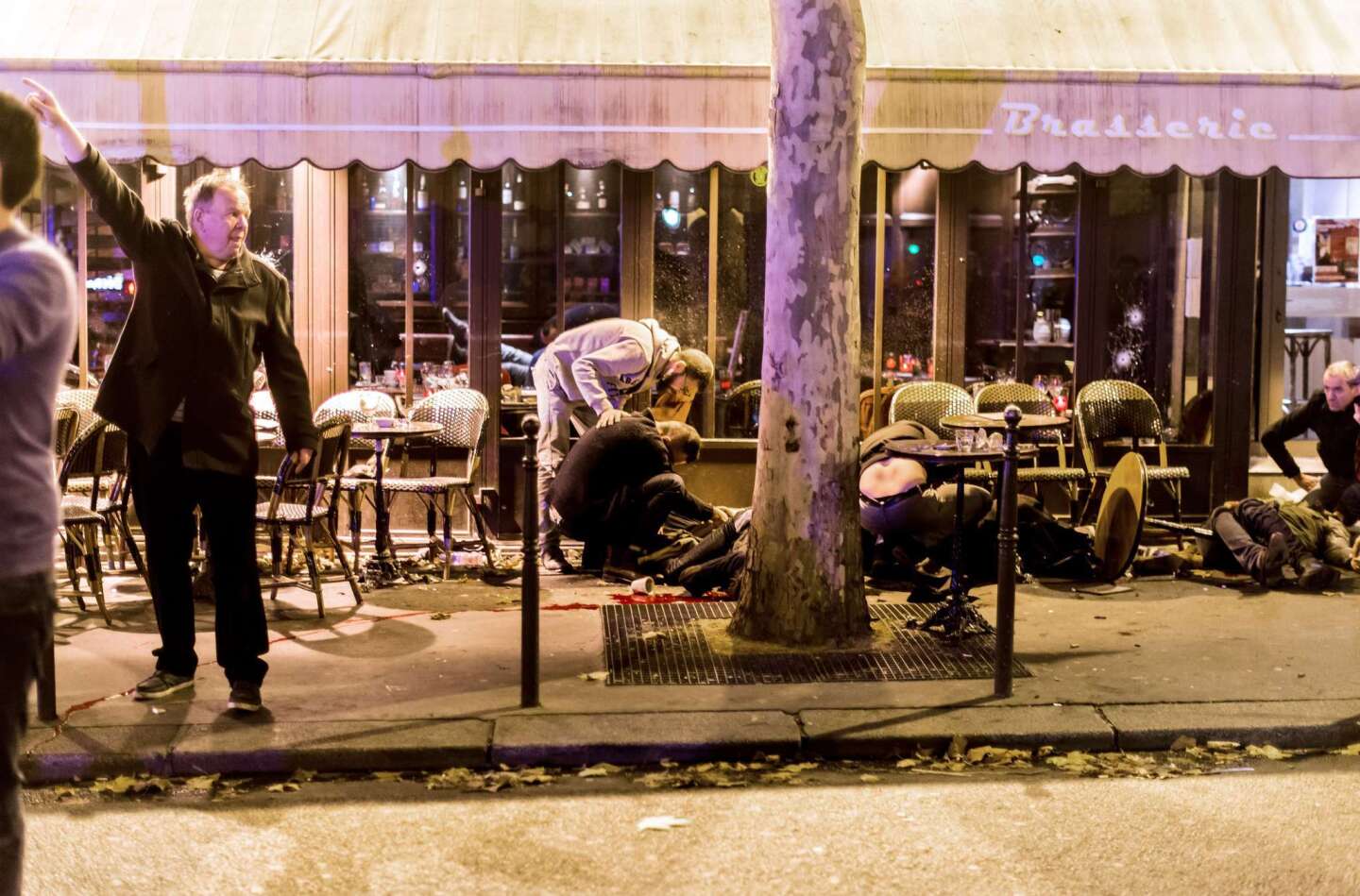 People lie on the pavement near the Cafe Bonne Biere in Paris following a series of attacks.
(ANTHONY DORFMANN / AFP/Getty Images)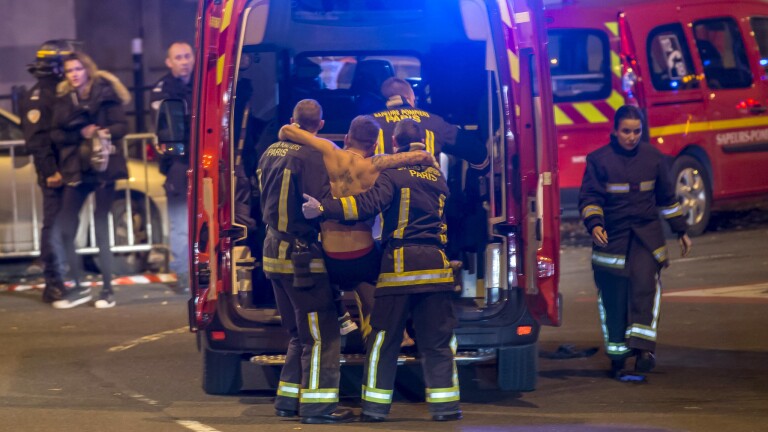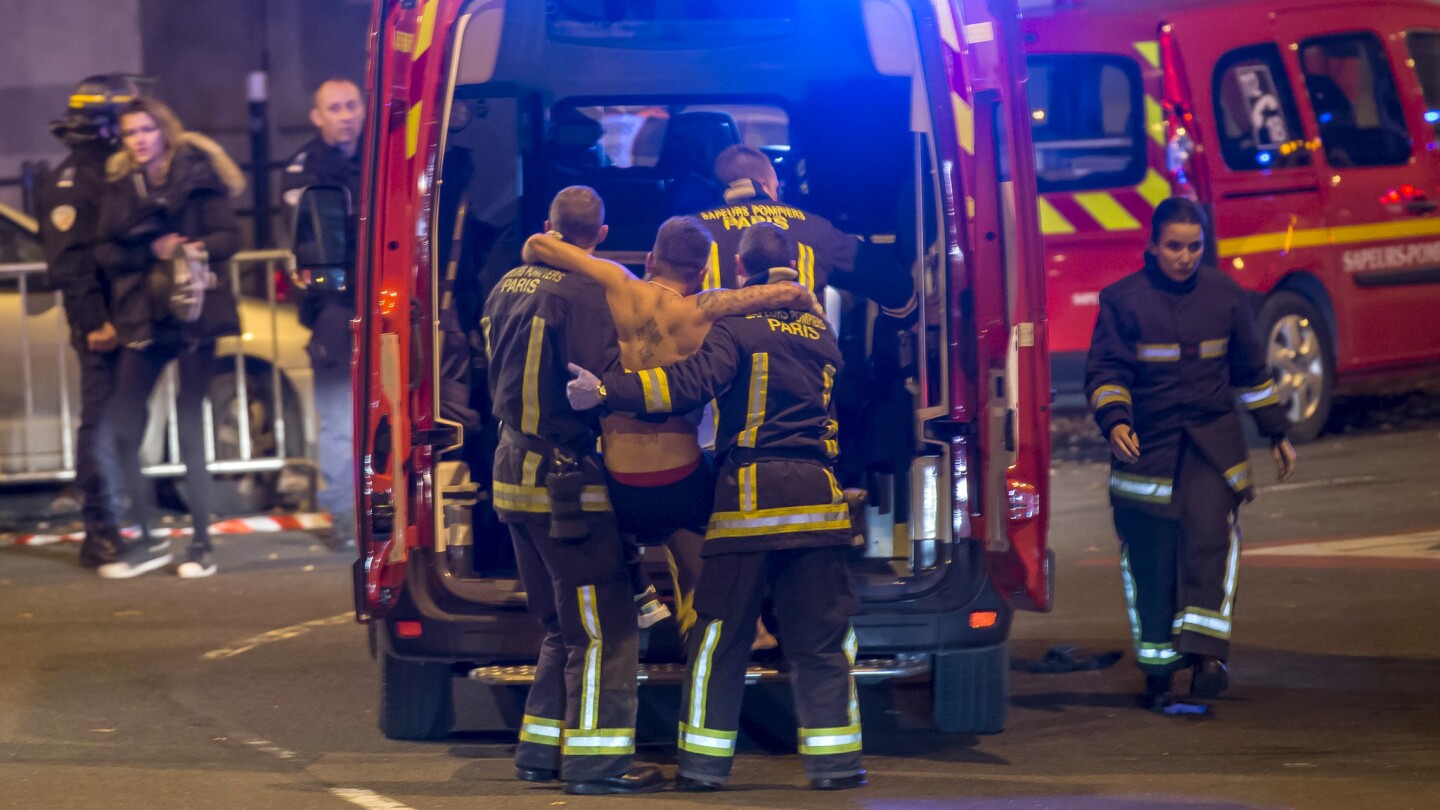 A man wounded in the shootings is treated near the Stade de France.
(Ian Langsdon / European Pressphoto Agency)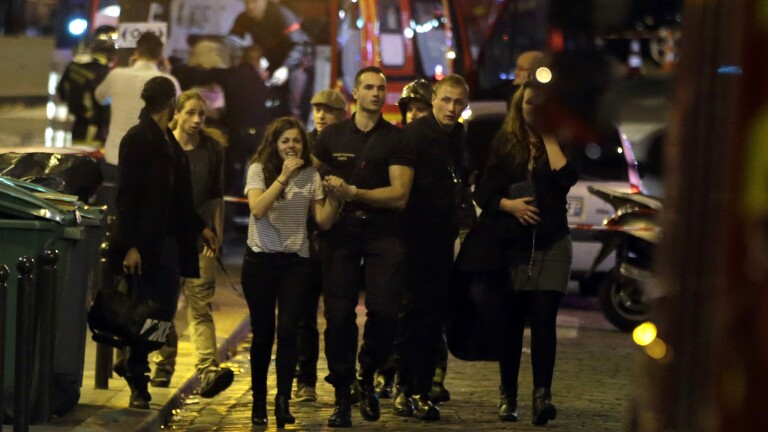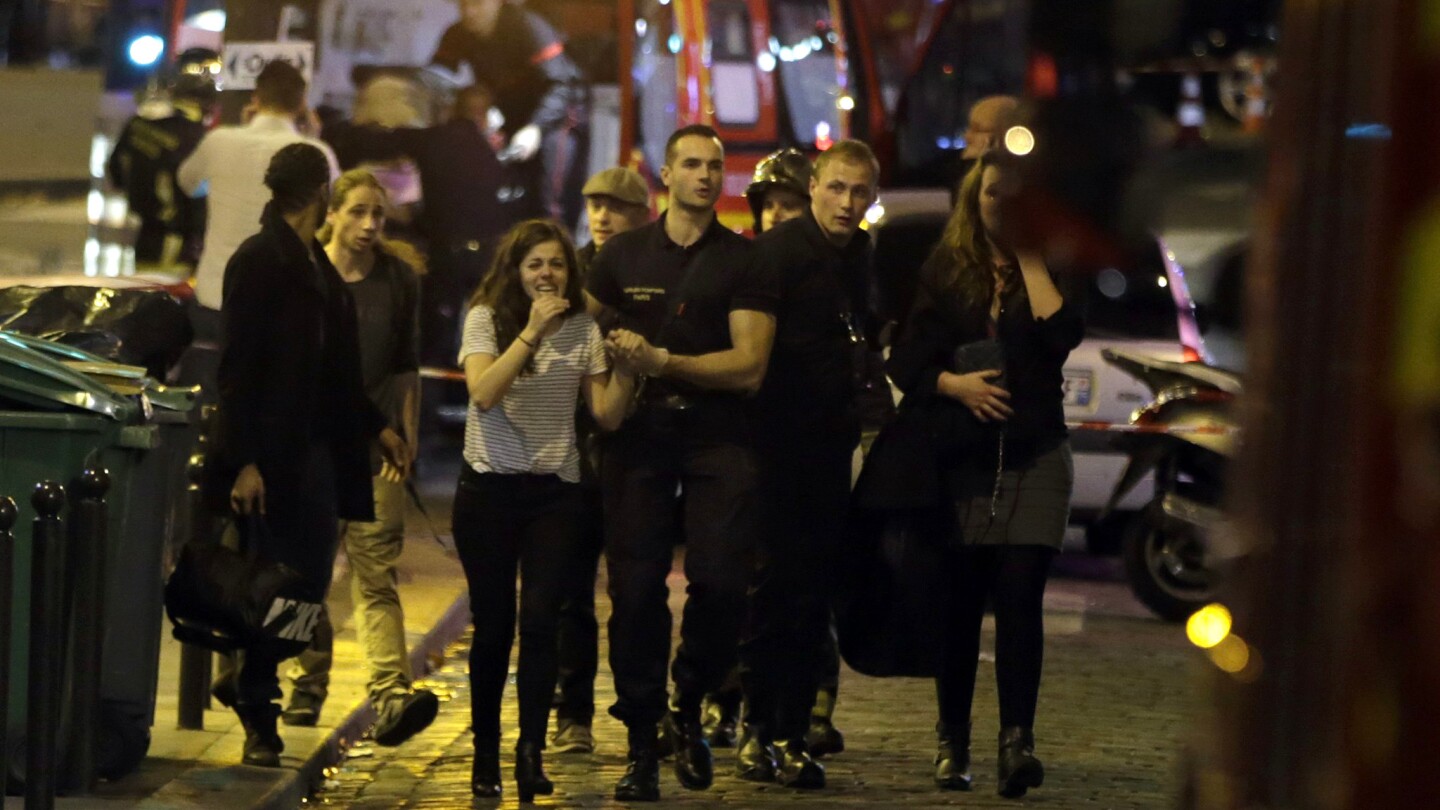 Rescuers evacuate people following an attack in Paris, where there were also reports of an ongoing hostage crisis at a concert venue.
(Kenzo Tribouillard / AFP/Getty Images)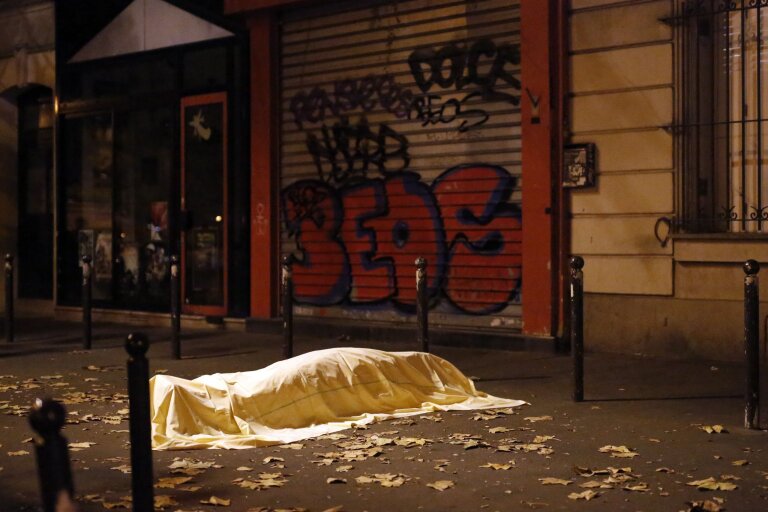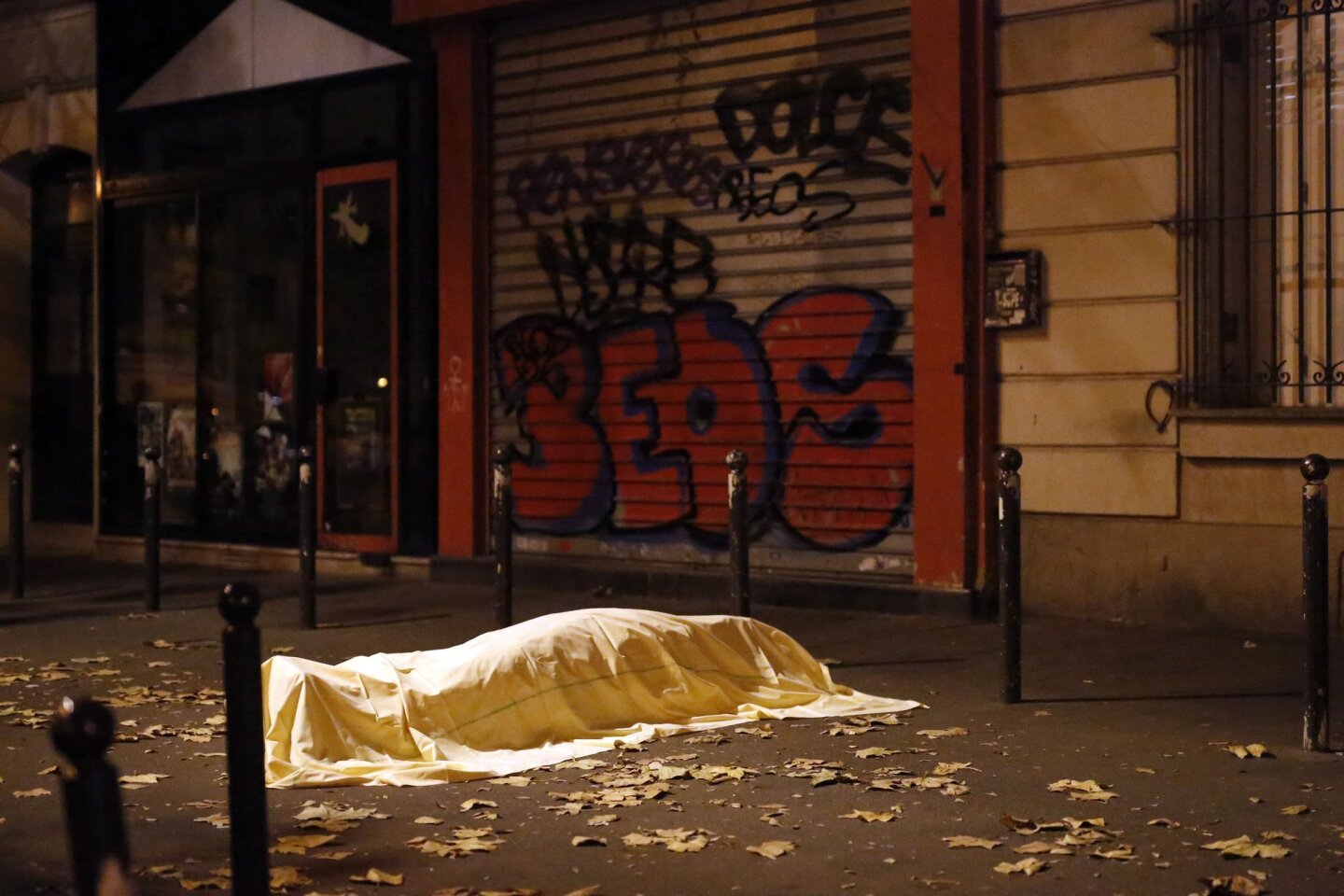 A victim lays dead under a blanket outside the Bataclan theater in Paris.
(Jerome Delay / AP)
Hundreds of people spilled onto the field of the Stade de France stadium after explosions were heard nearby during a match between the French and German national soccer teams.
(Christophe Ena / Associated Press)
Reporting from Paris —
Investigators believe that a second militant may have gotten away after taking part in the deadly attacks in Paris, a U.S. law enforcement official said Tuesday, as authorities in France and Belgium scrambled to identify the potential suspect.
Seven militants blew themselves up or were killed by police during the assault Friday, three of them outside a soccer stadium, three at a rock concert and one at a cafe.
An international hunt was underway for an eighth suspect, Salah Abdeslam, who is believed to have played an important role in the attacks. One of his brothers, Brahim, has been named as the militant who blew himself up on the cafe's terrace.
Some witnesses placed the two brothers in a black SEAT car that was used by attackers who opened fire on a string of Paris eateries, said the U.S. official, who was briefed on the investigation but was not authorized to speak publicly about it. Others said there were three men in the vehicle, not two.
"They didn't see a lot," the official said, "except some insisted there was a third person in the car."
Investigators do not have a name or facial description for the potential suspect but are studying surveillance video recovered from one of the sites, the official said.
France says the militant group Islamic State conceived the bombing-and-shooting rampage in Paris, which killed at least 129 people and injured hundreds on a night out in this storied city.
French President Francois Hollande has declared that his country is "at war" with the extremist group.
French warplanes pounded Islamic State targets in Syria late Tuesday, the third straight night of airstrikes against the group. French Defense Minister Jean-Yves Le Drian told TF1 TV that 10 fighter jets were taking part in the bombardments. He said the number would increase to 36 when a French aircraft carrier reaches the area.
There were also more raids Tuesday on locations across France that are suspected of links to extremist activity, though not necessarily tied directly to the attacks in Paris.
Interior Minister Bernard Cazeneuve told French radio that 128 locations were targeted overnight Monday, on top of 168 raids the night before. He said the government was mobilizing 115,000 police officers, gendarmes and soldiers to protect the public.
Officials in France and Belgium, where many of the Paris attackers were either residents or had connections, are said to be focusing their attention on a Belgian named Abdelhamid Abaaoud as the potential ringleader of the Paris attacks.
He is believed to be in Syria, but is not thought to be the militant heard in a recording claiming responsibility for the attacks on behalf of Islamic State, according to the U.S. law enforcement source. An analysis of the recording points to Fabien Clain, a Frenchman who has been linked to plots dating to 2012 and is also thought to be in Syria.
"It's him," the U.S. official said, referring to Clain.
Investigators believe that at least some of the attackers posed as Belgian businessmen when they entered France in the days before the rampage, the official said. A cellphone thought to have been used by the militants has been recovered, the official said.
On Tuesday, the Belgian federal prosecutor's office charged two men arrested over the weekend, Mohammed Amri and Hamza Attou, with being part of the plot.
Lawyers for the two suspects acknowledge that their clients drove to Paris to pick up Abdeslam, the fugitive, and take him to Brussels early Saturday. But they say the men deny any role in the attacks.
Amri's lawyer, Xavier Carrette, said Abdeslam called his client Friday night asking for the ride, but made no mention of the attacks, the Belgian broadcaster RTBF reported. Attou went to keep Amri company, according to his attorney, Carine Couquelet.
Belgian news media reported that ammonium nitrate, an ingredient often found in homemade explosives, was found at the men's residences. But prosecutors said tests were still being conducted to determine the nature of the materials seized and cautioned against drawing any conclusions.
The developments in the fast-moving investigation came as Russian security officials confirmed for the first time that a bomb brought down a Russian commercial airliner over Egypt last month, killing all 224 people on board.
Islamic State has claimed responsibility for that attack as well, sparking increasing alarm over the group's apparent growing ambition, sophistication and reach in its terrorism campaign.
On Tuesday, a soccer game between Germany and the Netherlands was abruptly canceled because of a bomb threat. Police said they had "concrete evidence" that someone wanted to set off an explosive device at the stadium in Hanover, Germany. Another bomb threat about an hour earlier proved to be a false alarm, they said.
U.S. Secretary of State John F. Kerry, visiting Paris in a show of solidarity with France, met with Hollande on Tuesday to discuss how to increase the pressure on Islamic State. Hollande will travel to Washington next week to meet with President Obama.
Kerry described Islamic State's strategy as "just raw terror" and said there was no choice but to fight the group with force.
"We're not choosing to randomly go to war. We're trying to avoid it, trying to find a better path," Kerry said.
Hit by two deadly attacks within a year by militants directed or inspired by Islamic State, France appealed to its European partners Tuesday for help in combating the group. It invoked a clause in a European Union treaty obligating all EU nations to help a member state that "is the victim of armed aggression."
It is the first time an EU country has made use of that provision. The practical implications are unclear, but the move was reminiscent of how, after the Sept. 11, 2001, attacks in the U.S., fellow North Atlantic Treaty Organization nations for the first time invoked Article 5 of their agreement, which deems an attack on one alliance member state as an attack on all.
In Brussels, visiting Greek Defense Minister Panagiotis Kammenos made the comparison explicit. After Friday's assault on Paris, he told reporters, "we're in a new situation in Europe. This is Sept. 11 for Europe."
Serrano reported from Washington, Zavis from Los Angeles and Chu from Paris.
Follow @HenryHChu on Twitter for news on the Paris attacks
MORE ON PARIS ATTACKS
Obama fights back against critics of his Islamic State strategy
Police launch raids in France and Belgium amid talk of a mastermind
---
Must-read stories from the L.A. Times
Get all the day's most vital news with our Today's Headlines newsletter, sent every weekday morning.
You may occasionally receive promotional content from the Los Angeles Times.