Members of this Afghan minority flee to Iran to escape persecution — and get sent to fight in Syria
Two men squatted before a freshly dug stretch of earth in a public cemetery here as traffic buzzed by on the adjacent highway.
They had just buried their 18-year-old brother, Seyyed Zia Hoseyni. His photograph poked out of a bundle of flowers.
Hoseyni joined hundreds, perhaps thousands, of Afghans who were killed in Syria after enlisting in Iran's effort to bolster the embattled forces of Syrian President Bashar Assad.
Nearly all are from Afghanistan's Hazara minority. As Shiite Muslims, they fled to Iran in hopes that it would be more hospitable than Afghanistan, where they faced religious persecution and the economic hardships of a country racked by war and terrorism.
But they wound up embroiled in another war. The Iranian government has relied heavily on the Afghan immigrants, sending them to battle in greater numbers than it does Iranians in the Revolutionary Guard.
Hazara fighters can be found on the cobblestone walkways of the famed old quarter of Damascus. Busloads of them were visiting the shrine of Ruqayya, a Shiite holy site, while a reporter was there last year. The majority were on their way to heavy clashes in the northwestern province of Idlib.
Many Hazaras have few options but to enlist. Those caught sneaking across the Afghan-Iranian border are often presented with a stark choice: Go to jail and face deportation, or fight in Syria for a few months and gain legal residence in Iran.
Other Hazaras, drawn by the pay or their religious and political beliefs, join the Fatemiyoun Division, an all-Afghan Shiite militia named for the prophet Muhammad's youngest daughter and trained by the Revolutionary Guard.
Some of its original members are veterans of Afghanistan's brutal war against the Soviet occupation during the 1980s or Iran's war against Iraq that same decade. Iranian news outlets say it has grown to 20,000 men.
"The presence of the Fatemiyoun Division in Syria conveys the message that geographical borders do not exist for the fighters of this unit, who assist whenever Shiite Muslims … are endangered — be it in Syria or Iraq," the news agency Tasnim reported in June.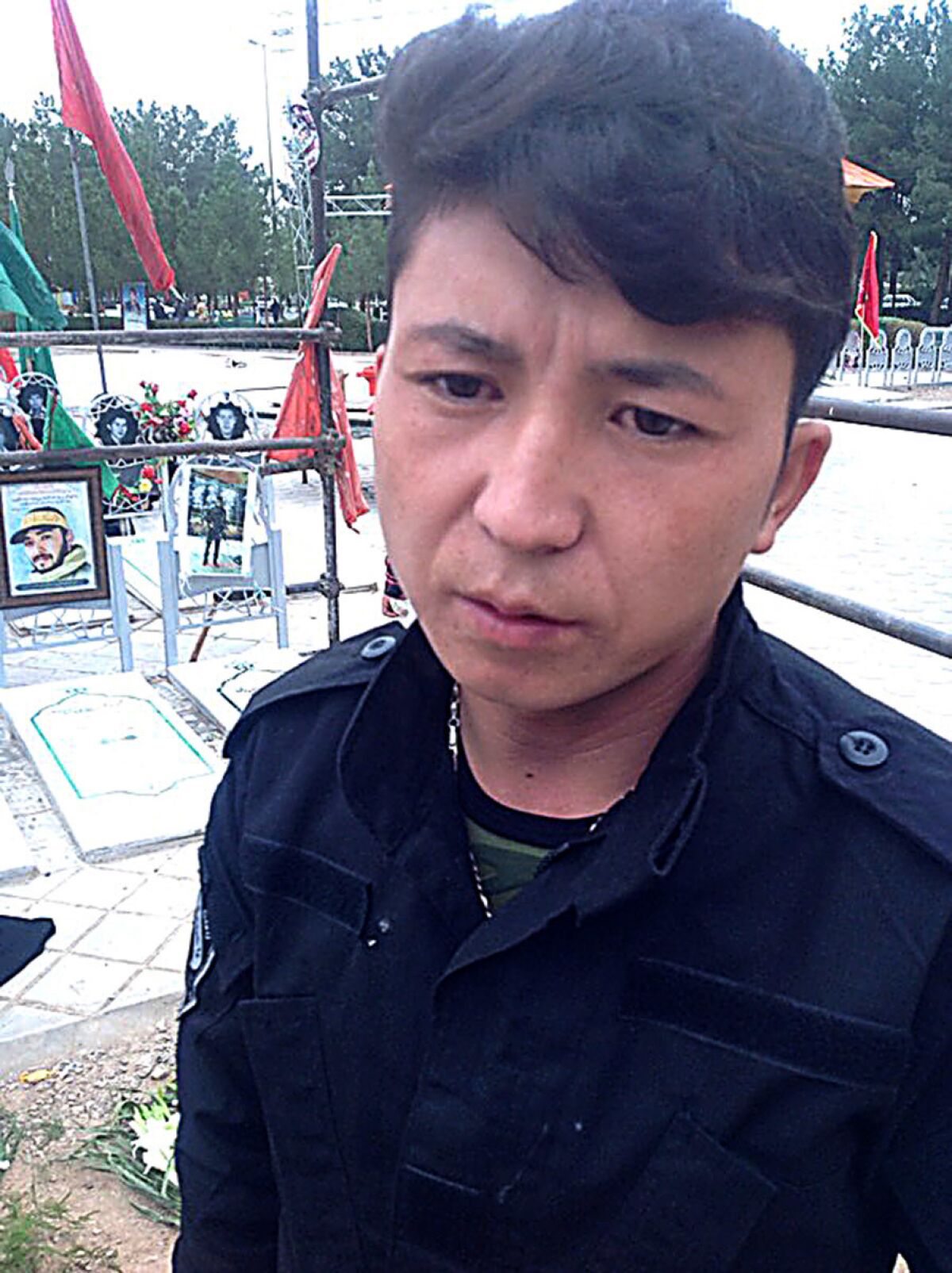 Gol-Mohammad Mohammadi, a 23-year-old Hazara who never learned to read and had been working as a construction worker, said he joined the unit last year.
Once he signed on, he learned how to fire Kalashnikov rifles, rocket-propelled grenades and other light weapons. The training lasted 25 days and was conducted at the Martyr Pazouki military base in the city of Qom, he said.
Shepherded by an officer from the Revolutionary Guard, he and 15 other Afghans flew from Tehran's Imam Khomeini Airport to Damascus, the Syrian capital. From there they headed to the ancient city of Palmyra, which was captured by Islamic State militants last year.
Mohammadi said he was part of a major offensive by pro-government forces, backed by Russian air power, that took back the city in March. He stayed in Syria for 54 days.
Back in Tehran on leave, he said he was "counting the days to go back to the battlefield" and missed his fellow combatants there.
As a laborer, Mohammadi earned roughly $600 every two months. As a soldier in Syria, he made more than double that — about $1,500 for his deployment. He sent his pay to his sister and five brothers in central Afghanistan.
Some of the fighters have criminal records and are paid only a subsistence wage, several sources said. Those with better education or prior training can receive as much as $800 a month.
Mohammad Gholami, a worker in a shoe factory in Qom who is also studying law, said his cousin has earned good money fighting in Syria. He was recruited early this year in the eastern city of Mashhad.
"Because he had been already in Afghan army, he didn't need training," Gholami said. He said he has no desire to join the war and hopes to eventually return to Afghanistan to "help my own people."
For many fighters, money is only part of the motivation to join the war effort. Another is religious fervor, a sense of taking part in a cataclysmic battle against Sunni Muslim extremists and defending Shiite holy sites in Syria.
"Hazara fight in Syria to defend the shrines of Sayyida Zainab and Ruqayya," said Mohammad Amiri, a 45-year-old Afghan cleric living in Qom.
Sayyida Zainab, a mausoleum of blue tile, gold and mirrors 10 miles from downtown Damascus, is a frequent target of Islamic State militants and other Sunni insurgents, who view Shiites as apostates who must be killed.
"We don't care about Bashar al-Assad's regime," Amiri said. "We fight for the cause of the Shiites against Daesh" — a derogatory Arabic acronym for Islamic State.
Their participation has exacerbated problems for the Hazaras back in Afghanistan, who make up roughly 10% of the population and have long been oppressed. Last month, suicide bombers attacked a Hazara protest in Kabul, the Afghan capital, killing more than 80 people. Islamic State claimed responsibility and said the operation was a response to Hazaras "killing the Sunnis in the land of Syria."
In the Iranian media, both the Hazara and Iranians who die in Syria are revered as "defenders of the holy shrines."
But some Hazaras feel marginalized in Iran. "Iranians see the Hazara as cannon fodder," said Hassan, a 50-year-old sheik in Qom who refused to give his full name for fear of retribution by Iranian security forces.
The government, he said, feared the wrath of public opinion if Iranian fighters were killed in high numbers. If Iranians were captured, there would be pressure to release prisoners held by Iran in exchange.
"If the Hazara are the Muslim Shiite brethren of Iranians," he said, "then why are they the least important people in the devastating civil war in Syria?"
Hazaras who are killed in battle are buried in segregated areas of Iranian cemeteries.
Back at the grave of Hoseyni, one of his brothers choked up as he explained that the family was still waiting for answers about how he was killed.
"My parents are too sad to come and are mourning at home," he said. "I'll stay with the grave."
Mostaghim and Bulos are special correspondents.
ALSO
Report documents horrific torture in Syrian prisons
Soldiers on both sides see the fight for Aleppo as a battle between jihadists
Haunting image of boy in an Aleppo ambulance captures plight of children caught in Syrian war
Must-read stories from the L.A. Times
Get the day's top news with our Today's Headlines newsletter, sent every weekday morning.
You may occasionally receive promotional content from the Los Angeles Times.