As a government offensive bears down on them, Syrian rebels expect no help from onetime ally U.S.
Reporting from Beirut —
For two weeks, a Syrian military juggernaut has borne down on rebels bunkered in the country's south, leaving them with a grim choice: capitulate or face annihilation.
Whatever they choose, they seem sure of one thing: They will receive no help from the U.S. and the opposition's other international and regional backers.
"There has been nothing, nothing at all from our allies," said Ibrahim Nour al Din, an opposition media activist, in a phone conversation Thursday. "This for now is the reality."
As forces loyal to Syrian President Bashar Assad, assisted by Russia, continue to pummel the rebels' bastion in the southern province of Dara, his enemies in the West and in the region appear to have turned their back on the opposition they once lavished with money, materiel and training.
It's a signal they have made peace with the reality of Assad's continued rule, even as the latest offensive in Syria's civil war has spurred an exodus of about 320,000 people from their homes, according to United Nations figures released Thursday, and puts more than double that number in danger.
Tens of thousands have streamed to Syria's southern borders with Jordan and the Israeli-controlled Golan Heights, raising fears the battle could embroil two of the United States' top regional allies as well.
Overnight, Syrian and Russian warplanes carried out more than 600 airstrikes on Dara after the collapse of yet another round of negotiations between the Russian military and the rebels, according to the Syrian Observatory for Human Rights, a pro-opposition war monitor, on Thursday.
"There are large numbers of women and children among the displaced, as well as elderly, injured and sick people, and I am especially concerned about them," U.N. High Commissioner for Refugees Filippo Grandi said in a statement Thursday, adding that about 60,000 people are camped at the Nasib border crossing with Jordan.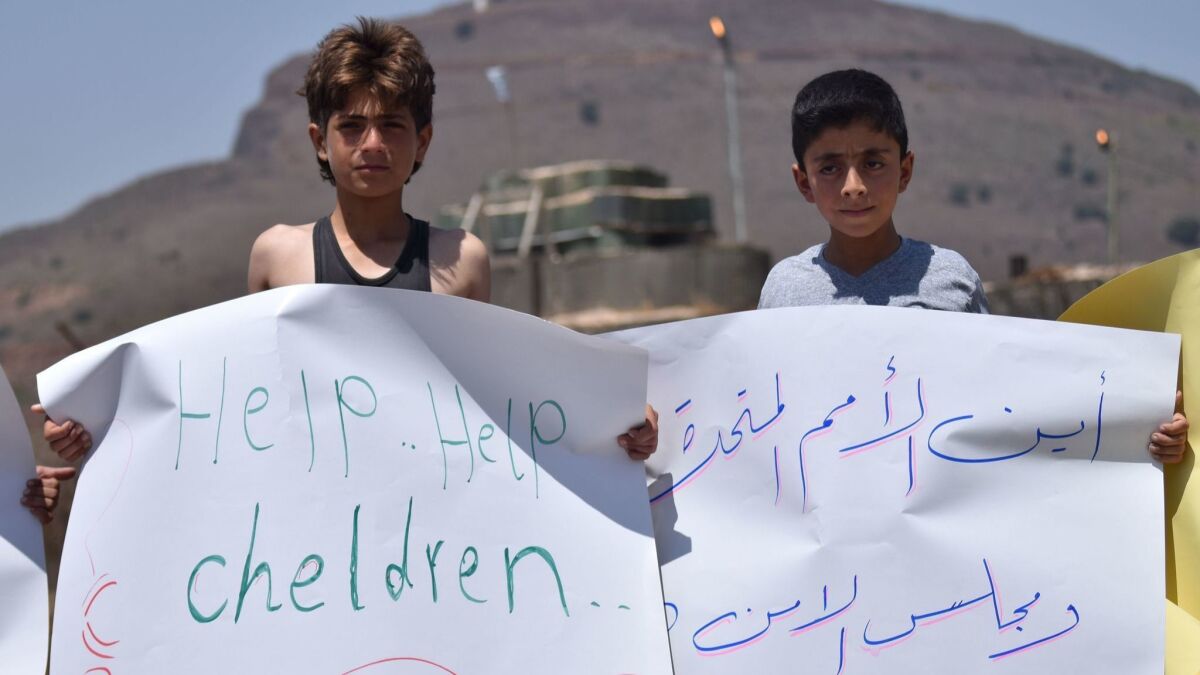 Grandi joined a chorus of U.N. officials who in recent days have pleaded with Jordan to take the refugees in, saying he advocated for "granting temporary refuge in Jordan to those in need of safety."
Both Israel and Jordan have kept their borders shut; the latter is home to about 1.3 million Syrians and insists it is at capacity.
Although both governments have opened pathways for cross-border aid into southern Syria, the fighting has hindered humanitarian efforts to reach the displaced.
"Thousands of innocent lives are going to be lost, once again," Grandi said, "if urgent action is not taken."
The campaign shattered a fragile yearlong cease-fire brokered by the U.S., Russia and Jordan. It designated Dara and the neighboring province of Quneitra as de-escalation zones and kept the Iranian-backed paramilitary groups bolstering Assad's troops away from the borders.
As we watch the situation there, we have extreme concerns.
— U.S. State Department spokeswoman Heather Nauert
But after successes against other rebel-held areas this year, Assad began a massive troop mobilization to the south.
Yet beyond a few statements threatening "serious repercussions" for violations, the U.S. has shown little appetite to get involved and enforce the cease-fire; its embassy in Amman, Jordan, sent a message to the south's rebels telling them they should not count on any American firepower. It came even as the first salvos of the Syrian government offensive began to fall on Dara's towns and with U.S. forces at hand in the tiny southeastern outpost of Tanf as well as across the border in Jordan.
"The Americans have left us. For two months they watched troops build up. They're just not on the scene," said Saeed Masri, an opposition fighter, in a phone conversation Thursday.
Asked about the situation in a Washington news briefing, State Department spokeswoman Heather Nauert said Tuesday that the United States was concerned about the situation, but she did not mention any plans to act.
"As we watch the situation there, we have extreme concerns," Nauert said. "So we're continuing to have talks with the Russians, we're continuing to have talks with the Jordanians and express our extreme concern about the situation there."
The U.S. has not always kept the rebels in the south at arm's length.
In the early years of the war, the Obama administration had sought to develop the fractured opposition factions into an organized force against Assad.
CIA operatives headed an 11-country intelligence hub, named the Military Operations Center, from the Jordanian capital, Amman, to aid the insurgency headquartered in Dara.
It passed machine guns, rockets and wire-guided antitank missiles to the rebels through the Jordan-Syria border.
It paid factions' salaries, sent their members for training and promoted them as moderate fighters who could offer an alternative to Assad when — not if — they marched on Damascus, the Syrian capital about 40 miles to the north.
But their advance on the capital stalled into a stalemate. And when President Trump took office, his administration moved quickly to end the CIA training programs. After the cease-fire was forged, the operations center was shuttered; the U.S. suspended support.
Now, as the government consolidates its grip on Dara, the U.S. has left Jordan and Russia to orchestrate a surrender of the rebels' territories, said Sam Heller, a Syria expert with the International Crisis Group think tank.
Meanwhile, more than 30 opposition-controlled towns have already negotiated their surrenders to avoid further carnage.
Russia has insisted the rebels hand over all of their weapons and allow government institutions back into the province. With the Kremlin acting as guarantor, the rebels would also submit to amnesty deals with the Assad government and hand over control of the border crossing with Jordan.
Although many rebels have balked at the deal, they have been left with few options, Heller said.
U.S. allies — opposition groups in Syria as well as other governments in the region — have taken note of the United States' hands-off approach. In recent weeks, they signaled their willingness to come to an accommodation with Assad.
Syria's Kurds, who formed their own militia and local administration after government forces pulled out of Syria's northeast, have relied on U.S. stewardship to form a rump state in territories east of the Euphrates River. They've also become the U.S. vanguard against Islamic State militants in Syria.
Yet they have reportedly made overtures to Damascus.
This week, activists said a Syrian government delegation had visited Raqqah and held discussions to bring back government institutions there and create a deal that would see the Syrian Democratic Forces, the militias trained and armed by the U.S., integrated into the country's official armed forces.
Beyond Syria's borders, Israel, which has routinely carried out airstrikes in Syria to deter what it says are Iran's proxies and has given assistance to rebels in the Golan Heights, indicated this week that it would enforce the demilitarization agreement with Damascus it had honored since 1974.
The fighting in southern Syria since 2011 has denied Jordan a vital border crossing it used to send goods to Turkey and beyond. That, along with the prospect of thousands more refugees, has motivated Amman to lead Arab efforts to nudge the opposition into a deal and give the Syrian government control of the border.
Bulos is a special correspondent.
Twitter: @nabihbulos
Must-read stories from the L.A. Times
Get the day's top news with our Today's Headlines newsletter, sent every weekday morning.
You may occasionally receive promotional content from the Los Angeles Times.