In Syria's capital, U.S. strikes packed a jolt but didn't shake government's resolve
Reporting from Beirut —
Fear gave way to defiance as residents of the Syrian capital who were jolted awake by a barrage of missiles early Saturday realized that the response of the United States and its allies to an alleged poison gas attack would not be as severe as many had feared.
Hundreds of people gathered in major squares of Damascus and other Syrian cities to celebrate and demonstrate their support for Syrian President Bashar Assad, waving flags, honking car horns and flashing victory signs, according to video footage broadcast by pro-government media outlets.
The Syrian government and its foreign backers denounced the predawn attack against facilities linked to its chemical weapons program as an "act of aggression." They lambasted the U.S., France and Britain for failing to wait for international weapons inspectors to visit the site of last weekend's suspected poison gas attack on civilians in the eastern suburbs of Damascus. But the airstrikes, which were limited to three sites in greater Damascus and near the central city of Homs, did not draw a military response from Russia or Iran.
For one Damascus resident, the first indication of the tripartite strikes was the sound.
"These ones had a loud roar … louder than the ones we normally hear," said Nicholas Zahr, a Damascus-based analyst contacted via Facebook. "We're not used to the sound of these missiles."
Another resident, a Syrian government employee who was not authorized to speak publicly and asked for anonymity, said, "We thought it was thunder. We didn't get what was happening in the beginning."
"Then we saw lights of the air defenses in the sky," she said.
Those air defenses, Syrian and Russian military officials said, intercepted most of the guided missiles fired by the U.S. and its allies — a claim refuted by the Pentagon, which said none of the missiles were successfully engaged.
The Syrian army acknowledged that "a few" missiles had hit what it described as an educational center and scientific laboratories in the Barzeh district of Damascus and three civilians were wounded when a rocket targeting a military site near Homs "had been diverted."
"Such aggressions will not stop our armed forces and their [allies] in continuing to crush what remains of the armed terrorist groupings across the expanse of Syrian territory," the army command declared in a statement. The government refers to all groups that have sided against Assad in seven years of grinding civil war as terrorists.
Russian President Vladimir Putin lashed out at the U.S. and its allies for not waiting for investigators from the Organization for the Prohibition of Chemical Weapons to arrive to collect evidence on the April 7 attack in the city of Duma, which local medics said killed at least 43 people and left hundreds of others gasping for breath. The international watchdog agency, based in The Hague, later said that its team had reached Damascus and would proceed with its work.
The governments of Russia and Syria have dismissed the reports of a poison gas attack in Duma as a pretext to attack Assad's forces.
"Russian military experts who visited the site of the alleged incident found no traces of the use of chlorine or other chemical agents," Putin said in a statement released by the Kremlin on Saturday. "Not a single local resident confirmed that a chemical attack had taken place."
Iran's supreme leader, Ayatollah Ali Khamenei, described the airstrikes against Syria as "murderous crimes," according to the semi-official Fars news agency. In a phone call Monday, Iranian President Hassan Rouhani assured Assad of the Islamic Republic's continued support and expressed confidence that "this aggression would not weaken the determination of the Syrian people in its war against terrorism," the Syrian presidency said.
Hezbollah, the Lebanese Shiite militant faction whose fighters have often served as the vanguard of Syrian government onslaughts, condemned the "treacherous" attack on "its sister Syria," calling it a continuation of a strike by Israel on a Syrian air base this week that killed seven Iranian personnel. It dismissed the justifications given by the U.S., Britain and France as "fake" and said they don't stand up to "reason and logic."
Thunderous explosions reverberated across Damascus as the dawn call to prayer sounded Saturday. But the attack didn't last long.
Within about an hour, the wails of air raid sirens had stopped, and "just like that, it's quiet in Damascus now," Leith Aboufadel, a Damascus-based journalist, tweeted.
Syrian state television showed one of its reporters walking near the city's landmark Umayyad Square to interview people who had begun their morning commute.
"We're going around in our car to prove to the whole world that Syria is fine and that everything is fine," said one of those questioned, before driving off.
That projected image of nonchalance continued as the day wore on.
The Syrian presidency released a video of Assad arriving for work hours after the attack. Titled "The Morning of Steadfastness," it appears to show Assad calmly walking through a large marbled hall, briefcase in hand, with the whisper of a water fountain in the background.
State and pro-government media uploaded images on social media depicting residents waving Syrian flags, flashing victory signs and breaking into an impromptu step dance near Umayyad Square. There were similar displays of support for the government in Homs, Hama, Aleppo and other cities.
Radio stations played nationalist songs on a loop, while pro-government TV channels featured a parade of analysts who delivered flowery speeches touting Damascus' purported success against the U.S., France and Britain.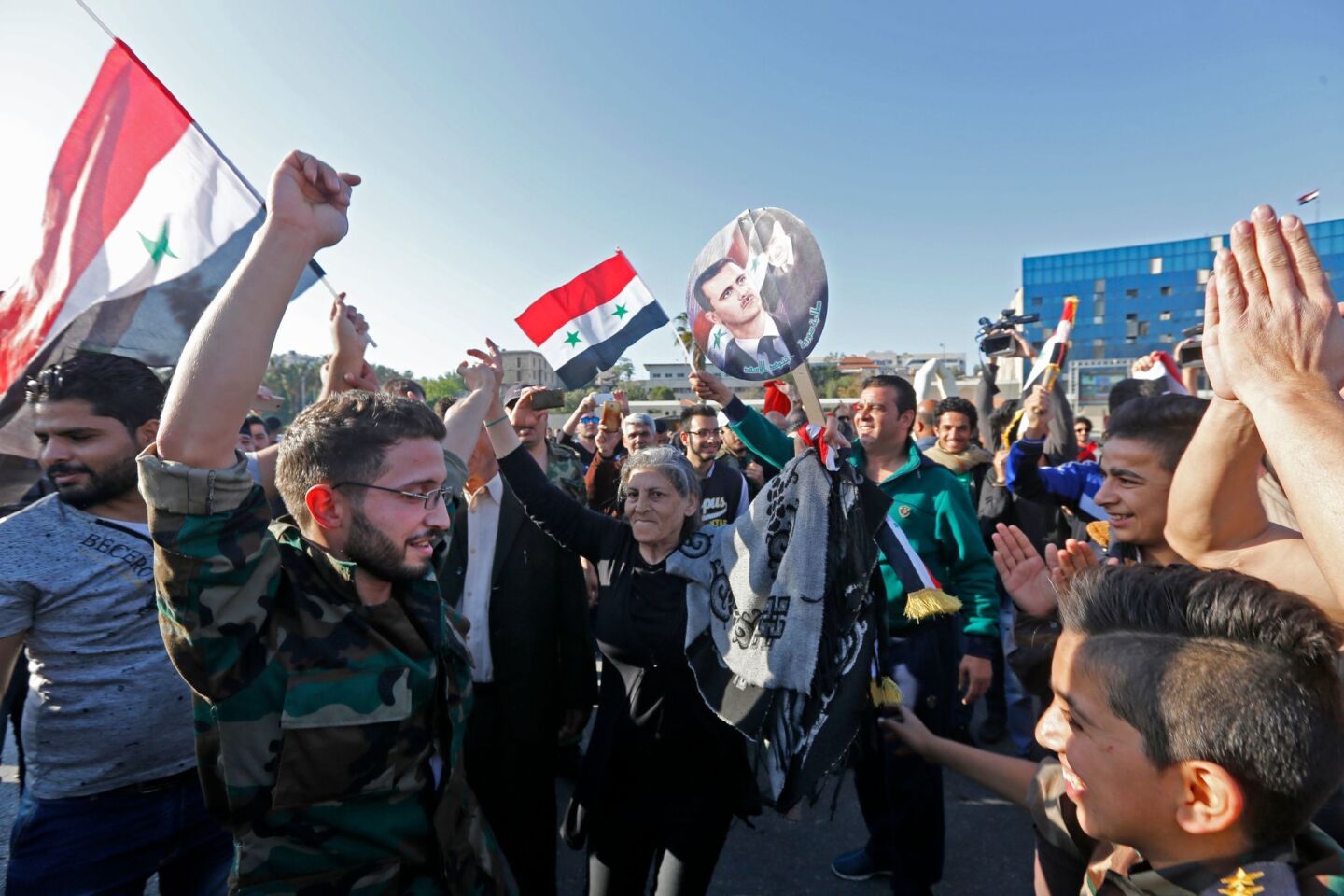 Syrians wave the national flag and portraits of President Bashar Assad as they gather in Damascus after the airstrikes.
(Louai Beshara / AFP/Getty Images)
Supporters of Iraqi Shiite cleric Moqtada al-Sadr burn a U.S. flag during a protest against the US, France, and Britain offensive against Syria, in Tahrir Square, central Baghdad, Iraq.
(AHMED JALIL/EPA)
A missile lights up the Damascus sky as the U.S. launches an attack targeting parts of Syria's capital early Saturday.
(Hassan Ammar / Associated Press)
Syrian government supporters wave Syrian, Iranian and Russian flags as they demonstrate in Damascus after the airstrikes.
(Hassan Ammar / AP)
Syrians wave the national flag and portraits of President Bashar Assad as they gather in Umayyad Square in Damascus to condemn the airstrikes.
(LOUAI BESHARA / AFP/Getty Images)
U.S. Defense Secretary James N. Mattis, center, and Chairman of the Joint Chiefs of Staff Joseph Dunford, right, give a joint news conference on the airstrikes on Syria by the U.S., Britain and France.
(Amber Smith / EPA/Shutterstock)
French Defense Minister Florence Parly tweeted this photo of French military aircraft launching early Saturday en route to attack Syrian military bases and research centers.
(AFP/Getty Images)
"On this occasion, let me direct a salute of love and glorification and congratulations to our people first, to our army second, and to our wise leadership and the allies who stood with us," said Samir Abu Saleh, a Damascus-based professor of political studies interviewed by the pro-government Ikhbariyah channel. "The Syrian army was able to sign the tome of victory … [and] confirmed once more that this people will not be humiliated."
A number of Damascus residents contacted by phone and social media Saturday morning said the city was already back to its usual routine, despite what one person said was "a small amount of fear" when the strike took place.
For many of those who endured a years-long siege on the eastern Ghouta region, the former rebel bastion where Duma is located, the U.S.-led attacks appeared to be a case of too little, too late.
"These are just media strikes more than real strikes on the ground," said Firas Abdullah, a Syrian media activist who joined an exodus of thousands to the north of the country under a deal mediated by Russia to empty the region of rebel fighters, their families and other government opponents.
"If they really want to finish Assad, or to stop him, they know exactly where he is," Abdullah said.
At least 1,600 civilians were reported killed in weeks of punishing airstrikes before the main rebel faction in Duma agreed to surrender its last foothold in eastern Ghouta to the government, following the alleged chemical weapons attack. Many of those who survived find the red line drawn by Western governments over a single chemical weapons strike incomprehensible.
"So it's OK that I die from barrel bombs, bullets, rocket launchers, hunger, lack of medicine, but it's not OK if I die from chemical weapons?" said Bayan Rehan, another activist who recently left the region. "What is this idiocy they are offering the Syrian people?"
Bulos is a special correspondent. Special correspondent Ramin Mostaghim in Tehran contributed to this report.
---
UPDATES:
12:50 p.m.: This article was updated with international chemical weapons inspectors arriving in Damascus and other details.
8:20 a.m.: This article was updated with reaction from Russia and Iran and other details
5:30 a.m., April 14: This article was updated with reaction from the Syrian government, army and residents.
This article was originally posted at 8:50 p.m. on April 13.
---
Must-read stories from the L.A. Times
Get the day's top news with our Today's Headlines newsletter, sent every weekday morning.
You may occasionally receive promotional content from the Los Angeles Times.