Chronicling a disaster: A timeline of the Syrian civil war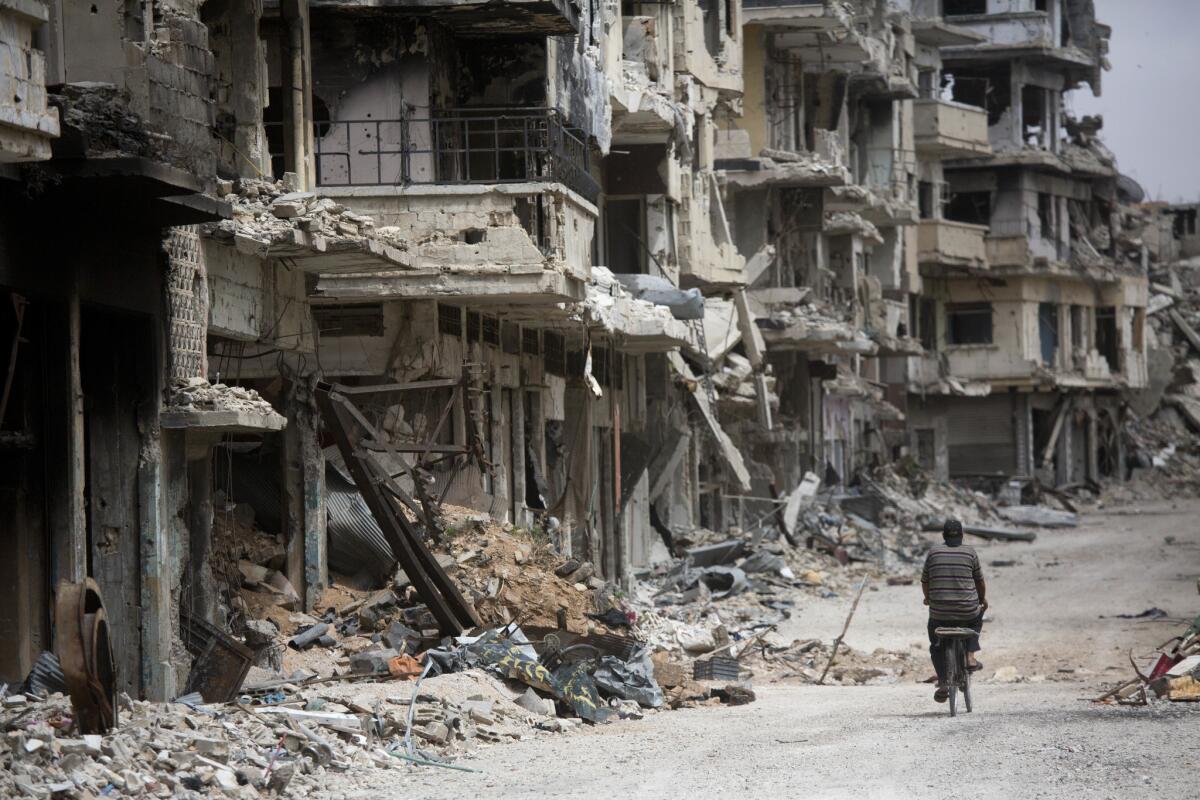 As Syrians mark the fifth anniversary of the uprising against President Bashar Assad, here are some of the key events in the conflict:
— March 2011: Protests erupt in the city of Dara over security forces' detention of a group of boys accused of painting antigovernment graffiti on the walls of their school. On March 15, a protest is held in Damascus' Old City. On March 18, security forces open fire on a protest in Dara, killing four people in what activists regard as the first deaths of the uprising. Demonstrations spread, as does the crackdown by Assad's forces.
— April 2011: Security forces raid a sit-in in Syria's third-largest city, Homs, where thousands of people tried to create the mood of Cairo's Tahrir Square, the epicenter of protests against Egypt's autocrat Hosni Mubarak.
— June 2011: Police and soldiers in Jisr al-Shughour in northeastern Syria join protesters they were ordered to shoot, and the uprising claims control of a town for the first time. Elite government troops, tanks and helicopters retake the town within days.
Homs' Old City. Gutted apartment blocks in Homs once housed its long-prospering merchant class.
(Liliana Nieto del Rio / For The Times)
People line up at a government checkpoint to enter the rebel-held neighborhood of Waer. Before the war, Sunnis, Shiites and Christians coexisted peacefully in Homs.
(Liliana Nieto del Rio / For The Times)
Mohammed Ali Nouh, in background, is one of the few shop owners who have reopened for business in Old Homs, where residents use bicylces because public transportation is nonexistent.
(Liliana Nieto del Rio / For The Times)
Workers rebuild a shop near the city's old souk. The souk's specialty areas — including the gold market, the metalwork and woodcraft bazaars, the section featuring ladies' goods — remain deserted.
(Liliana Nieto del Rio / For The Times)
Shoppers head to a government-run bakery the size of an airplane hangar that sits along the tense border between rebel-controlled Waer and government-held territory. "Here we feed everyone; they are all our citizens," says the bakery manager, Hussein Amin, 59.
(Liliana Nieto del Rio / For The Times)
The bakery's sizzling gas ovens churn out tens of thousands of circular flatbreads daily for consumption on both sides of the divide.
(Liliana Nieto del Rio / For The Times)
Posters in the pro-government Zahra district commemorate martyrs, including those killed in the civil war.
(Liliana Nieto del Rio / For The Times)
A 13-year-old girl does her homework in a school turned shelter for displaced families. Her family escaped from Waer and now lives in the shelter in the Baba Amr district.
(Liliana Nieto del Rio / For The Times)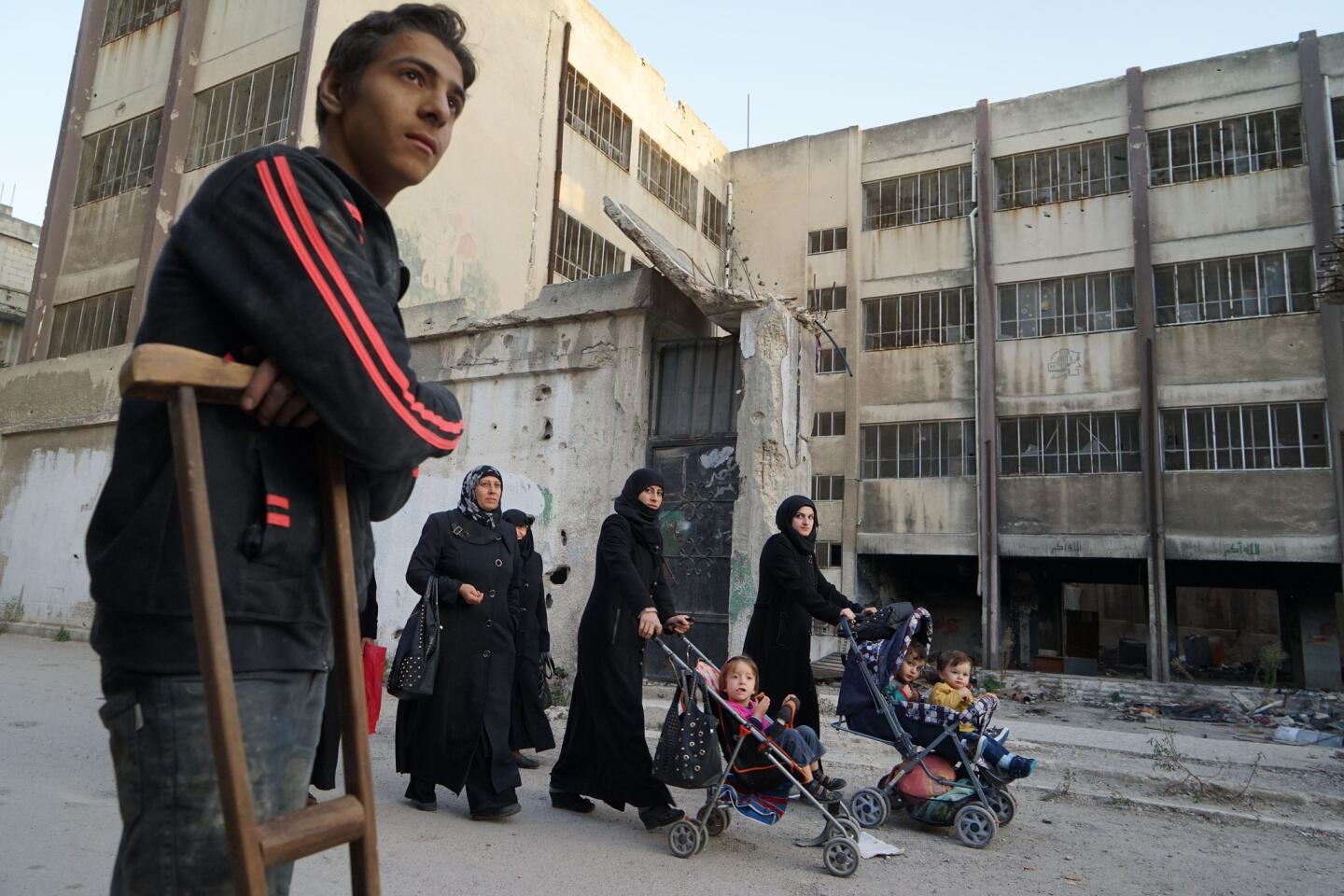 The dense warren of Old Homs was once a vibrant and religiously diverse home to more than 300,000 people; fewer than 30,000 remain, according to official estimates.
(Liliana Nieto del Rio / For The Times)
A rusted tank in Old Homs.
(Liliana Nieto del Rio / For The Times)
A poster of President Bashar Assad in Old Homs.
(Liliana Nieto del Rio / For The Times)
— August 2011: President Obama calls on Assad to resign and orders Syrian government assets frozen.
— July 2012: A bombing at the Syrian national security building in Damascus during a high-level government crisis meeting kills four top officials, including Assad's brother-in-law and the defense minister.
— Summer 2012: Fighting spreads to Aleppo, Syria's largest city and its former commercial capital.
— August 2012: Kofi Annan quits as United Nations-Arab League envoy after his attempts to broker a cease-fire fail. Obama says the use of chemical weapons in Syria would be a "red line" that would change his thinking about military action.
— March 2013: After advancing in the north, rebel forces capture Raqqah, a city of 500,000 people on the Euphrates River and the first major population center controlled by the opposition.
— May-June 2013: Backed by thousands of Lebanese Hezbollah fighters, Assad's forces recapture the strategic town of Qusair from rebels, near the border with Lebanon.
— August-September 2013: A chemical weapons attack in the Damascus suburbs kills hundreds. Obama, blaming Assad's government, says the U.S. has a responsibility to respond and puts it to a vote in Congress. Russia proposes instead that Syria give up its chemical weapons, averting military strikes.
— October 2013: Syria destroys its chemical weapons production equipment. The number of Syrian refugees registered with the U.N. tops 2 million.
— January 2014: Infighting among rebels spreads, pitting a variety of Islamic groups and moderate factions against the Al Qaeda-breakaway group Islamic State.
— February 2014: Two rounds of peace talks led by U.N.-Arab League mediator Lakhdar Brahimi in Geneva end without a breakthrough.
— May 9: Rebels withdraw from the old quarter of the central city of Homs in a significant symbolic victory for the government.
— May 13: Brahimi resigns as U.N.-Arab League envoy to Syria, marking a second failure by the United Nations and Arab League to end the civil war.
— June 3: Syrians in government areas vote in presidential elections. Assad, one of three candidates, overwhelmingly wins with 88.7%.
— June: Islamic State seizes large parts of northern and western Iraq. In control of around a third of Syria and Iraq, it declares a self-styled Islamic caliphate.
— July 3: Islamic State takes control of Syria's largest oil field, Omar, after fierce battles with Al Nusra Front, Al Qaeda's branch in Syria.
— Aug. 19: Islamic State militants release video of the beheading of American journalist James Foley, the first of five Westerners to be beheaded by the group.
— Mid-September: Islamic State begins offensive to take Syrian Kurdish town of Kobani, on the Turkish border.
— Sept. 23: A U.S.-led coalition begins airstrikes against Islamic State targets in Syria.
Tourists shop for paintings at an art store in Damascus, the Syrian capital.
(AFP/Getty Images)
Syrians and tourists walk at the Hamidiya Souk, or bazaar, in Damascus.
(Hussein Malla / Associated Press)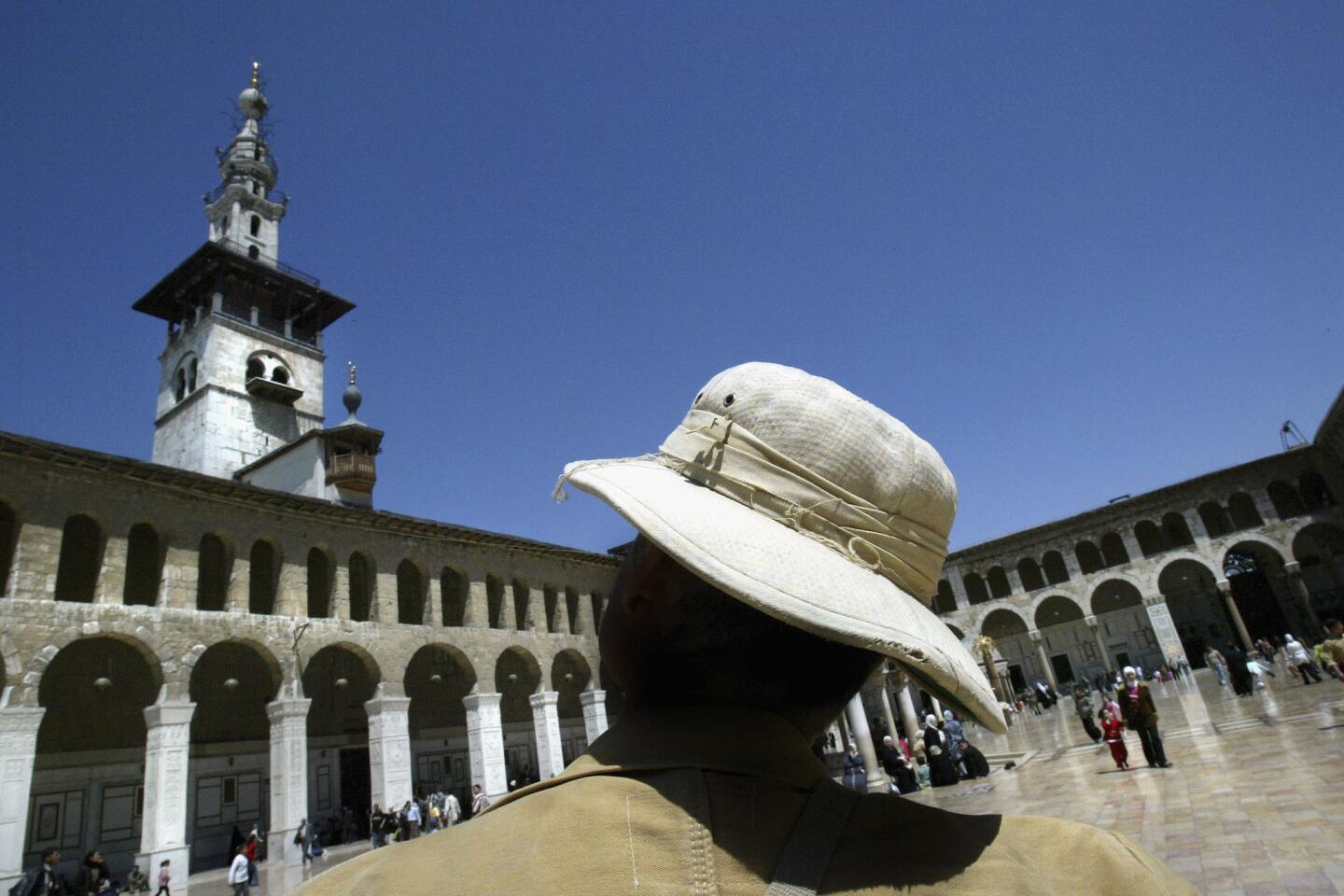 A German tourist looks at the minaret of the 8th century Umayyad Mosque in Damascus.
(Ghaith Abdul-Ahad / Getty Images)
In Aleppo, in northern Syria, a man buys sweets sold for the Muslim holy month of Ramadan.
(Bassem Tellawi / Associated Press)
A camel waits in the historic town of Palmyra during a festival.
(Louai Beshara / AFP/Getty Images)
A tourist makes her way through a market in the Old City of Damascus.
(Anwar Amro / AFP/Getty Images)
A shopkeeper waits for tourists in Damascus.
(Louai Beshara / AFP/Getty Images)
Syria's first casino, near the Damascus airport, opened without fanfare on Christmas Eve 2010. It was a bending of the rules in a secular country seeking to lure tourists but where gambling is banned out of respect for Islam.
(Louai Beshara / AFP/Getty Images)
Syrian Bedouins watch over their camels as tourists visit the historic town of Palmyra.
(Louai Beshara / AFP/Getty Images)
— January 2015: The U.N. estimates Syria's conflict has killed at least 220,000 people and uprooted nearly a third of the prewar population of 23 million from their homes.
— Jan. 26: With the help of U.S.-led airstrikes, Kurdish fighters take control of Kobani.
— Feb. 3: Islamic State releases a video of captured Jordanian pilot Lt. Moaz Kasasbeh being burned to death in a cage.
—— March 28: The northwestern city of Idlib falls to Islamist groups led by Al Nusra Front.
— May 6: Assad acknowledges serious setbacks for his military.
— Sept. 30: Russia begins launching airstrikes in Syria in support of Assad's forces.
—— Nov. 14: Seventeen nations meeting in Vienna adopt a timeline for a transition plan in Syria that includes a new constitution as well as U.N.-administered parliamentary and presidential elections within 18 months.
— Dec. 18: The U.N. Security Council adopts Resolution 2254 endorsing the Vienna road map for a transitional period in Syria.
— Feb. 3: Indirect peace talks between the Syrian government and opposition in Geneva collapse a few days after starting, over a Russian-backed Syrian army offensive in Aleppo.
— Feb. 22: The U.S. and Russia announce a partial cease-fire in Syria will start Feb. 27.
— March 9: The U.N.'s Syria envoy says indirect peace talks will resume in Geneva on March 14.
— March 14: Russian President Vladimir Putin announces that his armed forces will begin withdrawing from Syria.
Sign up for Essential California for the L.A. Times biggest news, features and recommendations in your inbox six days a week.
You may occasionally receive promotional content from the Los Angeles Times.