U.S. warplane shoots down Syrian jet near Raqqah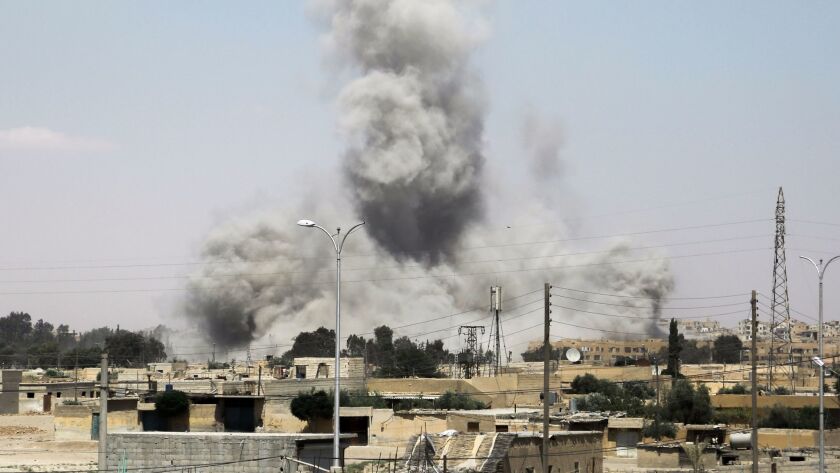 Reporting from Irbil, Iraq —
A U.S. warplane shot down a Syrian jet on Sunday near the Islamic State-held city of Raqqah, officials said, marking the latest escalation between the U.S. and Syria since the blood-soaked civil war began six years ago.
The Pentagon said the U.S.-led coalition took the unprecedented move after a Syrian Su-22 attack aircraft bombed its allies who were fighting Islamic State militants south of the city of Tabqah, roughly 25 miles west of Raqqah.
A U.S.-backed alliance of Kurdish and Arab militia fighters known as the Syrian Democratic Forces, or SDF, is involved in a large-scale offensive on Raqqah, Islamic State's self-declared capital in Syria. Last month, the militia fighters clawed back Tabqah from Islamic State, but the Islamic State still holds sway in large swaths of the desert areas to the south.
About 4:30 p.m., Syrian forces loyal to President Bashar Assad attacked U.S. ground partners in the recently recaptured town of Jadin, south of Tabqah, according to a U.S. military timeline. The assault drove the militia fighters from the town. But the U.S. scrambled aircraft to roar over the battlefield in "a show of force" that halted the pro-government forces' advance.
Because the United States does not communicate with the Syrian military, U.S. commanders called their Russian counterparts on a special hotline set up to ensure that their pilots do not mistakenly run into — or fire upon — each other as they conduct daily bombing runs over Syria.
At 6:43 p.m., the Syrian plane dropped bombs near U.S.-allied fighters south of Tabqah, the U.S. military said.
A U.S. fighter pilot, who launched from an aircraft carrier stationed in the Mediterranean Sea, identified the Syrian aircraft and shot it down.
"The coalition's mission is to defeat ISIS in Iraq and Syria," the U.S. military statement said, using a common acronym for Islamic State. "The coalition does not seek to fight Syrian regime, Russian, or pro-regime forces partnered with them, but will not hesitate to defend coalition or partner forces from any threat."
A Syrian military statement said its plane had been conducting a combat mission against Islamic State over the village of Resafa, which lies more than five miles southeast of Jadin, and said the U.S. attack resulted in the "loss of the pilot."
"This blatant attack confirms the coordination between the United States and Daesh," the Syrian statement said, employing the Arabic acronym for Islamic State. "Such aggressions will not bend the Syrian army from its determination to continue the war against Daesh … and restore security and stability."
The shoot down is part of a steady escalation of the U.S. military's role in Syria. Hundreds of U.S. special operations forces are working alongside Syrian rebels fighting the Islamic State, while U.S. warplanes and a Marine Corps artillery unit provide firepower for the advancing forces on a daily basis.
Farther south, near a small military base in the southern Syrian town of Tanf, the U.S. military has conducted three airstrikes in less than a month against what it says are forces directed by the Iranian government and loyal to Assad.
The forces, armed with tanks and small arms, have amassed a few dozen miles outside the base that U.S., British and Norwegian special operations forces use as a staging ground to train, equip and fight alongside their rebel partners.
On June 8, a U.S. F-15 fighter jet shot down an Iranian-made drone after it fired on partnered ground forces in southern Syria. But Sunday was the first time an American jet destroyed an enemy aircraft in air-to-air combat since February 2009.
Also Sunday, Iran's Islamic Revolutionary Guard Corps fired missiles at Islamic State targets in Syria in retaliation for attacks on the country's parliament and the tomb of its revolutionary founder that killed 17 people on June 7.
Iran has been providing support to Assad against anti-government rebel groups and Islamic State. But this was the first reported ground-to-ground strike from Iran into Syria since the conflict began in 2011.
"In this operation, several ground-to-ground mid-range missiles were fired from IRGC bases in Kermanshah province and targeted takfiri forces in the Dair Alzour region in eastern Syria," the IRGC said in a statement posted on its news website. (The corps uses the term takfiri, or apostate, to describe Islamic State militants as well as a number of other Sunni Muslim extremist groups).
"The message is clear," the statement said, warning that if the militants attack again, "the fire of revenge of the IRGC will send the culprits to hell."
william.hennigan@latimes.com
Special correspondent Bulos reported from Irbil and Times staff writer Hennigan from Washington. Special correspondent Ramin Mostaghim in Tehran and staff writer Molly Hennessy-Fiske in Doha, Qatar, contributed to this report.
Twitter: @nabihbulos
ALSO
Why one shopkeeper returned to his war-ravaged Syrian hometown: 'I believe in Palmyra'
U.S. Navy identifies seven sailors who died when destroyer and container ship collided
Pedestrians struck by vehicle in London; police report several casualties
---
Must-read stories from the L.A. Times
Get all the day's most vital news with our Today's Headlines newsletter, sent every weekday morning.
You may occasionally receive promotional content from the Los Angeles Times.