Syrians leave family, memories behind as tens of thousands are evacuated in previously brokered deal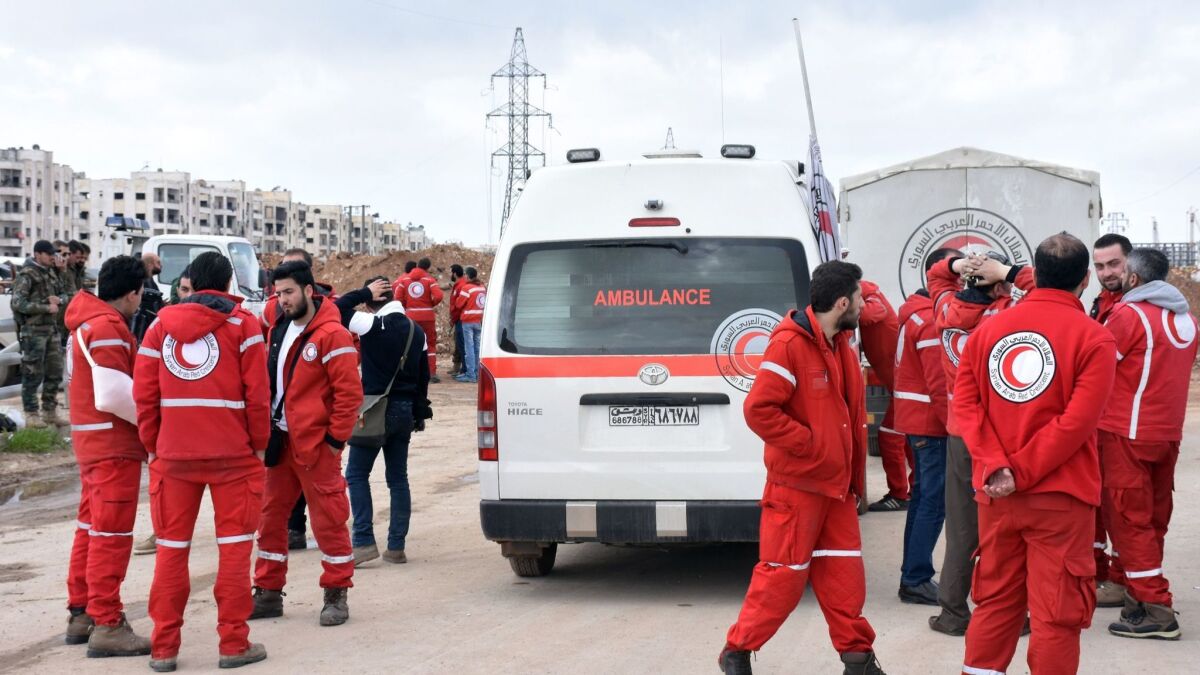 Reporting from Beirut —
For Mohammad Taqi Din, his library of 8,000 books ("I've been amassing it for more than 35 years," he said) is what he'll miss the most.
Hussam Mahmoud, meanwhile, was wondering if he would ever see his backyard again, his favorite part of his home.
Both men were set to leave the towns where they had lived for all their lives on Friday, in what marked the end of a long-standing arrangement that had bound the fate of their respective communities, one besieged by forces loyal to Syrian President Bashar Assad, the other by the Islamist rebels.
That arrangement entered a new phase in the early hours of the morning as buses came to evacuate more than 30,000 residents from four areas in the country.
A convoy of 75 buses and 20 ambulances evacuated some 5,000 people from Fua and Kefraya, a pair of pro-government towns in Idlib, the northwestern Syrian province which is almost completely controlled by a loose coalition of hard-line Islamist groups including the Al Qaeda-linked Organization for the Liberation of Syria.
A further 3,000 would soon join them in Aleppo, 31 miles northeast, said Din, who is head of the crisis management group in the two Shiite towns.
At the same time, 2,350 people filled the 60 buses that had rolled during the night into Madaya, a rebel-held enclave near the capital Damascus, pro-government media and a monitoring group said. Their convoy would make its way toward rebel-controlled areas in Idlib.
The Syrian Observatory or Human Rights, a pro-opposition watchdog with a network of activists on the ground, put the number of those leaving at 2,200, adding that 400 rebel fighters were among the evacuees.
"We're saying farewell to Madaya. … It may be the last time I see it so I'm taking pictures of the places I liked," said Mahmoud, 29, a pro-opposition media activist, in a WhatsApp conversation on Friday. He spoke as his bus was waiting at the last checkpoint out of Madaya.
Zabadani, a one-time resort town nestled in the mountains near the border with Lebanon that, like Madaya, has long suffered under a government blockade, would also be evacuated on Friday, government media said.
Mohammad Tinawi, a fighter with the Organization for the Liberation of Syria, said Thursday on his Facebook page that only 148 jihadi fighters remained in Zabadani.
Later in the day, pro-government outlets released pictures of army troops trudging through Madaya.
The evacuations brought to a close what the U.N. in February had described as a "looming humanitarian catastrophe."
In March 2015, a rebel offensive, spearheaded by Sunni jihadists, blitzed through Idlib province, cutting off roads leading out of Fua and Kefraya, whose populations are mostly Shiites.
A few months later, the Syrian army, bolstered by operatives from the Lebanese Shiite group Hezbollah, mounted their own siege on Madaya and Zabadani.
Since then, the four areas had endured a "cycle of daily violence and deprivation, where malnutrition and lack of proper medical care prevail," according to the U.N.
A deal dubbed the Four Towns Agreement, with Iran representing the government and Turkey speaking for the opposition, brought the occasional aid shipment into the besieged towns. Some of the sick and wounded were also allowed to leave in a complex tit-for-tat arrangement.
There had been several attempts in the past to evacuate the four towns, but it was not until last month that Iran and Qatar pushed the deal that came to fruition on Friday.
Under the terms of the evacuation, Fua and Kefraya would be completely emptied in the coming days. Residents of Madaya and Zabadani willing to live under government control could remain.
Like other agreements offered to the rebels, those who refused a reconciliation agreement (in which fighters lay down their arms and reintegrate into state structures) would be given safe passage to Idlib.
Other areas near Damascus would also be emptied as part of the deal, include Wadi Barada, the capital's main water source, and Serghaya.
Residents on both sides, though happy to finally be out of the blockade, expressed sadness that it came at the price of being uprooted from their homes.
"It was like my soul had been ripped out of me," said Mahmoud. He explained he had left behind his 60-year old mother and his sister.
"I'm hoping I can arrange to bring them to where I am in the future."
On the other side was Din. For more than a year he had waited for Fua and Kefraya to be evacuated. But now that it had come, it was "a sad day," he said in a conversation Friday on social media.
"Is it easy to leave all the memories you've had from childhood till now, and your life's work, and the memories of fathers and forefathers?"
"All this you leave and you go toward the unknown."
Residents would have to abandon most of their belongings, said Din, explaining that each person could carry only roughly 44 pounds worth of luggage.
In recent days, opposition figures staged protests against the evacuation, accusing Damascus of imposing a demographic change in the country, even while accusing the rebels who had accepted the agreement of betrayal.
Syria's six-year civil war, which began as mostly peaceful anti-government protests, has devolved into a sectarian bloodbath that has pitted the Sunni-dominated opposition against Assad, a member of the minority Alawite sect that's an offshoot of Shiite Islam. His troops are bolstered by Shiite irregulars from Lebanon, Iraq, Afghanistan and Iran.
Bulos is a special correspondent.
ALSO
A 17-year-old Syrian who fled Aleppo is feared to have drowned in San Diego during his first trip to a beach
U.S. and Russia remain far apart on Syria after Tillerson meets with Putin and other officials
Pressure grows for Assad to step down. But in Damascus, his backers say the alternatives may be worse
---
UPDATES:
2:10 p.m.: This article was updated with staff reporting.
8:30 a.m.: This article was updated with additional details about the evacuation in Syria and background on the political situation in the region.
1:30 p.m.: This article was updated with additional details about the evacuation in Syria and interviews.
This article was originally published at 6:30 a.m.
---
Must-read stories from the L.A. Times
Get the day's top news with our Today's Headlines newsletter, sent every weekday morning.
You may occasionally receive promotional content from the Los Angeles Times.