Tillerson and Turks fail to agree on next moves in fight against Islamic State in Syria
Reporting from Ankara, Turkey —
Secretary of State Rex Tillerson held a day of longer-than-planned meetings with Turkish leaders in Ankara on Thursday, but the most senior Trump administration official to visit the crucial NATO ally seemed to make little headway in salvaging an increasingly troubled relationship.
Washington and Ankara disagree sharply over how to wage war against Islamic State militants in Syria, with the U.S. backing Kurdish militias whom the Turks disdain as terrorists.
Although Tillerson sought to put the best face possible after the day's drawn-out talks, it was clear no agreement was reached. He acknowledged that "difficult choices have to be made."
"Let there be no mistake," Tillerson told reporters after more than two hours behind closed doors with Turkish President Recep Tayyip Erdogan, "There is no space between Turkey and the United States in our commitment to defeat [Islamic State]. …
"There is more discussion yet to be had regarding the way forward," Tillerson added. "They are difficult options, let me be very frank. These are not easy decisions."
In their meeting, Erdogan reportedly warned Tillerson that Washington must rely on "right and legitimate" actors in the fight in Syria, code for Turkish demands that Kurdish militias be sidelined. Turkey believes that the Kurdish-dominated People's Protection Units and Syrian Democratic Forces, backed by the U.S. in northern Syria, are merely extensions of the Kurdistan Workers' Party, a separatist group considered by Turkey and its allies — including the U.S. — to be a terrorist organization.
Turkey's role is especially crucial as a battle looms to recapture the Syrian city of Raqqah, occupied by Islamic State and the group's self-declared capital.
Turkey sent hundreds of troops and heavy armor into Syria last summer to back thousands of rebels with the Free Syrian Army, another militia that has carved out a swath of land along the Syrian border and is now poised to expand into two Kurdish enclaves. American troops aiding the Kurds are in those same enclaves, which sit between Turkish forces and Raqqah.
Turkey has said it could provide boots on the ground in an offensive on Raqqah — if the Kurdish forces are kept away.
Heavy use of the Kurdish forces was part of an Obama administration plan to re-take Raqqah, which now appears to be the blueprint for what would shape up as a Trump administration offensive. Turkish officials had held out hope that President Trump would make a clean break with the Obama-era alliance with Kurdish forces.
Standing at Tillerson's side on Thursday, Turkish Foreign Minister Mevlut Cavusoglu blasted the Obama strategy and claimed that even American officials recognized that the militias were in cahoots with Kurdish terrorists.
Tillerson remained blank faced as Cavusoglu railed. And America's top diplomat repeatedly sidestepped questions about support for the Kurdish militias.
In an apparent effort to appease his Turkish hosts, Tillerson congratulated Turkey for clearing Islamic State from its shared border with Syria and for stopping the flow of foreign fighters into Syria. And he offered condolences to Turks for the thousands of deaths caused by the Kurdistan Workers' Party, or PKK, in Turkey.
"The PKK attacks remind us how close to home the threat of terrorism is for Turkey," Tillerson said.
But Tillerson's sympathetic remarks seemed to be lost on his Turkish audience. Extreme anti-American sentiment is on the rise in Turkey, especially following a violent coup attempt on July 15. Turkish newspapers — and several Cabinet members — accuse Washington and the CIA of orchestrating the coup, in which 260 people were killed; headlines also routinely allege that the U.S. is deliberately backing the PKK.
Much of the animosity traces to Ankara's charge that an Islamic cleric exiled in Pennsylvania, Fethullah Gulen, ordered the coup and is now being sheltered by the U.S. Turkey is demanding Gulen's extradition, and Turkish officials broached the topic repeatedly with Tillerson. But, aides said, the secretary responded with the U.S. position that any extradition must work its way through a Justice Department review.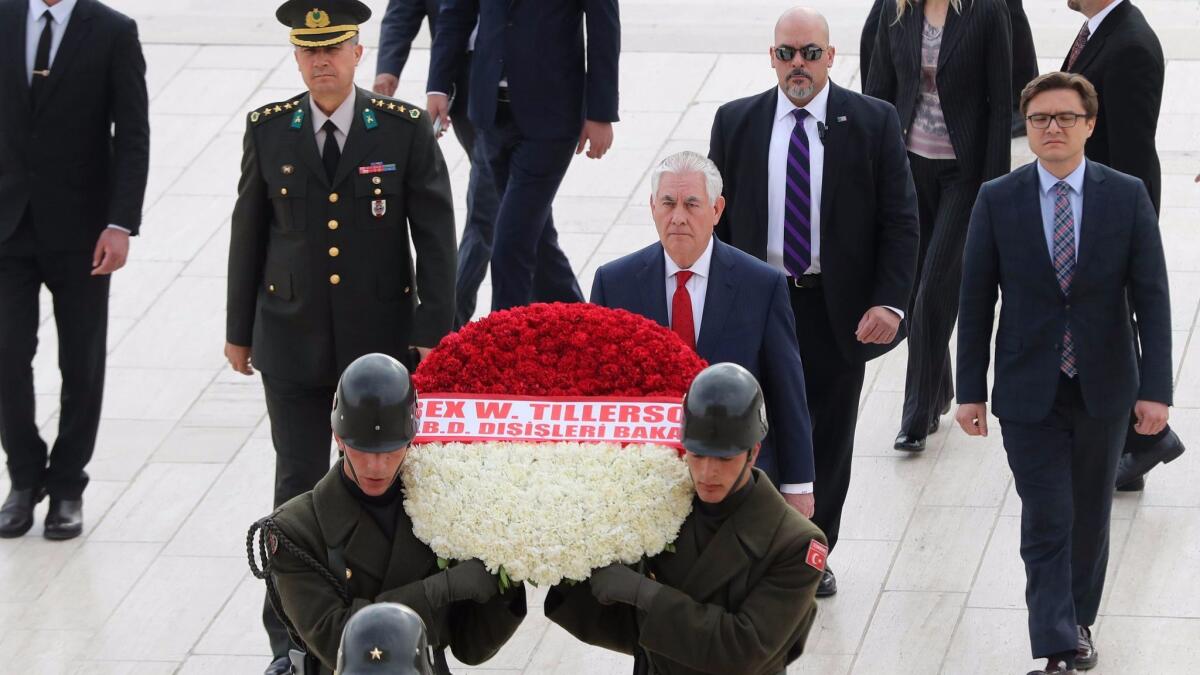 Turkey has handed over thousands of pages and dozens of boxes of evidence on Gulen, and on Thursday Cavusoglu repeated a demand that the cleric be detained pending a final decision. "We are expecting some concrete steps on [Gulen]… some temporary arrest should be made," he said.
Cavusoglu went on to repeat remarks from the justice minister, as well as Turkish tabloids, on another claimed Washington link to the coup attempt, to the visible consternation of Tillerson and U.S. diplomats in the room.
Six days after the coup attempt, officials at the U.S. Consulate in Istanbul telephoned a fugitive allegedly involved in the rebellion, Adil Oksuz. U.S. Ambassador John Bass has repeatedly told Turkish media the call was a routine procedure, made with the knowledge of Turkish authorities, and was meant to inform Oksuz his U.S. visa had been cancelled.
"We don't know if the consulate managed to get in touch with Oksuz," Cavusoglu said alongside Tillerson, as Ambassador Bass, seated in the audience front row, gritted his teeth and shook his head. "Of course we want to believe the explanation [from U.S. officials], but we would like more details."
Tillerson's visit came at an especially sensitive time in Turkey. In slightly more than two weeks, Erdogan, widely seen as an increasingly authoritarian leader, is holding a nationwide referendum that would give him even broader powers. And in the wake of the coup attempt, his government has arrested some 40,000 people, including journalists, teachers and military officers, and fired another 125,000 from state jobs.
Tillerson made no public comments about the jailings or human rights or Erdogan's move away from democracy.
As the largest Muslim-majority member of NATO, Turkey's cooperation is highly valued by Washington and other Western partners. The icy relations between Washington and Ankara have recently pushed Erdogan closer to Moscow.
Later Thursday, Tillerson was heading to Brussels for his first session with the full roster of NATO leaders, where Russia and Syria, along with U.S. commitment to the transatlantic alliance, will fill the agenda.
Special correspondent Farooq reported from Ankara and staff writer Wilkinson from Washington.
For more on international affairs, follow @TracyKWilkinson on Twitter
---
UPDATES:
2:25 p.m.: This article has been updated with additional background and reaction.
This story was originally published at 8:35 a.m.
Sign up for Essential California for news, features and recommendations from the L.A. Times and beyond in your inbox six days a week.
You may occasionally receive promotional content from the Los Angeles Times.