Turkey's Erdogan promises to clear U.S.-backed Kurds from eastern Syria, prompting warning from Pentagon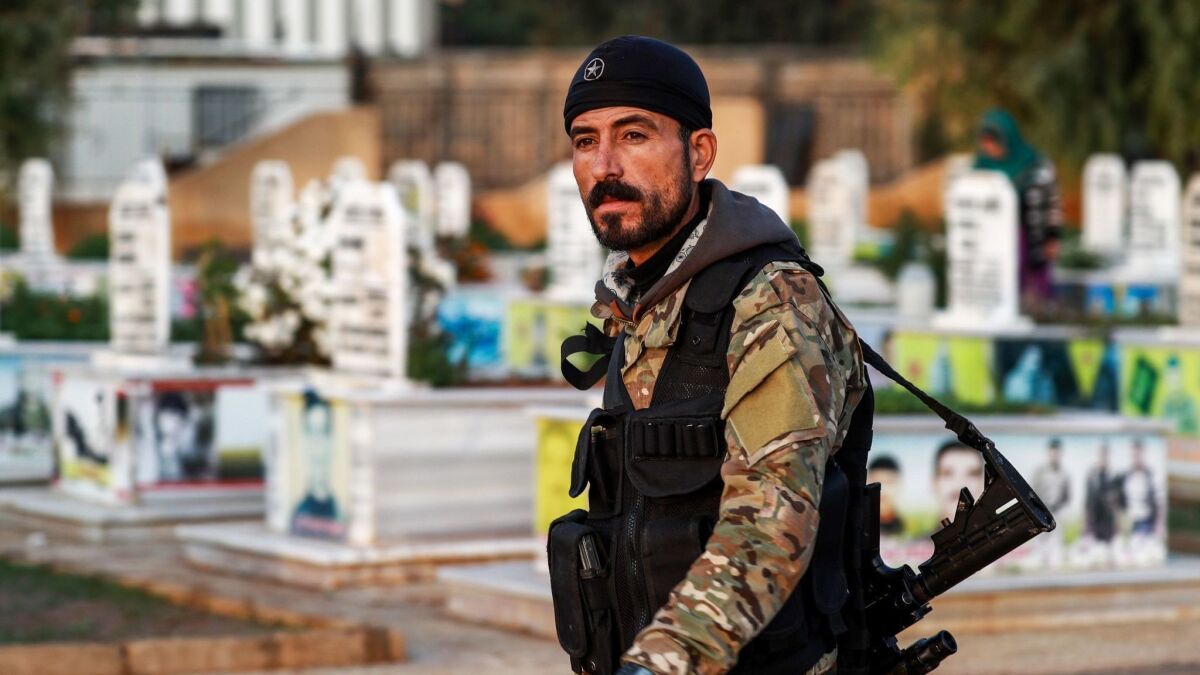 Reporting from Beirut —
Turkey will launch a military operation against U.S.-backed Kurdish fighters in northern Syria "within a matter of days," President Recep Tayyip Erdogan said Wednesday, prompting warnings from the Pentagon and State Department.
Washington backs the Kurds with thousands of service members, special forces and contractors who maintain a presence east of the Euphrates River, while Turkey and its coalition of Syrian rebels have mainly stayed to the west.
Turkey will target the east to "save the area from the separatist terrorist movement," Erdogan said, using his routine term for Kurdish militias.
"Our target is never American soldiers, but members of the terrorist organization operating in the region. This is especially emphasized," Erdogan said in a televised speech from the capital, Ankara. "This step will allow for the path to a political solution to be opened and for healthier cooperation with the U.S."
Cmdr. Sean Robertson, a Pentagon spokesman, said such a move would be "unacceptable" and would undermine shared interests in the border area.
"Unilateral military action into northeast Syria by any party, particularly as U.S. personnel may be present or in the vicinity, is of grave concern," Robertson said in a statement Wednesday evening.
Turkey has long protested Washington's support of the People's Protection Units, Kurdish militias also known as YPG. Turkey views the YPG as an extension of the separatist Kurdistan Workers Party, which has fought a decades-long guerrilla war against Turkey.
Washington's support of the YPG has enabled its fighters to beat back the militant group Islamic State from much of its territory in northeastern Syria. The Kurds now control wide swaths of land, a development that has enraged Turkey and worsened a rift between Washington and Ankara — fellow NATO members and putative allies.
Since 2016, Erdogan has launched two operations to stop the Kurds from establishing what he called "a terror corridor" along the 511-mile Syrian-Turkish border. Working with Syrian rebel factions as his proxy, he has secured much of Syria's north.
But fears of armed clashes between Turkish troops and what the Pentagon says are approximately 2,000 service members in Syria, as well as potentially thousands of contractors and special forces operatives, had so far stayed Erdogan's hand from attacking east of the Euphrates or in Manbij, a city some 15 miles southwest of the river.
Still, tensions have risen, with reports of Turkish forces shelling YPG positions even as the Pentagon doubled down on its support of the Kurds, who are struggling to finish off extremists in pockets of territory near the Syria-Iraq border.
And over Ankara's objections, the U.S. has established observation posts in the northeast Syria border region. Defense Department spokesman Col. Robert Manning announced the posts in a news release this week, saying they were "to address the security concerns of our NATO ally Turkey."
"We take Turkish security concerns seriously and we are committed to coordinating our efforts with Turkey to bring stability to northeastern Syria," Manning said.
That did little to mollify Erdogan.
"It's clear that the purpose of these U.S. observation posts is not to protect our country from terrorists but to protect terrorists from Turkey," he said Wednesday.
"These are branches of the PKK," he said, using an acronym for the Kurdistan Workers Party. "The evidence is clear. Why are you working with them instead of with us?"
He accused the U.S. of using Islamic State's presence as a "stalling tactic" on an agreement over Manbij that began this month with joint U.S. and Turkish patrols around the city and would end with the YPG leaving Manbij and ceding it to Turkish stewardship by the end of the year.
"There is no threat [from Islamic State] in Syria anymore. This is a fairy tale," said Erdogan. He said Turkish soldiers could immediately clear the remaining extremists.
The scope of the operation Erdogan promised on Wednesday is still unclear, but Turkey's previous cross-border incursions into Syria involved special forces working alongside Syrian rebels, with Turkish aerial and artillery support clearing the way.
The Britain-based Syrian Observatory for Human Rights reported Wednesday that rebel commanders had been told weeks ago to prepare for an assault, although representatives of a number of factions contacted the same day said there had be no orders to mobilize.
Hundreds of Turkish troops, along with tanks and armored vehicles, have massed near the border crossing at Akcakale, according to Can Acun, a researcher at the Ankara-based Foundation for Political, Economic and Social Research.
Still, Acun did not expect to see military confrontation between Turkish and U.S. troops. Erdogan, he said, is focused on increasing pressure on the U.S. to stop aiding the Kurds.
"It's not a desirable situation to see two NATO members confront each other, but Turkey thinks this is an issue of top national security, to secure the area east of the Euphrates, and Turkey is committed to an operation," he said in a phone interview Wednesday.
"Manbij is a symptom. The issue is an old one: U.S. support for the YPG," said Aaron Stein, a Turkey expert at the Washington-based Atlantic Council.
"Turkey wants the U.S. to capitulate … and join Turkey and push the YPG off the border. A small operation increases pressure on the U.S. to take them seriously."
Special correspondent Farooq reported from Istanbul, Turkey, and Times staff writer Bulos from Beirut. Times staff writers David Cloud and Tracy Wilkinson in Washington contributed to this report.
Special correspondent Farooq reported from Istanbul, Turkey, and Times staff writer Bulos from Beirut. Times staff writers David Cloud and Tracy Wilkinson in Washington contributed to this report.
Twitter: @nabihbulos
Must-read stories from the L.A. Times
Get the day's top news with our Today's Headlines newsletter, sent every weekday morning.
You may occasionally receive promotional content from the Los Angeles Times.