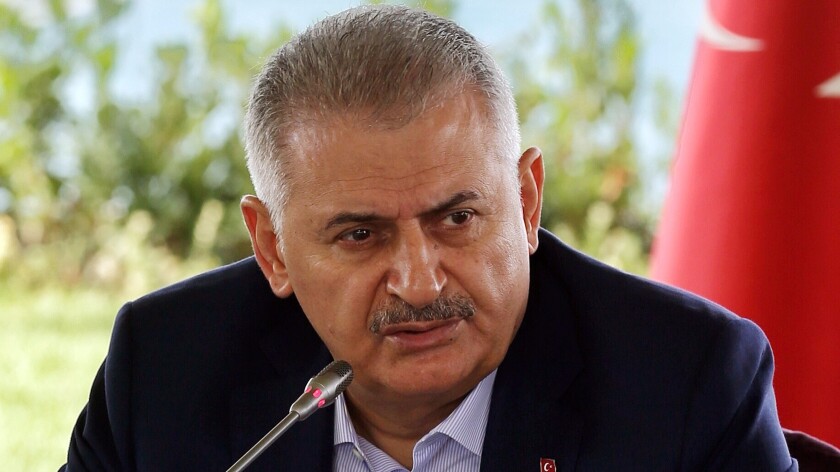 Reporting from Istanbul, Turkey —
Turkey expects to become a more active partner in regional efforts involving war-torn Syria and is willing to accept Syrian President Bashar Assad only in a transitional role, Prime Minister Binali Yildirim said Saturday.
Yildirim, speaking to media representatives in Istanbul, insisted that Assad cannot play a part in Syria's future.
"Could Syria carry Assad in the long term?" Yildirim said. "Certainly not."
Turkey has backed Syrian rebel groups against Assad, and insisted that removing his government is the best way to fight Islamic State extremists. But Yildirim's remarks Saturday signaled a shift for Ankara, with a possible alliance with Assad and Russia as a way to defeat Kurdish rebel groups, which seek to create an independent country in northern Syria.
"In the six months ahead of us, we shall be playing a more active role," Yildirim said. "It means not allowing Syria to be divided along ethnic lines ... ensuring that its government is not based on ethnic [divisions]."
Yildirim said the United States and Russia know that Assad does not appear capable of uniting the country.
"There may be talks [with Assad] for the transition. A transition may be facilitated. But we believe that there should be no [Kurdish rebels], Daesh or Assad in Syria's future," he said, using an Arabic acronym for the Islamic State group.
Turkey is fighting the separatist Kurdistan Workers Party, or PKK, within its own borders, and officials have said a growing autonomous Kurdish region across the border in Syria is a major concern for them. Ankara believes groups in Syria – including the American-backed Syrian Democratic Forces and People's Protection Units, the armed wing of the Democratic Union Party – work closely with the PKK, and this cooperation is responsible for the group's ability to wage an insurgency in Turkey.
Ankara and the PKK had brokered a two-year cease-fire, but it fell apart in July 2015 partly over Turkey's reluctance to intervene in the Syrian border town of Kobane as Kurdish forces defended it against Islamic State.
Yildirim told reporters that Turkey was ruling out another cease-fire with the group, which he said had used the previous truce to prepare for continuing its 3-decade-old insurgency.
"We would not enter into a dialogue with a terror organization," he said.
This week the government accused the PKK of carrying out four bombings in two days in the southeast, killing 10 people, mostly police and soldiers, and injuring more than 300. Hundreds of security forces and suspected PKK militants have been killed since the collapse of the cease-fire, and at least 350,000 residents have been displaced from several districts in the majority Kurdish southeast.
Yildirim denied that Russia was seeking to use Incirlik Air Base in southern Turkey for its operations in Syria. The base is already used by a U.S.-led coalition to launch airstrikes against Islamic State.
But Turkey and Russia have announced plans to step up military and intelligence cooperation, after a meeting between President Recep Tayyip Erdogan and President Vladimir Putin in St. Petersburg this month. It was Erdogan's first state visit abroad since a coup attempt last month. Relations with Russia had been strained since November 2015, when Turkish F-16s shot down a Russian Su-24 that briefly crossed into Turkey near the Syrian border.
Russian aircraft have backed Syrian government forces in the war, and until recently, the alliance steered clear of attacking Kurdish forces. But late last week, Syrian planes carried out airstrikes on Washington-backed Kurdish rebels near the northern city of Hasakah for the first time in the five-year war.
A small number of American military advisors are in the area, supporting fighters from the Syrian Democratic Forces and People's Protection Units in their conflict with Islamic State militants. The Pentagon said it ordered fighter jets to the airspace above Hasakah as a precaution meant to protect the advisors.
Yildirim welcomed the Syrian government's airstrikes on Hasakah.
"For some time, [the] Syrian regime made no move against the" Democratic Union Party, Yildirim said. "Last week, they bombed al-Hasakah. We read the situation as [Assad] regime realizing that Kurdish [forces] were making efforts to build a new structure in the north, which is becoming a threat to Syria."
Farooq is a special correspondent.
ALSO
At least 30 killed and 94 hurt in wedding blast in Turkey
2 car bombs in eastern Turkey kill 6, wound more than 200
Did a U.S. think tank sponsor a military coup? Turkey thinks so.
---