World powers press for cease-fire in Syria, but U.N. doesn't act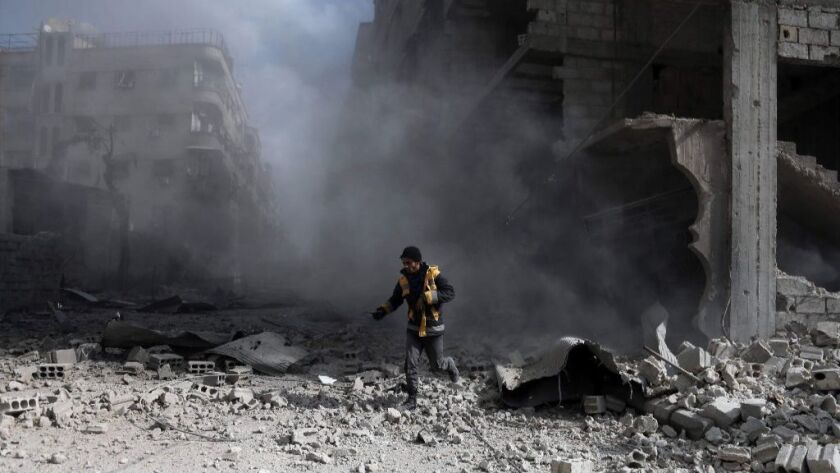 Reporting from Washington —
As Syrian warplanes continued to bombard a civilian enclave outside Damascus, killing hundreds, key European leaders demanded a cease-fire Friday while the United Nations struggled to bring Russia on board with the plan to end the carnage.
The U.N. Security Council scheduled, then postponed, then rescheduled, a vote on a 30-day cease-fire, but by nightfall in New York, no agreement had been reached.
Voices calling for urgent action, however, were abundant.
French President Emmanuel Macron and German Chancellor Angela Merkel sent Russian President Vladimir Putin a joint letter Friday calling on his country to support the Security Council resolution.
"It is now time to act," the two leaders said in a statement.
War monitors say more than 400 people have been killed and 2,000 injured since the Syrian government, backed by Russia, escalated its bombardment Sunday of the densely populated rebel-held enclave known as eastern Ghouta. Bombing continued Friday.
Among the dead are at least 99 children, according to the Syrian Observatory for Human Rights, a pro-opposition watchdog based in Britain.
Scores of people have also been injured or killed in rebel shelling of residential neighborhoods in the capital, Damascus.
The governments of Syrian President Bashar Assad and Russia and their ally, Iran, have sought to justify the bombardment of Ghouta by saying antigovernment rebels there are shelling Damascus. Pro-Assad officials refer to those rebels as terrorists who they say are affiliated with Al Qaeda.
But the international community insists that Syrian and Russian attacks are indiscriminate, target medical facilities and civilian infrastructure, and are blocking the delivery of badly needed medicines, food and other aid.
Macron and Merkel acknowledged the attacks on civilians in Damascus, as well as on the Russian Embassy there, but said that such actions did "not set aside the obligation and responsibility to protect the civilian population in eastern Ghouta and elsewhere."
U.N. Secretary-General Antonio Guterres said the estimated 400,000 people in eastern Ghouta were living "in hell on earth."
Robert Mardini, regional Near and Middle East director for the International Committee for the Red Cross, told reporters in Beirut that the organization was shocked by the level of violence in eastern Ghouta.
"The statistics are staggering, but many can still be saved, and this is our priority today," he said. "We need to deliver badly needed supplies to thousands affected by the ongoing fighting. People are trapped and desperate."
He too said that shelling of civilians in Damascus was unacceptable but that the scale was "totally different."
Russia can veto any U.N. Security Council resolution, and has frequently done so when any measure is critical of Assad.
However, Russian Foreign Minister Sergei Lavrov said his government could support the cease-fire resolution if it contained certain guarantees, including stopping firing into Damascus. Ironing out those details seemed to be the cause of Friday's vote delay.
As drafted by Sweden and Kuwait, Lavrov said, the resolution does not provide "guarantees that [the rebels] will not continue shooting at Damascus residential areas."
Russia is proposing a "formula," he said, that would "make the cease-fire real, based on the guarantees of all who are inside eastern Ghouta and outside eastern Ghouta."
Kuwait and Sweden held out hope that agreement could be reached that would establish a cease-fire within 72 hours of passage in the Security Council.
"We are so close to adopting this resolution," Kuwait's ambassador to the U.N., Mansour Al-Otaibi, told reporters. "We are almost there." Kuwait currently holds the rotating presidency of the Security Council.
The United States seems to have taken a back seat in the cease-fire efforts. State Department spokeswoman Heather Nauert was asked repeatedly Thursday what steps Secretary of State Rex Tillerson was taking to urge Lavrov or other Russian officials to stop hostilities. But she would not provide an answer.
"We are in Syria to fight ISIS," she said, using an acronym for the Islamic State militant group.
Russia's military intervention in the 7-year-old conflict in Syria helped give Assad the upper hand against U.S.-backed rebel groups seeking to topple him.
Wilkinson reported from Washington and Zavis from Beirut.
For more on international affairs, follow @TracyKWilkinson on Twitter
---
Must-read stories from the L.A. Times
Get all the day's most vital news with our Today's Headlines newsletter, sent every weekday morning.
You may occasionally receive promotional content from the Los Angeles Times.