Syria rebel commander reportedly kidnapped by Al Qaeda-linked forces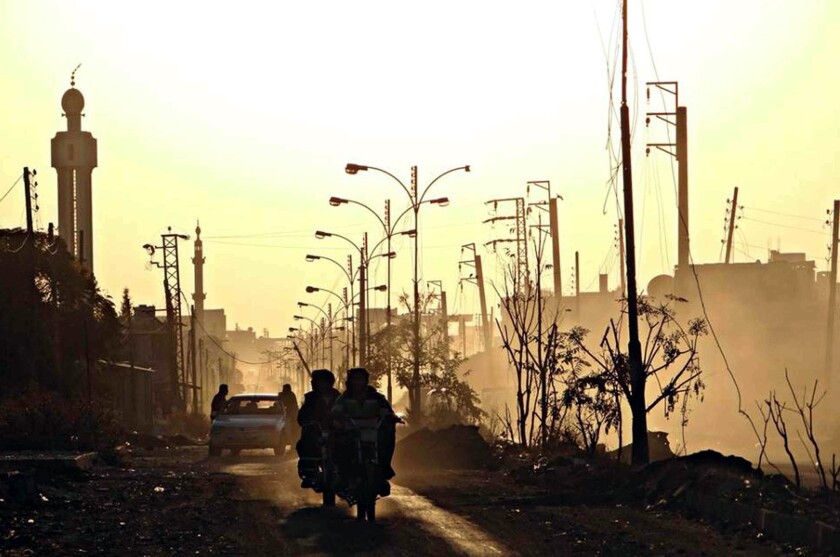 <i>This post has been corrected. See the note below for details.</i>
A prominent rebel military commander in southern Syria has been kidnapped by a hard-line Islamist faction linked to Al Qaeda, pro-opposition activists said Sunday.
Col. Ahmad Nemeh, long the head of the U.S.-backed Free Syrian Army in Syria's southern Dara province, was taken by the Nusra Front, according to opposition advocates. Details of his abduction were not available, but some accounts said other commanders were seized as well.
The incident occurred after the Nusra Front issued a statement labeling Nemeh a "criminal, [and] traitor to God" and warning that he would be "held accountable and pursued by the lions" of the Al Qaeda-linked group.
"They are saying he is wanted on several charges and will appear before a court of law," confirmed Abu Majd Zoubi, a media activist in southern Syria, who was reached via cellphone.
Negotiations were underway for the commander's release, activists said.
Nemeh, a former air force intelligence colonel who defected to the rebels, has long been a divisive figure in strategic Dara province. He has at times angered both hard-line Islamist groups and his Western and allied sponsors.
Nemeh regularly berated Western powers for what he termed their lackadaisical support for Syrian rebels. He also came under criticism for his close ties with the intelligence service of neighboring Jordan.
In an apparent rebuff, Nemeh was excluded from a "southern front" formation of rebel units created this year with Western backing. In response, he recently formed his own Southern Syrian Revolutionaries Front. Both groups are seen as a counterweight to the rising influence in the south of hard-line Islamist groups, especially the Nusra Front.
The Al Qaeda affiliate has gained prominence for a series of military victories in southern Dara and Qunayterah provinces. Its prowess on the battlefield and growing presence in the south have worried Western and regional backers of the Syrian rebels.
The Obama administration is pursuing a policy of backing what it calls moderate Syrian rebels in a bid to undermine Al Qaeda-linked groups and other hard-line Islamic factions. The Syrian government calls all rebels "terrorists" and says there are no moderate armed opposition groups.
[For the Record, 6:38 p.m. PST, May 5: A previous version of this post incorrectly quoted Abu Majd Zoubi as saying that Nemeh would be brought before a court of Islamic law. He said Nemeh would be brought before a court of law.]
Bulos is a special correspondent. Times staff writer Patrick J. McDonnell in Beirut contributed to this report.
---
Must-read stories from the L.A. Times
Get all the day's most vital news with our Today's Headlines newsletter, sent every weekday morning.
You may occasionally receive promotional content from the Los Angeles Times.