U.S. airstrike destroys Islamic State training camp in Libya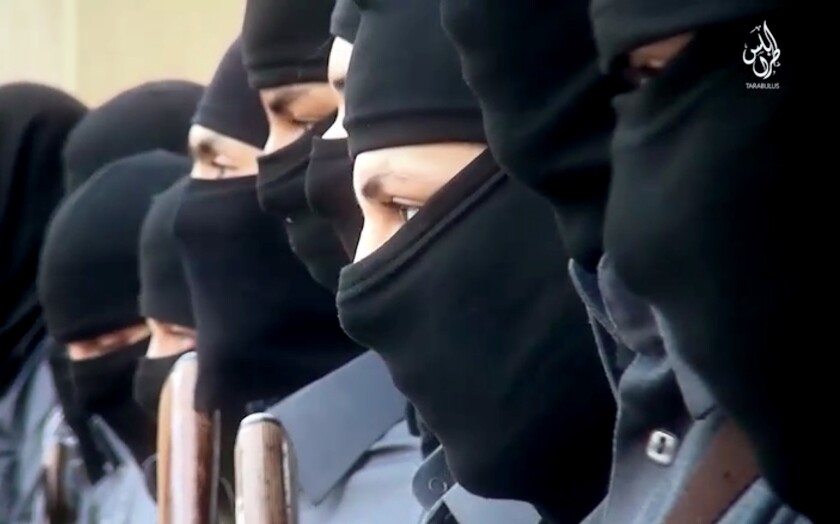 Reporting from WASHINGTON —
Two U.S. F-15 fighter jets carried out an airstrike in northwestern Libya early Friday that destroyed what the Pentagon described as a Islamic State training camp for several dozen foreign fighters and a senior terrorist operative, U.S. officials said.
"We obliterated the camp," said a U.S. official who discussed the raid on condition of anonymity. "We're still assessing the casualties at this point, but we hit what we were aiming at."
"We feel confident that this was a successful strike," Peter Cook, the Pentagon spokesman, told reporters. "These particular fighters posed a threat to interests in the region, to Libya, and to the United States overall."
The predawn attack, launched from Lakenheath Air Base in Britain, comes after weeks of mounting pressure on the White House to attack Islamic State's growing footprint in oil-rich Libya, the only country other than Syria and Iraq where it controls territory.
National security experts warn that an Islamic State sanctuary in Libya could give the Sunni extremist group another launching pad for terrorist assaults in Europe and North Africa.
U.S. drones and spy satellites had spent weeks focusing on the walled compound outside the coastal town of Sabratha, about 50 miles west of Tripoli, another official said. The aerial images, coupled with other intelligence, heightened U.S. concern that the militants were preparing to launch a cross-border attack.
The Sabratha Municipal Council, the local government, said on its website that at least 41 people were killed in the bombing, many apparently as they slept. The compound was rented by non-Libyans, including Tunisians, and machine guns and rocket-propelled grenade launchers were found in the rubble, the website said.
The Pentagon said the attack specifically targeted Noureddine Chouchane, a veteran Islamic State operative who allegedly played a key role in terrorist attacks last year in neighboring Tunisia. The first, in March, killed 23 people at the National Bardo Museum in Tunis, and another in June killed 38 at a seaside resort in Sousse.
Chouchane, who is from Tunisia, was also responsible for moving foreign fighters from Tunisia into Libya, according to the Pentagon.
The only previous U.S. airstrike in Libya against Islamic State was in November, when F-15 fighter jets killed a commander known as Abu Nabil. Officials said he was responsible for the video last year that showed militants beheading 21 Egyptian workers, all Coptic Christians, along the Mediterranean coast of Libya.
Islamic State has found fertile ground in Libya, which has had no functioning central government since the North Atlantic Treaty Organization bombing campaign helped a popular uprising oust Moammar Kadafi in 2011. Competing factions have fought a low-level civil war since 2014.
Islamic State has taken advantage of the power vacuum, attacking oil fields and installations, hobbling a major source of income. A U.S. intelligence estimate this month concluded that group has about 5,000 fighters in Libya, double the official estimate last fall.
The U.S. military, along with British, French and Italian special forces, has been monitoring Islamic State movements in several Libyan cities, including the militants' stronghold of Sirte.
The White House has resisted calls from some aides and Congress members to escalate the U.S. military role to counter the potential threat, although Friday's attack suggested at least a modest shift in that policy.
"I think this is the beginning of what will be a broader pattern of operations in the country in which the U.S. will strike, while being extremely careful about targeting," Anthony Cordesman, a defense expert at the Center for Strategic and International Studies, a nonpartisan Washington think tank, said Friday.
At a news conference Monday after a summit with Southeast Asian leaders, President Obama appeared to suggest U.S. raids in Libya are likely to increase.
"With respect to Libya, I have been clear from the outset that we will go after ISIS wherever it appears, the same way that we went after Al Qaeda wherever they appeared," Obama said, using another name for Islamic State.
"We will continue to take actions where we've got a clear operation and a clear target in mind," he said. "As we see opportunities to prevent ISIS from digging in, in Libya, we take them."
ALSO
Latinos seek answers from Sanders and Clinton in Las Vegas
Manny Pacquiao posts Bible verse that states gay people should be killed
Change in bullet train construction plans will delay rail line's arrival in Southern California
---
The Latinx experience chronicled
Get the Latinx Files newsletter for stories that capture the multitudes within our communities.
You may occasionally receive promotional content from the Los Angeles Times.