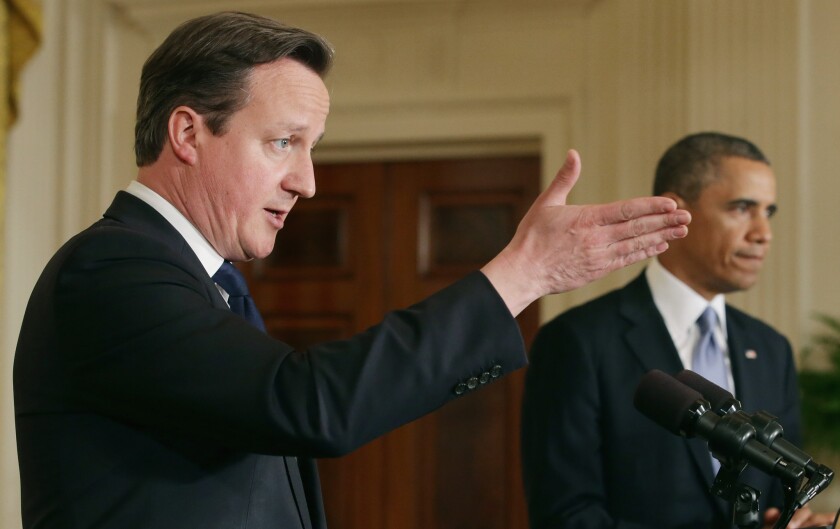 LONDON – As he met in Washington with President Obama on Monday, British Prime Minister David Cameron found himself on the defensive at home against members of his own party who want their country to withdraw from the 27-nation European Union as soon as possible.
Dozens of "Euroskeptic" Conservative lawmakers are backing a measure in Parliament on Wednesday expressing regret over Cameron's failure to commit to legislation that would bind the government to calling a referendum for voters to weigh in on British participation in the EU. Although the proposal has little chance of passage, the criticism from his own side has heaped pressure on Cameron over an issue that threatens to convulse his party and endanger his leadership of it.
Meeting with Obama, Cameron defended his handling of the referendum issue.
"Look, there's not going to be a referendum tomorrow," he told reporters in a joint news conference with the president. "And there's a very good reason why there's not going to be a referendum tomorrow ... because it would give the British public, I think, an entirely false choice between ... the status quo and leaving. And I don't think that is the choice the British public want or the British public deserve."
He said it was in Britain's interests to "reform the European Union, to make it more open, more competitive, more flexible."
Cameron asked if it was "in Britain's national interest, once we have achieved those changes, but before the end of 2017, to consult the British public in a proper, full-on, in-out referendum?" Answering his own question, he said: "Yes, I believe it is. So, that's the approach we take: everything driven by what is in the British national interest. That is what I'm going to deliver."
Cameron also argued the case for a free-trade agreement between the U.S. and the EU, which would encompass more than 800 million people.
In an editorial for the Wall Street Journal, Cameron wrote that such a deal would boost Britain's gross domestic product by as much as $15 billion and America's by $100 billion. For Britain to enjoy the benefits of such a transatlantic pact, however, it would have to remain part of the EU.
"I look forward to launching negotiations with the EU in the coming months," Obama said at the White House news conference. "I believe we have a real opportunity to cut tariffs, open markets, create jobs and make all of our economies even more competitive."
Unusually, the Obama administration earlier this year publicly warned Britain that withdrawal from the EU would diminish its "special relationship" with the U.S., which has traditionally looked to London to help represent American interests in Continental Europe. But the president offered some backing Monday for Cameron's approach.
"The UK's participation in the EU is an expression of its influence and its role in the world, as well as obviously a very important economic partnership," Obama said. "Now ultimately, the people of the UK have to make decisions for themselves. But … David's basic point, that you probably want to see if you can fix what's broken in a very important relationship before you break it off, makes some sense to me."
ALSO:
Greek government orders teachers not to strike
High-ranking Chinese official caught in anti-corruption net
Israelis worried that U.N. may quit patrolling Syrian border
---