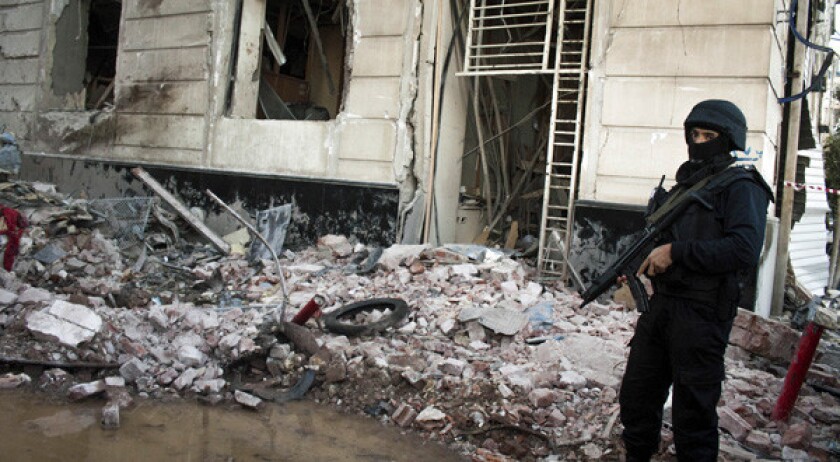 CAIRO -- An Al Qaeda-inspired group that until now had concentrated its attacks in the restive Sinai peninsula claimed responsibility on Wednesday for the bombing of a security headquarters in northern Egypt a day earlier that killed at least 15 people.
The claim by a group known as Ansar Bayt al-Maqdis, or Partisans of Jerusalem, posted on a jihadist forum, raised the specter of more attacks by the organization in areas other than the Sinai, where Egyptian security forces are battling Islamist militants.
In its statement, the group appeared to warn that it considers police and soldiers anywhere in Egypt a target -- together with those associated with the "apostate" military-backed interim government.
Calling the bombed security building in the Nile Delta city of Mansoura "a venue for tyranny ... against Islam and Muslims," the group repeated a call to members of the security forces to desert the ranks "if they want to hold fast to their lives and their religion."
The statement also identified by name the attacker who carried out the vehicle bombing, saying he "rode his steed to defend his religion." The Interior Ministry confirmed that the massive vehicle bomb had in fact been a suicide attack.
The organization has staged at least one major strike in Cairo -- a suicide bombing in September that targeted Interior Minister Mohamed Ibrahim, but failed to kill him. Other than that, its activities have been largely in the Sinai battleground.
The army tried unsuccessfully last week to capture at least two important figures in the group, but a raid by Egyptian troops in northern Sinai instead turned into a firefight that left two soldiers dead and forced the military to send in attack helicopters to back up its ground forces. Three militants were reported killed as well.
King is a staff writer and Hassan is a special correspondent.
---