Across spectrum, Egyptians denounce shooting at Coptic church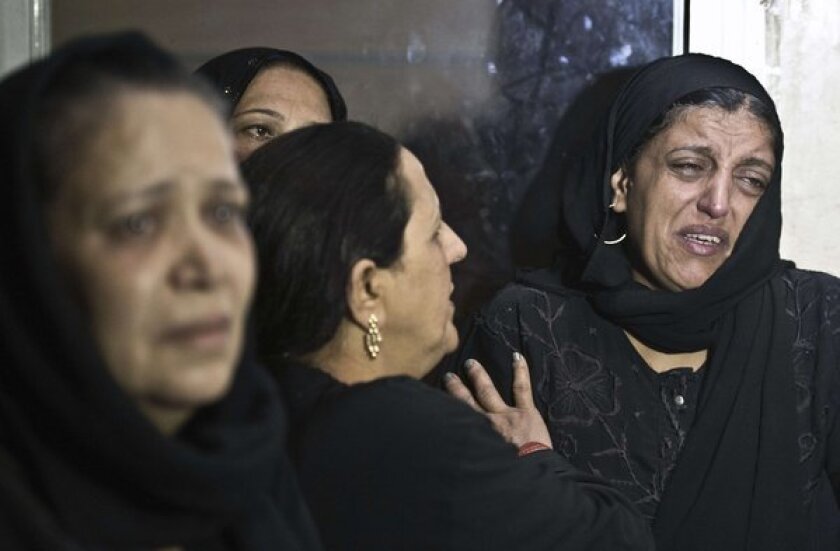 CAIRO -- A drive-by shooting outside a Coptic Christian church that left four people dead, including an 8-year-old girl, drew denunciations Monday from figures across Egypt's religious and political spectrum.
Gunmen on motorbikes opened fire Sunday night on wedding celebrants outside the church, which fronts a busy road in a rundown Cairo neighborhood. In addition to those killed, 19 people were wounded. Many were relatives of the bride and groom.
It was the latest in a grim pattern of attacks against the country's Coptic minority in the wake of the coup that toppled Islamist president Mohamed Morsi in July. Some of Morsi's followers in the Muslim Brotherhood blamed Christians for instigating the enormous protests that preceded his ouster.
The Brotherhood was among those condemning the attack, as was the military-backed interim government. The interim prime minister, Hazem Beblawi, called it a "lowly criminal act" and promised that those who carried it out would be found and punished.
There was no immediate claim of responsibility for the attack. Some of the hundreds of mourners who converged on the church said the government had not taken adequate measures to protect them.
On Monday, a row of riot police with shields formed a barrier across the church's entryway, where blood stains were still visible. Only journalists, clerics and those who could show IDs identifying them as Christians were allowed inside. Congregants crowded into the wooden pews to weep and pray.
"It was a terrible sight," said Samia Youssef, a 62-year-old who grew up attending the church. "Even though the country is full of terrorists, we never expected this."
The deposing of Morsi and a subsequent crackdown on followers triggered a spree of revenge attacks against Christians in late summer, including the burning of churches and the looting of Christian-owned shops and businesses in the Coptic heartland south of Cairo.
Copts make up about 10% of Egypt's population, and have long faced hostility and discrimination.
ALSO:
U.N. official urges access to besieged Syria civilians
Titanic violin auction price of $1.44 million sinks previous records
Mexico cartel honcho reportedly killed by gunmen dressed as clowns
laura.king@latimes.com
---
Must-read stories from the L.A. Times
Get all the day's most vital news with our Today's Headlines newsletter, sent every weekday morning.
You may occasionally receive promotional content from the Los Angeles Times.