Egyptian crackdown targets secular activists as well as Islamists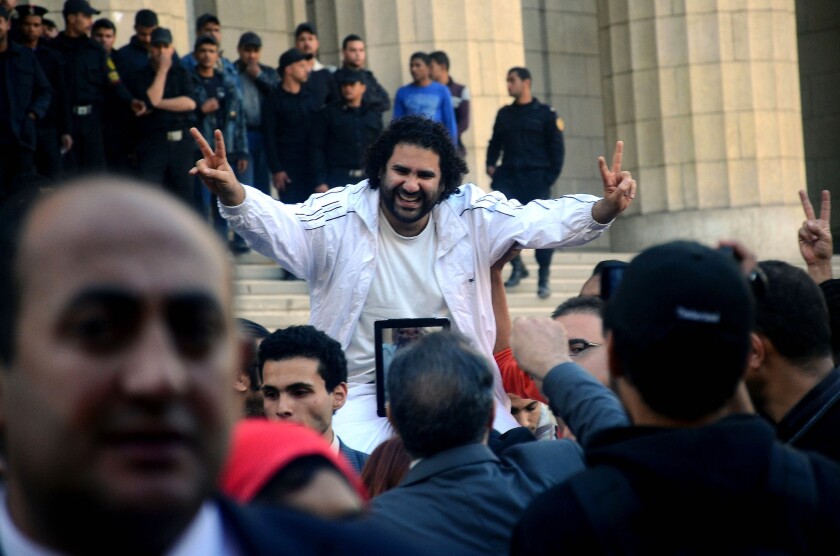 CAIRO -- In a case that was seen as part of a broadening crackdown on secular activists, a brother and sister who were active in the uprising against Hosni Mubarak were given suspended one-year jail terms on Sunday in connection with an attack on a campaign headquarters in 2012.
Liberal activist Alaa Abdel Fattah, his sister Mona Seif and 10 others were found guilty by an Egyptian criminal court of assault, property damage and theft in the attack on the headquarters of former presidential candidate Ahmed Shafiq.
The verdict comes as human rights advocates decry a crackdown that began by targeting Islamist supporters of ousted President Mohamed Morsi and now is reaching secular and leftist opposition youth.
The suspended verdict means that the defendants will not serve the jail term unless they are indicted on any other charges in the next three years -- a measure that could have a chilling effect on any further activism.
In December, activists Ahmed Maher, Ahmed Douma and Mohamed Adel -- all veterans of the 2011 uprising against then-President Mubarak -- were sentenced to three years in jail plus a fine of more than $7,000 each for holding a demonstration without getting permission in advance from authorities, as mandated under a law that took effect in November. Nearly two weeks later, two more activists in the coastal city of Alexandria received a two-year jail sentence on similar charges.
The human rights group Amnesty International decried what it called a pattern of politically motivated prosecutions by the interim government meant to crush dissent. It said in Sunday's case, the prosecution relied on circumstantial evidence and the testimony of known criminals.
"A conviction that is not based on independent, impartial and adequate investigations and reliable evidence would be unfair. It could also be perceived as aimed at preventing... activists from carrying out their political and human rights work," said Said Boumedouha, Amnesty's acting director for the Mideast and North Africa.
The government that took power after removing Islamist president Mohamed Morsi from power in early July has waged a fierce separate campaign against Morsi's supporters in the Muslim Brotherhood, which has been declared a terrorist organization. Thousands of its members are in jail, including the top leadership and Morsi himself.
Hassan is a special correspondent. Staff writer Laura King contributed to this report from Istanbul.
---
Must-read stories from the L.A. Times
Get the day's top news with our Today's Headlines newsletter, sent every weekday morning.
You may occasionally receive promotional content from the Los Angeles Times.