European Union unveils $15-billion aid package to bolster Ukraine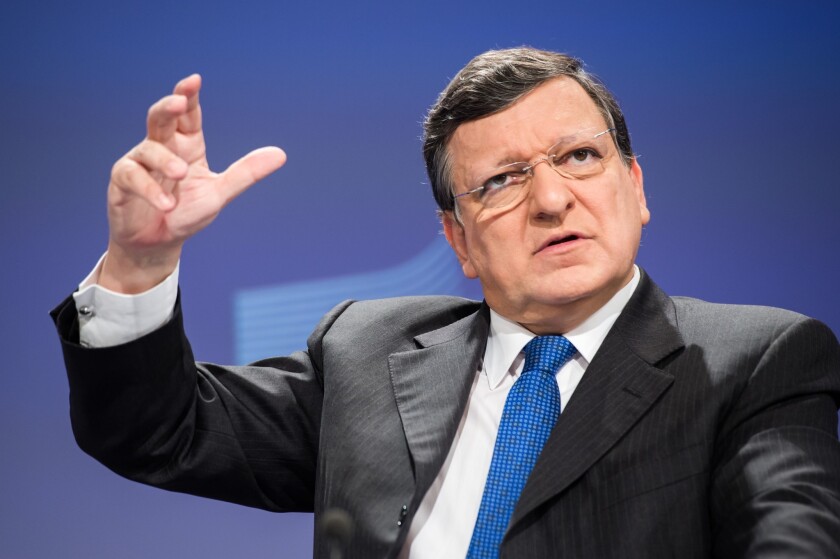 LONDON -- Trying to forge a united response to the crisis in Ukraine, the European Union is preparing to offer the embattled country up to $15 billion in grants and loans to help shore up its new government and improve its precarious financial position, a leading EU official said Wednesday.
The offer from Jose Manuel Barroso, head of the European Commission, followed the Obama administration's announcement a day earlier that it would give $1 billion in energy subsidies to Ukraine. The cash-starved government in Kiev has been struggling to pay its bills, a financial predicament that helped precipitate the current crisis.
The EU's assistance package would include $4 billion in loans and development grants over the next several years, with a substantial portion to be made available immediately "to help Ukraine address its more urgent needs, including stabilizing the financial situation and supporting the functioning of the new administration," the EU said in a statement.
An additional $11 billion in financing would come from European financial institutions that invest in infrastructure and other development projects.
The aid package is contingent on Kiev's agreement to implement economic reforms demanded by the International Monetary Fund.
Announcement of the EU's offer came a day before the leaders of the bloc's 28 nations were scheduled to hold an emergency summit on Russia's military-backed takeover of the Crimean peninsula.
Although European officials have been unanimous in their condemnation of Moscow's occupation of Crimea, with many calling it the region's most serious crisis since the end of the Cold War, the EU is caught in its usual struggle to come up with a position that all 28 countries can support.
While the U.S. has moved quickly to impose some sanctions on Moscow, EU leaders are divided over economic penalties because of Europe's deeper trading relationship with Russia and its dependence on Russian oil and gas.
Britain, supported by former Soviet bloc nations looking nervously over their shoulders, has led the push for sanctions. But Germany and others are hesitant, and even the British government has been accused of looking for a way to minimize the impact of sanctions on London as a financial center channeling billions of Russian dollars.
Critics say that a weak or dithering response would embolden Moscow by confirming perceptions of the EU as a toothless club more concerned with making money and its narrow economic interests than confronting a serious threat in its backyard.
"It is important that the European Union shows a unity of purpose and a clear voice tomorrow at the leaders' meeting," British Prime Minister David Cameron said Wednesday. "What I think we need to do is, first of all, be absolutely clear that the status quo we're faced with today, where Russian troops are outside their bases in the Crimea, is unacceptable."
The EU also announced Wednesday that it was freezing the European assets of 18 people accused of misappropriating state funds from Ukraine. The names of the 18 people were to be published Thursday.
Twitter: @HenryHChu
---
Must-read stories from the L.A. Times
Get all the day's most vital news with our Today's Headlines newsletter, sent every weekday morning.
You may occasionally receive promotional content from the Los Angeles Times.