Search for missing Sherpas suspended as Everest climbers weigh risks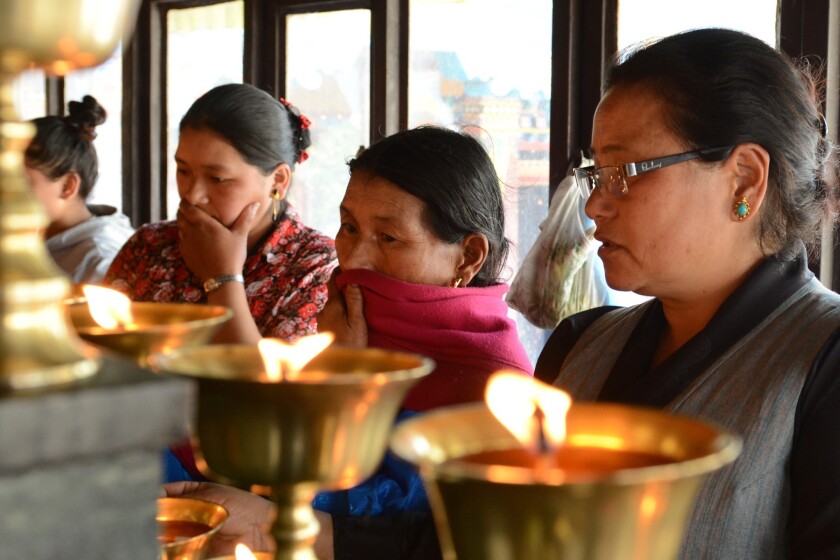 MUMBAI, India — Bill Burke, a 72-year-old mountaineer from Costa Mesa, was making his latest attempt to scale Mt. Everest's northern face when the news came of the deadliest avalanche ever on the world's highest peak.
As many as 16 Nepalese mountain guides, all ethnic Sherpas, were killed Friday on the south side of the mountain, but Everest's fraternity of climbers and their guides is small. The father of Burke's Nepalese guide was among the dead; another Sherpa in his group lost two relatives, including a nephew.
"Virtually every Sherpa in our group was affected by this, indirectly or directly," Burke said by telephone Sunday from the 17,000-feet-altitude base camp in Tibet on the north side of the mountain.
Thirteen bodies were recovered, but due to worsening weather rescuers on Sunday suspended the desperate search for three Sherpas still buried under the snow and ice. Nepalese officials said it was unlikely that the operation would continue.
Although the official death toll remained at 13, "it is not possible to find the three missing persons, dead or alive," Lakpa Sherpa of the Himalayan Rescue Operation told Reuters news service.
Several Sherpas who had advanced above the icefall were marooned there and officials said it could take days before they were rescued. The Sherpas had tents and enough food and water to last several days, officials said.
The avalanche occurred early Friday morning at the treacherous Khumbu Icefall as about 60 Sherpas were ferrying tents and other supplies up the southern face of Everest for foreign clients who would begin scaling the mountain when the annual climbing season begins next month. Many climbers are well-heeled Westerners who can afford the $10,000 Nepalese government permit; their Sherpa guides can earn about $5,000 a year, a princely salary in impoverished Tibet.
Hundreds have died trying to climb Everest since 1953, when Sir Edmund Hillary and his Sherpa guide, Tenzing Norgay, became the first known climbers to reach the 29,000-foot summit. But Friday's death toll was the highest ever recorded on Everest in a single incident, refocusing attention on the dangers faced by Sherpas, the once-isolated Himalayan natives who form the vast majority of Everest guides.
More than 300 Sherpas have signed a petition to the Nepalese government saying that Everest summit attempts should be suspended this year out of respect for the dead. They also asked the government — which takes in $3.3 million a year in Everest climbing fees alone — to increase work death benefits to $10,000 from the current $400, cover medical costs for injuries sustained while climbing and provide disability benefits.
"I, along with many other climbers, believe this to be a proper memorial even though I have been working on this summit for two years," Ed Marzec, a retired Los Angeles lawyer who saw the avalanche occur from his base camp below and lost three Sherpas from his team, wrote on his blog. "I am willing to abide by their decision since I am only a guest here."
Marzec, 67, said the body of his Sherpa, Ash Gurung, wasn't recovered and that he believes he was swept into a deep crevasse when the "car-sized chunks of ice" came raining down the mountain.
Nepal's economy depends heavily on the climbing industry. As the number of climbers has increased in recent years, some Sherpas have begun to complain that Everest, which they view as sacred, is being spoiled while much of their community continues to languish in poverty.
"Sherpas are the backbone of Mount Everest expeditions, but the government neglects them," a mountaineering entrepreneur, Mingma Sherpa, told the Himalayan News Service on Saturday.
Yet the wages that guides earn in Everest expeditions are more than seven times the average annual income in Nepal. Burke, a retired lawyer who became the oldest American to reach the summit in 2009, from the Nepalese side, said his Sherpa guide left for Katmandu to help bury his father but the nine other Sherpas accompanying his group of foreign climbers were pressing ahead with the journey.
Cheering Sherpa, one of the guides, said the group was saddened by the deaths but unfazed.
"Here on the Chinese side there's no problem," he said. "We don't worry, we're safe here. We have good and strong Sherpas."
Twitter: @SBengali
---
Must-read stories from the L.A. Times
Get all the day's most vital news with our Today's Headlines newsletter, sent every weekday morning.
You may occasionally receive promotional content from the Los Angeles Times.