New Snowden documents allege U.S. spying on Brazil, Mexico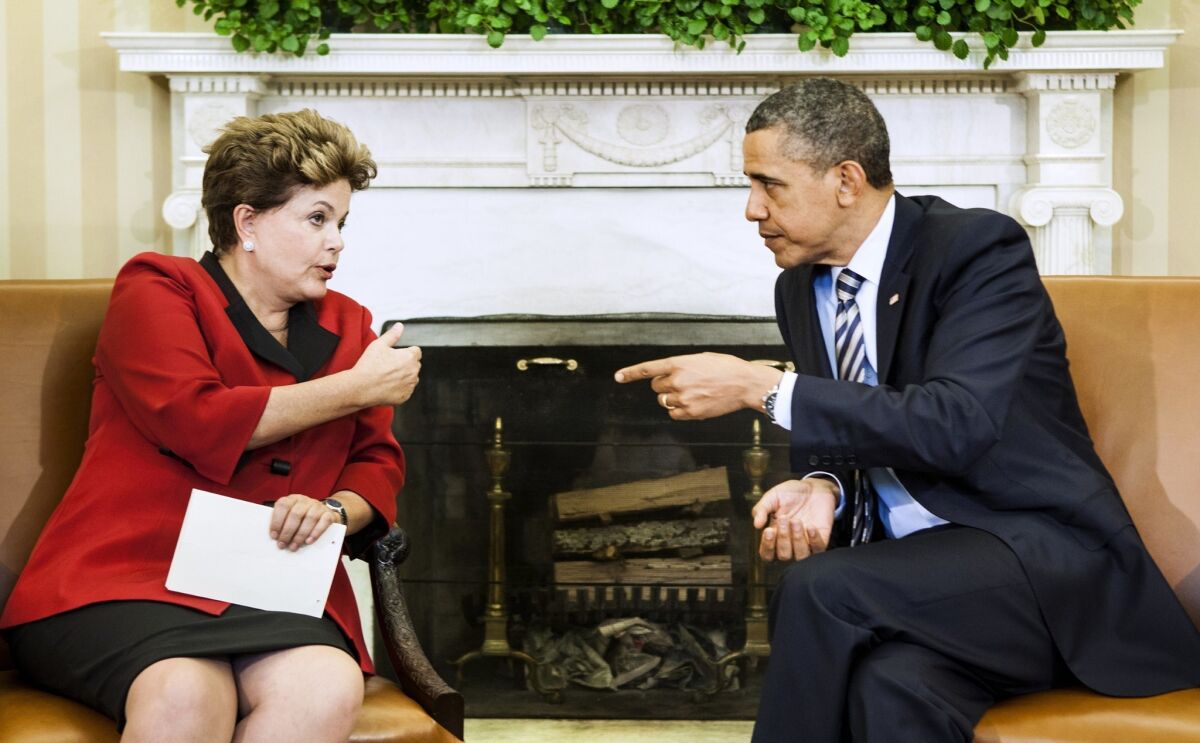 SAO PAULO, Brazil --New documents leaked by former U.S. intelligence contractor Edward Snowden allege that Washington spied on the presidents of Mexico and Brazil, further complicating relations weeks before Brazilian President Dilma Rousseff's state visit to the United States.
After journalist Glenn Greenwald made the revelations on Brazil's popular Globo TV network Sunday night, Rousseff called an emergency meeting with advisors and her government summoned U.S. Ambassador Thomas Shannon to explain the new allegations, which came after earlier reports of spying led Brazil to demand answers from a visiting Secretary of State John F. Kerry last month.
"This is an inadmissible and unacceptable violation of Brazilian sovereignty," said Brazilian Foreign Minister Luiz Alberto Figueiredo in a news conference Monday afternoon. "The Brazilian government wants prompt, formal explanations in relation to the facts revealed in the report."
The Mexican government also summoned the U.S. ambassador to Mexico, Anthony Wayne, to protest the reported spying and delivered a diplomatic note demanding an exhaustive investigation.
"The government of Mexico rejects and categorically condemns any works of espionage against Mexican citizens in violation of international law," a statement from the Mexican Foreign Ministry said.
"Such practices are contrary to the United Nations Charter and the International Court of Justice."
The statement did not mention President Enrique Peña Nieto by name or title, alluding only to reports of spying on "Mexican citizens."
The Mexican government had been slow to respond in part because Peña Nieto on Monday was delivering his first state of the nation speech, a major event, and all officials seemed consumed by it and related activities.
A spokesman for the president declined to comment.
Peña Nieto did not allude to the reported spying in the speech, instead hailing a "new phase of understanding" with the United States, based on a "new multi-themed agenda."
The special report on Sunday night's "Fantastico" television program (link in Portuguese) outlined how communications between Rousseff and her main advisors, as well as communications between those advisors and others, were allegedly monitored by the United States. In the case of Mexico, the documents showed how spying purportedly enabled the U.S. to glean the names of people whom Peña Nieto –- who at the time, in mid-2012, was still a presidential candidate –- planned to appoint to various ministries.
"It was very clear in these documents that they had already carried out the spying," Greenwald said on the television program, speaking in Portuguese. "They're celebrating the success of the spying program."
When Vice President Joe Biden visited Brazil in May and invited Rousseff to a night of pomp and circumstance at an official White House state dinner on Oct. 23, it was widely seen as a long-awaited recognition of Brazil's status as a rising power and symbol of improved relations between the two countries.
But relations were strained when Brazil reacted negatively to revelations of U.S. spying on civilians throughout Latin America, broken by Greenwald in the O Globo paper with Snowden documents in July. And when Greenwald's partner, who lives with him in Rio de Janeiro, was detained at London's Heathrow Airport last month, Brazil's Foreign Ministry strongly denounced an action believed to be linked to the possession of leaked documents from the U.S. National Security Agency.
An earlier report that the U.S. was spying on the Mexican Embassy in Washington drew a more muted response. Washington and Mexico City have enjoyed, at least until recently, a close relationship of sharing intelligence produced from various forms of surveillance, including wiretapping, in the fight against drug cartels. The Mexican government is probably reluctant to draw attention to any form of secret surveillance.
In addition to revealing presidents as stated targets, the new documents depict a different type of information-gathering, according to an expert cited on Sunday's show. The spying was not aimed at protecting U.S. national security, but was allegedly meant to give Washington an upper hand in international meetings by knowing the other players' "cards."
Brazil's communications minister, Paulo Bernardo, said the spying was "absurd." "This has nothing to do with national security," he said. "It's snooping to gain advantages in industrial and commercial negotiations."
Rousseff, who was tortured as a young guerrilla by a U.S.-backed military dictatorship that spied on activists, may also face more pressure for a stronger response to the U.S. from the the base of her left-leaning party.
A spokesperson for Rousseff said she could not confirm local news reports that the president was considering canceling her trip to Washington if her government did not receive a satisfactory response.
Wellington Dias, leader of the ruling Workers' Party in the Brazilian Senate, said it was "unacceptable that a nation which boasts so often about being the first constitutional democracy on the planet, and the guardian of democracy around the world, acts with complete disrespect for the minimum parameters of respect for the sovereignty of other countries."
ALSO:
Britain rules out second vote on Syrian strike
Mohamed Morsi to stand trial in deaths of Egyptian protesters
Obama's bid to attack Syria faces resistance from 2 sides in Congress
Special correspondent Bevins reported from São Paulo and staff writer Wilkinson from Mexico City.
---
Must-read stories from the L.A. Times
Get the day's top news with our Today's Headlines newsletter, sent every weekday morning.
You may occasionally receive promotional content from the Los Angeles Times.