Judge clears way for fresh investigation of Spanish princess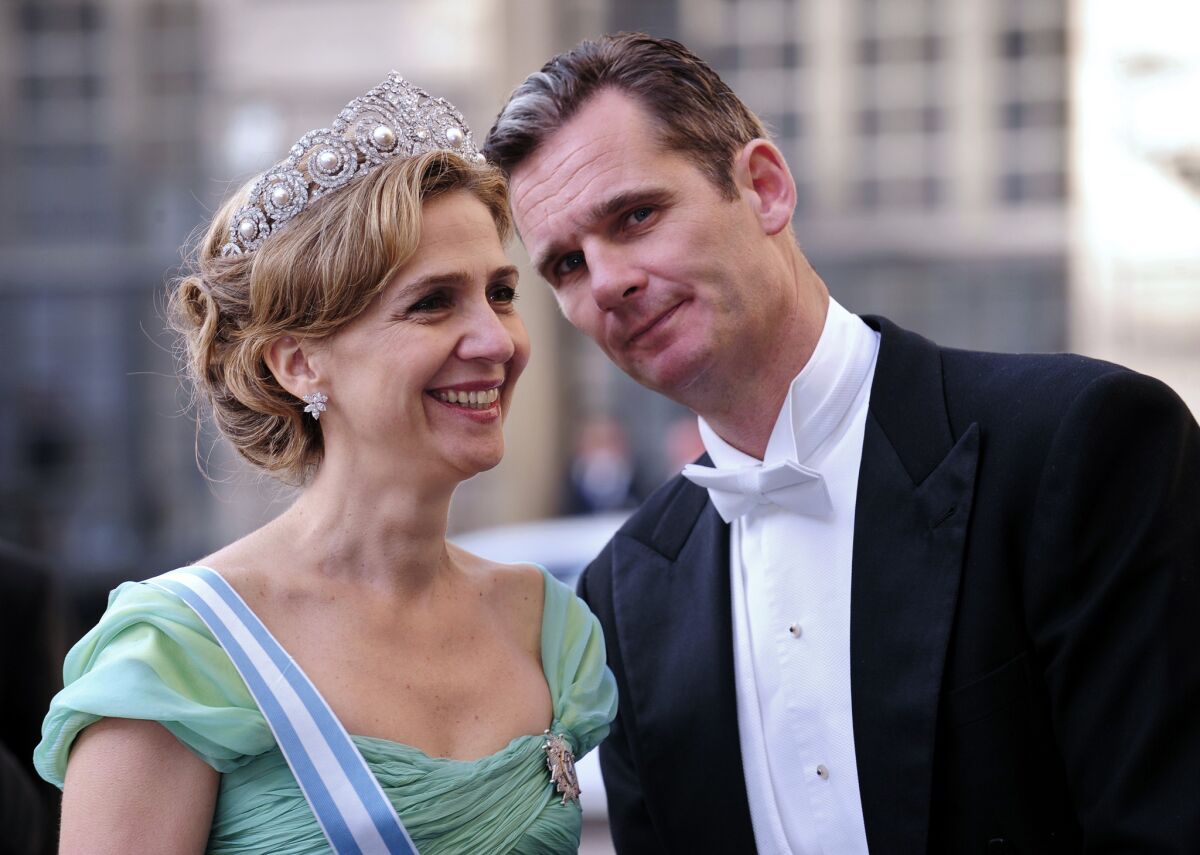 MADRID -- In another blow to Spain's scandal-plagued royal family, a judge Thursday cleared the way for a new investigation into King Juan Carlos' youngest daughter, rejecting her appeal to have her tax returns shielded from further scrutiny.
The princess, Infanta Cristina, was initially subpoenaed to testify in an investigation of her husband, a former Olympic handball champion who is accused of embezzling millions of dollars in public funds. Cristina, 47, last month became the first direct descendant of a Spanish monarch to be summoned to appear before a criminal court, though the decision was later reversed.
Now the same judge on the Spanish island of Mallorca has approved a fresh probe into the princess' affairs. Cristina had submitted 10 years of tax returns to officials investigating her husband. After she was cleared of suspicion in her husband's case and her subpoena dropped, the royal couple filed an appeal to block any further scrutiny of her tax filings. But Judge José Castro said Thursday the documents will remain in the court's possession for further examination, possibly for evidence of tax fraud or other financial crimes.
Cristina's husband, Iñaki Urdangarin, whom she met at the 1996 Olympic Games in Atlanta, was bestowed with the royal title duke of Palma after their marriage in 1997. Now he is accused of using that title and his royal connections for fraud.
Urdangarin and a former business partner are accused of siphoning off at least $6.4 million in public donations for sports and cultural events organized through the Noos Institute, a supposedly nonprofit umbrella group of charities that Urdangarin ran from 2004 to 2006.
His wife was a board member and advisor to Noos, and her tax returns were subpoenaed as possible evidence. But in testimony, Urdangarin has sought to minimize Cristina's role, saying his wife and royal in-laws had no real knowledge of nor involvement in his business dealings.
Urdangarin's case is the latest in a series of scandals to tarnish Spain's monarchy in recent years. Juan Carlos was long credited with keeping Spain intact through its transition to democracy after the 1975 death of military dictator Francisco Franco and a 1981 coup by military officers. But last year, he was forced to issue an unprecedented apology for going elephant-hunting in Africa while his country is mired in recession. Spain's unemployment rate tops 27%.
The monarchy's public-approval ratings are at an all-time low.
Since authorities began investigating Urdangarin two years ago, he has moved to the Persian Gulf country of Qatar. He and the princess remain married, though she continues to live in Barcelona with their four children.
The royal palace had no immediate comment on Thursday's ruling.
ALSO:
Chinese military unit said to resume cyber spying
12 killed as suicide car bomber hits NATO convoy in Kabul
Global Voices: Palestinian quest for statehood a moving target
---
Must-read stories from the L.A. Times
Get the day's top news with our Today's Headlines newsletter, sent every weekday morning.
You may occasionally receive promotional content from the Los Angeles Times.