New Palestinian Authority government sworn in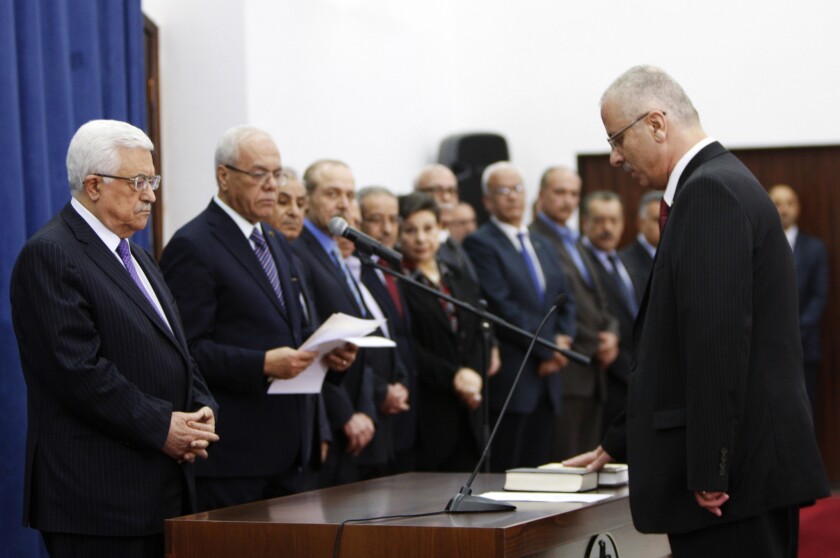 RAMALLAH, West Bank -- Palestinian President Mahmoud Abbas swore in a new government Thursday headed by a British-educated academic with no political experience.
New Prime Minister Rami Hamdallah, who has served since 1998 as president of An Najah National University in Nablus, replaces Salam Fayyad, who resigned in frustration in April.
Though admired by Western nations for his financial acumen and political reforms, Fayyad, a political independent, was never fully embraced by the Palestinian public and was resented by the two main Palestinian factions, Abbas' Fatah party and its rival, the Islamist group Hamas.
Fayyad also faced lingering budget deficits, which have beset the Palestinian Authority for more than a year, causing government workers to strike over lack of pay.
Hamdallah, who is also a political independent, said his government would remain in office until mid-August, when Fatah and Hamas are due to complete long-delayed negotiations to form a unity government of technocrats, and then prepare for new presidential and parliamentary elections.
The two factions split violently in 2007, with Fatah forming a government in the West Bank and Hamas seizing control of the Gaza Strip. It remains to be seen whether a compromise on elections -- the first since 2006 -- will be reached because the factions remain deeply divided.
Most of the 24 Cabinet members sworn in Thursday came from the outgoing government. Nine new members were added, including the prime minister, his two deputies and the finance minister.
The two deputies are Mohammad Mustafa, head of the Palestine Investment Fund, the investment arm of the Palestinian Authority, and Ziad abu Amr, an advisor to Abbas. Shukri Bishara, a banker, was named as finance minister.
ALSO:
North Korea changes course, calls for talks with South

Russia's first couple divorcing; Putin biography tells why
Clashes erupt in Syria near Israeli-occupied Golan Heights
Abukhater is a special correspondent.
---
The Latinx experience chronicled
Get the Latinx Files newsletter for stories that capture the multitudes within our communities.
You may occasionally receive promotional content from the Los Angeles Times.