Senators say they'll press Iran sanctions as 'insurance'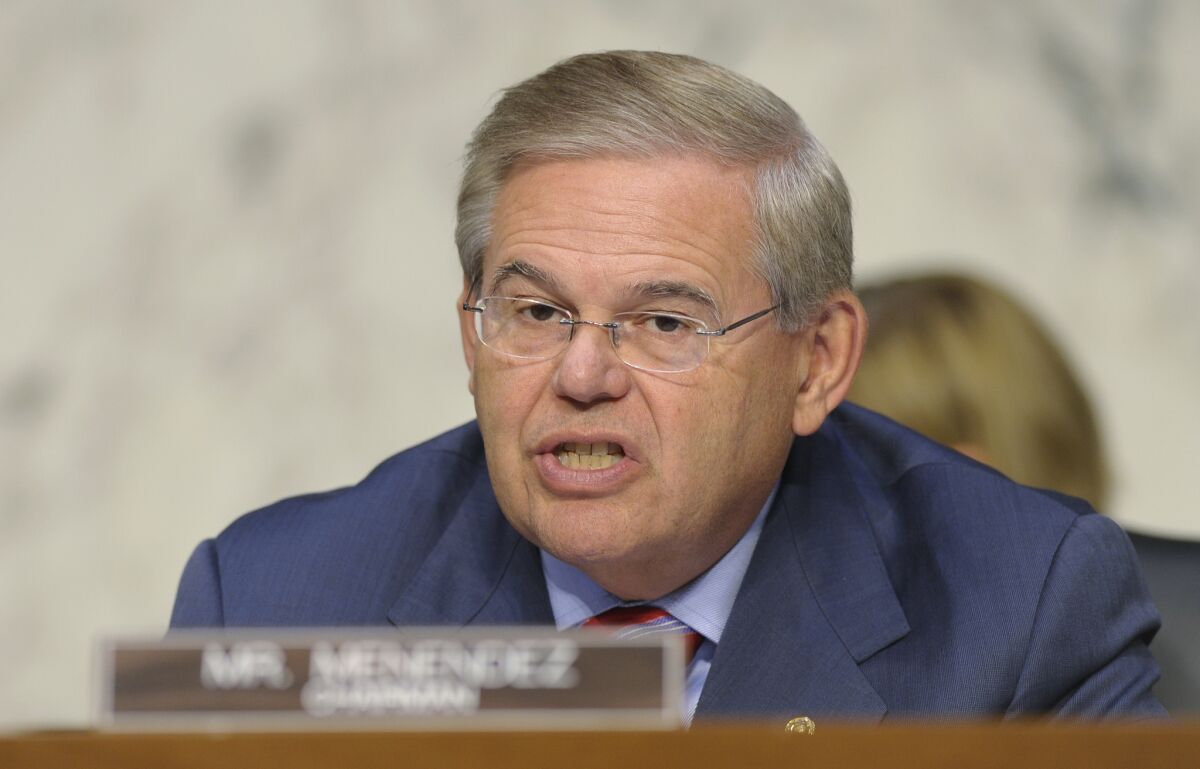 WASHINGTON -- Key lawmakers said Sunday they expect to press forward with an Iran sanctions package that can be imposed quickly if the interim accord to freeze Tehran's nuclear program fails to lead to a long-term deal.
Sen. Robert Menendez (D-N.J.), chairman of the Foreign Relations Committee, suggested additional sanctions would provide an "insurance policy" over the next six months as the interim agreement between Iran and six world powers, including the United States, is implemented.
"I hope the deal can be successful," Menendez said on CBS' "Face the Nation." "But we need to be ready to move forward."
No action is likely in Congress for at least another week, as the Senate shelved the potentially heated debate for a Thanksgiving recess. The White House had cautioned against adding more sanctions as high-level talks led by Secretary of State John F. Kerry were underway in Geneva last month.
Iran denies that it intends to develop nuclear weapons, and insists its enrichment program is intended for energy and other peaceful purposes. The Obama administration believes Iran is inching closer to a nuclear weapons capability but has not made a decision to build a bomb.
Under the interim deal, Iran agreed to freeze most of its nuclear program in exchange for limited sanctions relief while negotiators try to hammer out a more sweeping agreement to prevent Iran from building a nuclear device. Any sanctions package from Congress probably would be delayed to give those talks a chance.
Republican hawks and key Democrats remain uneasy about the deal, which would allow Iran access to an estimated $7 billion in sanctions relief over the next six months. Tehran would continue to lose about $30 billion from sanctions during that period, however.
Critics say Iran already is close to bomb-making capability, and the agreement does not force it to dismantle any nuclear facilities. Proponents of the deal say it grants United Nations nuclear inspectors unprecedented daily access into Iran's enrichment and reactor facilities, and forces Iran to neutralize its entire stockpile of medium-enriched uranium, material that conceivably could be converted into bomb fuel.
"I'm very concerned," said Sen. Bob Corker of Tennessee, top Republican on the foreign relations committee. He said Congress has played a "constructive role" by imposing sanctions that helped force Iran to the negotiating table.
He said Congress should be ready to add more sanctions to ensure "a better end game than we have now."
The senators have considered attaching a sanctions package to a must-pass defense bill being debated in the Senate.
But it's unclear if Senate leaders, including Majority Leader Harry Reid (D-Nev.), would allow the proposal to advance over White House objections. The Senate does not resume until Dec. 9.
ALSO:
Ukraine: Boxer defuses dangerous confrontation in Kiev
China launches rocket with its first moon lander and rover
Thailand unrest grows as protesters attempt 'people's coup'
Lisa.Mascaro@latimes.com
Twitter @LisaMascaroinDC
---
Must-read stories from the L.A. Times
Get the day's top news with our Today's Headlines newsletter, sent every weekday morning.
You may occasionally receive promotional content from the Los Angeles Times.