Spanish prime minister refuses to resign over corruption allegations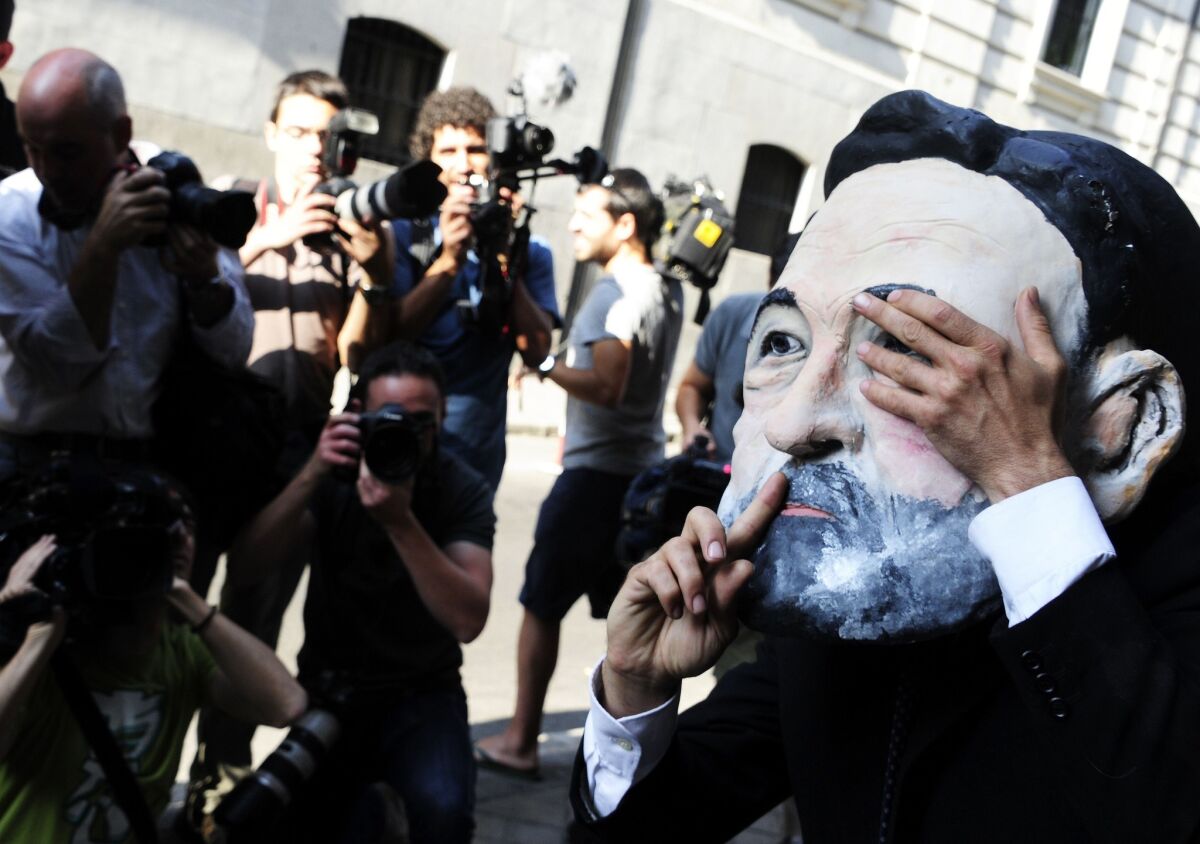 MADRID -- Spanish Prime Minister Mariano Rajoy on Monday refused to bow to opposition demands that he resign, even as his party's former treasurer testified in court that Rajoy had accepted bribes for years.
Luis Barcenas, the disgraced former money man for Spain's ruling conservatives, told a Madrid judge that he personally gave illegal cash payments to Rajoy and the Popular Party's secretary-general, Maria Dolores de Cospedal, according to Spanish news reports. He said the money came from a slush fund the party secretly maintained for more than two decades, funneling bribes from construction companies and other donors to top politicians.
Evidence of the slush fund surfaced in January, when Spain's biggest newspaper, El Pais, published excerpts of accounting ledgers that purportedly listed bribes. A top conservative newspaper, El Mundo, published similar excerpts this month. [Link in Spanish]
Spain's opposition Socialists broke off ties with the Popular Party on Sunday and called on Rajoy to resign immediately.
Rajoy has repeatedly denied wrongdoing and has sought to avoid any mention of Barcenas' name.
"I will fulfill the mandate the Spanish people gave me," Rajoy said Monday at a news conference with Poland's visiting prime minister, Donald Tusk. "This is a serious democracy ... and I will submit myself to investigation."
The scandal undermines Spain's ruling conservatives at a time when they are asking the country to submit to major budget cuts and tax hikes. Spain's jobless rate tops 27%.
"Let no one think we are going to be distracted from getting Spain out of the [economic] crisis," Rajoy said.
Earlier this month, El Mundo published an interview with Barcenas, conducted just before he was imprisoned in late June, in which he admitted authorship of the ledgers and claimed to have more evidence of illegal financing that could "bring down the government."
On Monday, he submitted several handwritten documents and digital files to the judge. In response, Rajoy publicly accused Barcenas of blackmail.
"The rule of law does not bow to blackmail," he told reporters.
Rajoy's comments contrasted sharply with the rather chummy tone the prime minister allegedly used in text messages to Barcenas earlier this year, screenshots of which were published Sunday by El Mundo. [Link in Spanish]
In one of the messages, allegedly sent in January after the scandal broke, Rajoy apparently sought to reassure his old colleague.
"Luis, I understand. Stay strong. I'll call you tomorrow. A hug," the message read.
"Luis, nothing is easy. But we are doing what we can," another text said. "Cheer up."
In court Monday, Barcenas repeated his claim that the handwriting on the ledgers excerpted by newspapers was his, judiciary officials were quoted as saying. He also said that he handed cash payments to Rajoy and De Cospedal in 2008, 2009 and 2010, they reported.
At the time, Rajoy was a senior lawmaker for the Popular Party. He was elected prime minister in late 2011.
A former senator, Barcenas served as the party's treasurer until 2009, when he was named a suspect in a separate corruption probe. He was jailed last month after prosecutors discovered some $61 million he had allegedly secreted away in Swiss bank accounts. He awaits trial on charges of tax fraud and corruption, charges he denies.
ALSO:
Israel deports 14 Eritrean asylum-seekers

U.S. envoy meets with Egypt's interim leader
---
Must-read stories from the L.A. Times
Get the day's top news with our Today's Headlines newsletter, sent every weekday morning.
You may occasionally receive promotional content from the Los Angeles Times.