Extremist Syrian rebel group accused of mass-executing prisoners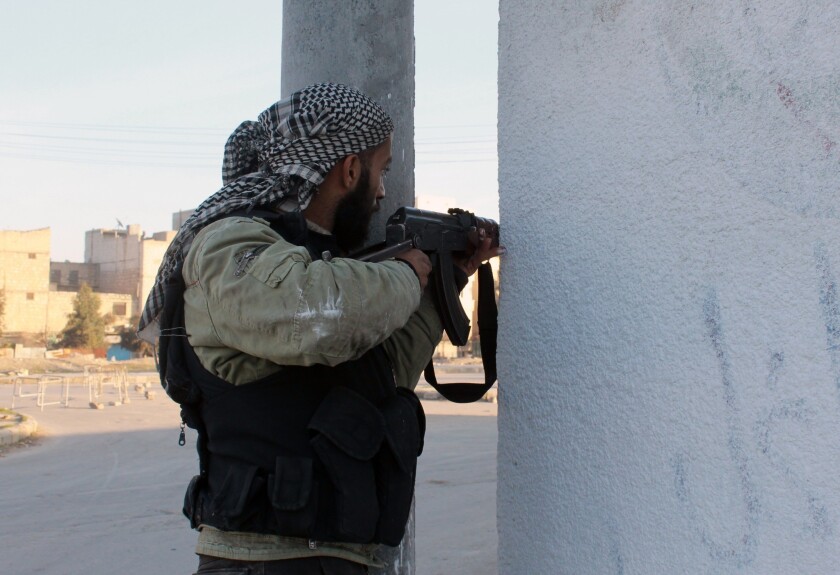 BEIRUT -- An extremist rebel faction operating in Syria is reported to have killed an unknown number of prisoners it abducted near the contested city of Aleppo as its forces came under fire from rival opposition groups, activists said.
Many of the victims of the execution-style killings by the Islamic State of Iraq and Syria (ISIS), the most extreme of the Islamist groups fighting against Syrian President Bashar Assad, were activists and journalists, the reports said.
Activists posted images on social media sites depicting corpses with what appeared to be gunshot wounds to the head fired at point-blank range, as well as videos showing decapitated corpses in mass graves. The claims and images could not be independently verified due to restricted access to the area because of continued clashes.
The children's hospital in the Qadi Askar district of Aleppo was the site of the alleged killings, according to Mohandess Abu Hamzeh, an activist from Aleppo reached via Skype.
"The number of dead is unknown," he said, although others put the figure at 50. Four of them were believed to be journalists from Shada TV, one of the many anti-government media outlets that sprouted after the Syrian uprising began in March 2011.
Acknowledged as a significant fighting force against the government, ISIS has nevertheless antagonized ordinary Syrians by kidnapping and torturing its opponents, many of whom had spoken against the ultra-conservative group's harsh interpretation of Sharia, or Islamic law, comparing the group's methods to those employed by the regime in Damascus.
Amnesty International released a report last month condemning the group's abuse of prisoners with electric shocks and frequent beatings, as well as its use of beheadings, saying that its practices rose to the level of war crimes.
As a new opposition coalition launched an attack on ISIS to curb its growing dominance, other groups swiftly joined the seemingly spontaneous uprising, dubbed "the second revolution" by activists, in an all-out effort across all fighting fronts in Syria.
The infighting soon spread to the eastern parts of the country, including the rebel stronghold of Raqqah, a city where ISIS had routinely chipped away at other groups' influence, as well as the town of Jarablus, a stone's throw from the border with Turkey. According to activists, ISIS fighters there threatened to blow up their headquarters, known to contain a large number of prisoners.
"They fortified themselves in the cultural center and then went to the prison and took the people there as hostages," said Abu Hamzeh. "But their fate is still unclear."
Bulos is a special correspondent.
---
Must-read stories from the L.A. Times
Get all the day's most vital news with our Today's Headlines newsletter, sent every weekday morning.
You may occasionally receive promotional content from the Los Angeles Times.