U.S., Iran trade accusations over hitch in nuclear talks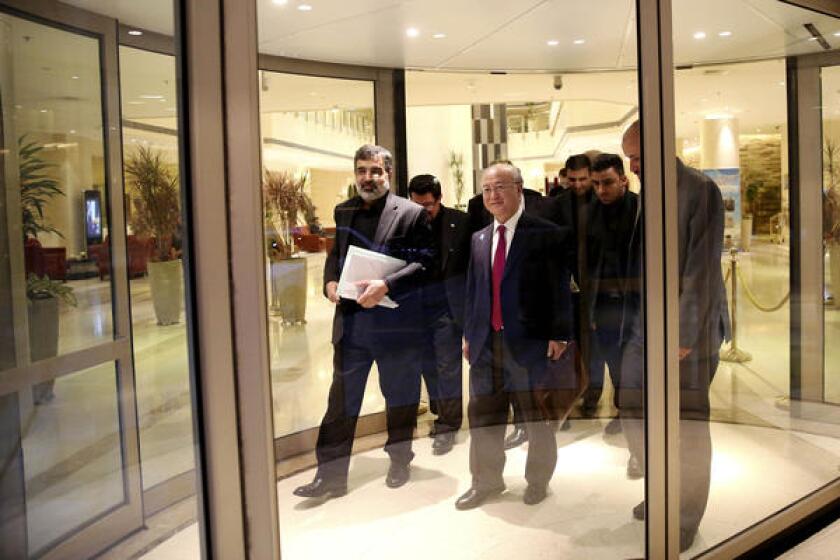 WASHINGTON – The United States and Iran traded heated accusations Monday over who was to blame for the failure of weekend talks to seal a preliminary deal to limit Tehran's nuclear program.
Secretary of State John F. Kerry, visiting Abu Dhabi to strengthen its support for the nuclear diplomacy, insisted that it was Tehran, not the French, whose last-minute objections stalled a deal that diplomats hoped would open the way to a comprehensive settlement of the Iran nuclear issue after a decade of stalemate.
"The French signed off on it, we signed off on it," Kerry said. "Iran couldn't take it."
Iran's foreign minister, Mohammad Javad Zarif, soon fired back that most of the holdup during the three-day session grew from disagreements between the six world powers that have been negotiating with Iran. He appeared to suggest, without naming names, that France's objections had particular weight.
"Most of the talks were focused on alleviating the dispute among the [six] powers," Zarif said in an interview with state-run Channel 2 television in Iran, referring to a group made up of the United States, France, Britain, Germany, Russia and China. "Perhaps one country tried to express its opinion over the negotiations."
He said on Twitter: "No amount of spinning can change what happened within the [six powers] in Geneva from 6 p.m. Thursday to 5:45 Saturday." He warned: "But it can erode confidence."
Both Kerry and Zarif insisted that progress was made in Geneva and that a preliminary deal is still within reach. But who was to blame for the interruption, after days of rising hopes, is a politically sensitive issue for both sides.
The Obama administration, under fire from Israel and congressional leaders who fear it may be too ready to accept a concessionary deal, is trying to dispel suggestions that France took a tougher stance than the United States. And Iran wants to strengthen its narrative that it is eager for a deal but has run into unreasonable Western demands.
ALSO:
Venezuela frees Miami journalist
U.S., EU resume negotiations on free trade agreement
Preah Vihear temple grounds belong to Cambodia, U.N. court rules
Times staff writer Richter reported from Washington and special correspondent Mostaghim from Tehran.
---
Must-read stories from the L.A. Times
Get all the day's most vital news with our Today's Headlines newsletter, sent every weekday morning.
You may occasionally receive promotional content from the Los Angeles Times.