Some Los Angeles business leaders saw Wednesday's special City Council committee hearing as their last, best chance to directly urge lawmakers not to sharply raise the city's minimum wage beyond California's current $9 per hour. L.A. Times reporters Emily Alpert Reyes and David Zahniser were on the scene, providing live updates. Here's how it went:
This is perhaps the greatest shift of wealth in the history of the city.
Councilman Gil Cedillo
Here's the rundown
A key committee of Los Angeles lawmakers just unanimously approved a hotly contested plan to raise the citywide minimum wage to $15 by mid-2020.
The plan now heads to the entire City Council, which will vote Tuesday on whether to ask City Atty. Mike Feuer to draft a new ordinance putting the increases into law.
Under the plan, small businesses and small nonprofits -- those with 25 workers or fewer -- would get an extra year to phase in the wage hikes, reaching the $15 mark by July 2021 instead of July 2020.
Nonprofits that help disadvantaged people transition into the workforce or get the bulk of their funding from government grants -- and pay their top executives less than eight times the wages of their lowest-paid workers -- could apply to have an extra year as well.
Under the plan, future increases to the minimum wage starting in July 2022 would be based on the average increase in the consumer price index over the last two decades.
[The proposed wage boost is about] ensuring that all families ... can survive and thrive in Los Angeles.
Councilman Curren Price
Committee unanimously backs proposed wage hikes
The full City Council could not vote on the package if the committee did not approve it first.
Full council to vote next week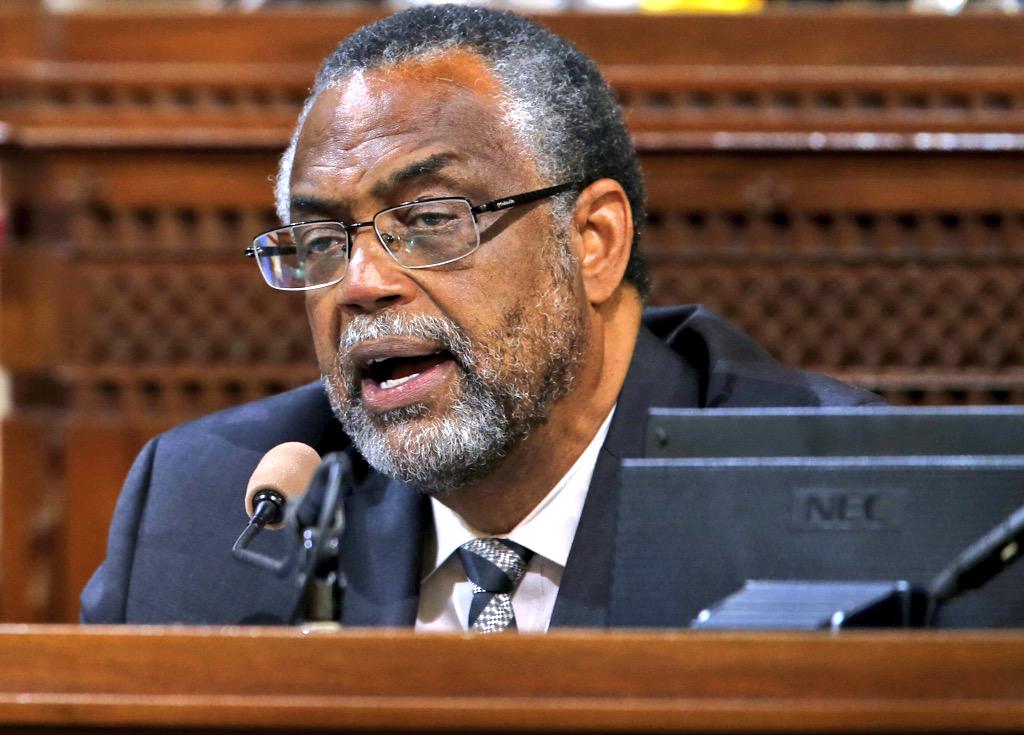 Krekorian: Small businesses get more time
Price suggests $15 an hour by mid-2020
What is a closed session, anyway?
Under California's Ralph M. Brown Act, local agencies and lawmaking bodies -- such as the City Council committee that's meeting right now -- must let the public attend their meetings.
They have to notify the public in advance when and where the meetings will happen; they can't make people sign in or pay a fee to attend; and they generally can't vote in private, among other requirements.
Meeting in private (that is, in a closed session) is allowed under some circumstances, though -- for example, if the group is discussing current or potential litigation.
The full text of the act is available here.
-- Lauren Raab
Workers ask for immediate hike
During the Wednesday hearing, both workers and people struggling to find work argued that the city should ramp up the minimum wage to $15 or higher as soon as possible, instead of increasing the pay requirements more gradually.
"Raising the minimum wage would change my life," said Rachel Atwood, a restaurant busser who lives in La Cañada. "I could pay my student loans on time, my medical bills, and I could move out on my own. That's why I'm here on my single day off this week."
Martha Sanchez, who is unemployed, grew emotional as she recounted being hungry at school as a child. She said her husband earns $13 an hour and that the only way they can pay their mortgage is by sharing the home with two other families -- splitting it between 20 people in all, Sanchez said.
Sanchez, a member of the Alliance of Californians for Community Empowerment, said she grew discouraged when she heard that L.A. lawmakers might consider a slower schedule for raising wages.
"It seems that some of you are more sympathetic with the owners of restaurants, the big corporations, than their workers," she said.
Committee goes into closed session
Wesson takes a shot at business groups
Los Angeles City Council President Herb Wesson took a shot at some of the business groups raising questions about the proposed minimum wage hike, moments after they asked council members to slow down the pace of the increases.
Wesson, who serves on the council's Economic Development Committee, said representatives from half a dozen business groups failed to mention their employees during their testimony on the wage proposals from Mayor Eric Garcetti and council members. Those employees are "part of the equation," he said.
"Not one individual said we need to look at the workers," said Wesson, drawing applause and cheers from audience members who favor a wage increase. "So if we're going to do this, we need to do it in a balanced way."
Minutes later, Wesson got a response from Tim McOsker, a lawyer representing a group of restaurants with concerns about the proposed wage increase. McOsker said restaurant owners are trying to protect the jobs of both the wait staff and those who work in the kitchen.
"With all due respect," McOsker told the committee, "I would say when folks come forward to talk to you about alternative schedules [for increasing the wage], they are talking about the workers. They're talking about ways to maintain the business."
More on the complications with tips
Musso and Frank Grill warns of possible layoffs
Objection on Amoeba Music's behalf
Wesson asks: What about the workers?
For instance:
'We do believe there's a way we can do this'
Do you know the price of milk?
Hotel workers' wages are separate
Enforcement and a question
It's a civil rights issue, Councilman Price says
Can we make it to $15 by 2019?
In case you were wondering...
And still, the 2 p.m. meeting hasn't started
Still a lot of empty seats. Is that what happens when a meeting is called with one day's notice? pic.twitter.com/0RAQYDBSxZ

— David Zahniser (@DavidZahniser) May 13, 2015
It's 2:43 pm and still the 2 p.m. wage meeting has not started

—David Zahniser (@DavidZahniser) May 13, 2015
Homeboy Industries asks for an exemption
One of the organizations seeking limited relief from the wage proposal is Homeboy Industries, which provides former gang members job training and rehabilitation services. Jose Osuna, the group's director of employment services, wants council members to give the group an exemption from the higher wage, but only for its transitional employment program.
Without the exemption, Osuna said, Homeboy will be forced to lay off 73 of its 170 trainees.
"It would be heartbreaking, because I know a lot of them personally," he told The Times. "For a lot of them, we're the last house on the block, the only organization that's able to serve them. Realistically, I believe that would lead to a lot of them reoffending."
Osuna, 42, emphasized that his group was not seeking exemptions for other parts of the Homeboy operation, such as its bakery.
Above, a worker at Homeboy Industries.
As hearing nears, people arrive
Her goal: '$15 and a union'
And more politics enter the fray
City releases new minimum wage report
The city's policy report -- http://t.co/bPDnz651oH -- came out a day before today's committee meeting on the minimum wage

— David Zahniser (@DavidZahniser) May 13, 2015
Restaurant servers may get $9 or $10 an hour in wages but as much as $30 or more hourly when tips are included, restaurant owners have argued at public hearings, citing industry research. They maintain that including tips in calculations of minimum pay would not harm workers. If tips were unusually low one day, they say, the restaurant would have to make up any difference to ensure employees received the required minimum.
"We're willing to pay people to get them to minimum wage," restaurant owner David Dickerson told lawmakers. "We're just asking that tips be part of the equation."
Labor activists warn that counting tips toward the citywide minimum wage would violate California law and leave those waiting tables, scrubbing cars or turning down hotel beds more vulnerable to being illegally underpaid. Most tipped workers have low incomes, they say, both inside and outside the restaurant world.
This a huge increase on labor costs, especially for small businesses and nonprofits, who have no ability to just raise their prices or absorb increased costs.
Stuart Waldman, president of the Valley Industry and Commerce Assn.
We are reminding a nation that it is a crime for people to live in this rich nation and receive starvation wages.
Mayor Eric Garcetti
Mayor Eric Garcetti proposed raising the minimum wage in Los Angeles to $13.25 an hour by 2017, but some lawmakers have suggested going a step further and requiring workers to be paid at least $15.25 an hour by 2019. Yet another plan recently floated among lawmakers would slow the schedule to reach $15.25 by two or three years.
Also up for debate is whether small businesses and some nonprofits should get extra time to raise their minimum pay or be exempted altogether, and whether tips can or should be counted into pay requirements, as a coalition of restaurant owners has argued. That group has threatened legal action if the city does not adjust the new wage requirements in some way for restaurant workers who get tips.