Border Patrol agent's shooting of woman in car brings protests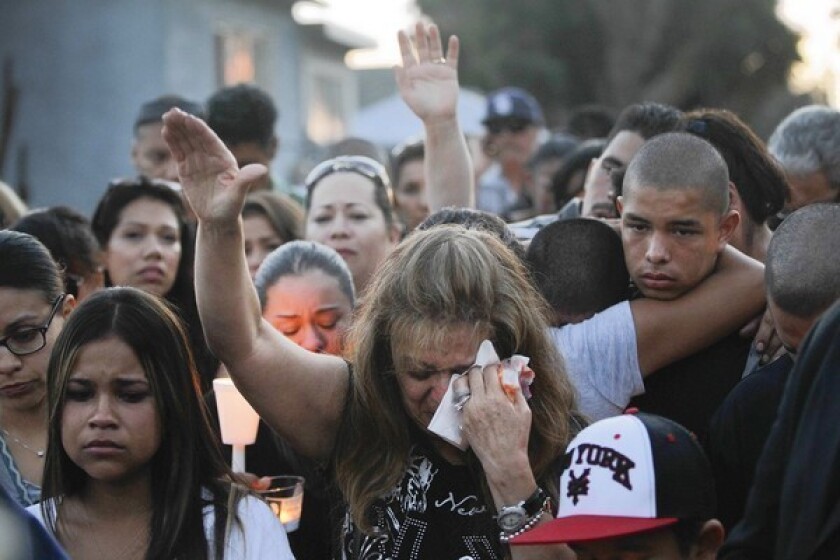 CHULA VISTA, Calif. —
The mother of five was in her car. The U.S. Border Patrol agent was walking down a tree-lined street. There was a confrontation and several shots rang out, puncturing the windshield. Valeria Tachiquin Alvarado, 32, died at the scene.
Fatal confrontations involving border agents are not uncommon — at least 14 civilians have died since 2010 — but the incident last week in this heavily Latino San Diego suburb has fueled more than the usual amount of protest.
About 150 people gathered for a candlelight vigil Monday at the corner where the shooting occurred, holding up signs bearing Tachiquin's image and demanding answers. The San Diego-area native, they said, was a doting mother who had been visiting a friend and ended up in the wrong place at the wrong time.
Some witnesses said Tachiquin had been sitting in her Honda Accord and apparently was confused when the agent, dressed in plainclothes, approached her. But authorities said Tachiquin tried to run the officer over and dragged him on the hood of her car into oncoming traffic.
The agent was part of a team attempting to arrest a previously deported felon. The routine operation quickly spun out of control, authorities said, after several agents entered an apartment known as a drug hangout. Tachiquin, who was on probation for a drug-related crime, was one of several people inside, according to an account provided by the Chula Vista Police Department, which is investigating the incident with the FBI.
She left and walked to her car, then struck an agent twice while pulling away from the curb, police said. Agents attempted to arrest her, but Tachiquin allegedly took off with the agent on the hood of the vehicle, driving 200 yards at about 25 mph. The agent eventually fired multiple rounds into the windshield, striking Tachiquin, police said.
One neighborhood resident, Paulina Salazar, said her husband, Hector, heard the agent yell "Stop." When Hector looked out his window, she said, he saw the agent get off the hood of the car. "The agent was really shaken up. His lips were like pale white," said Paulina Salazar, recalling her husband's account.
But others have provided a conflicting version of events.
Ayanna Evans, 19, said the agent was standing in the middle of the street and fired when the car was backing up slowly away from him. Tachiquin looked frightened, Evans said, perhaps because she thought the plainclothes agent was an assailant.
"She looked confused," Evans said. "She was backing up and he was going toward her, then he pulled out his gun and shot five times."
The majority of agent-involved shootings occur along the border and erupt during skirmishes between law enforcement and rock-throwing smugglers. Agents, claiming self-defense because rock attacks have caused serious injuries, are rarely prosecuted. The cases typically fade from public view after initial protests by Mexican officials and immigrant rights advocates.
But federal authorities have come under more scrutiny recently.
A federal grand jury in San Diego began taking testimony this year after a video surfaced of an illegal immigrant being shot with a stun gun at the San Ysidro Port of Entry in 2010. The man, Anastasio Hernandez-Rojas, suffered a heart attack and died.
The fatal shooting last month of a man on the banks of the Rio Grande in Nuevo Laredo also has drawn protests, and video purporting to show the incident has been widely viewed in Mexico.
Tachiquin's family has hired a prominent San Diego-based attorney, Eugene Iredale, to represent them.
"I feel that it's our right that we get some kind of answers, some kind of justice," said her brother, Antonio Tachiquin.
---