From the Archives: A bumpy, noisy ride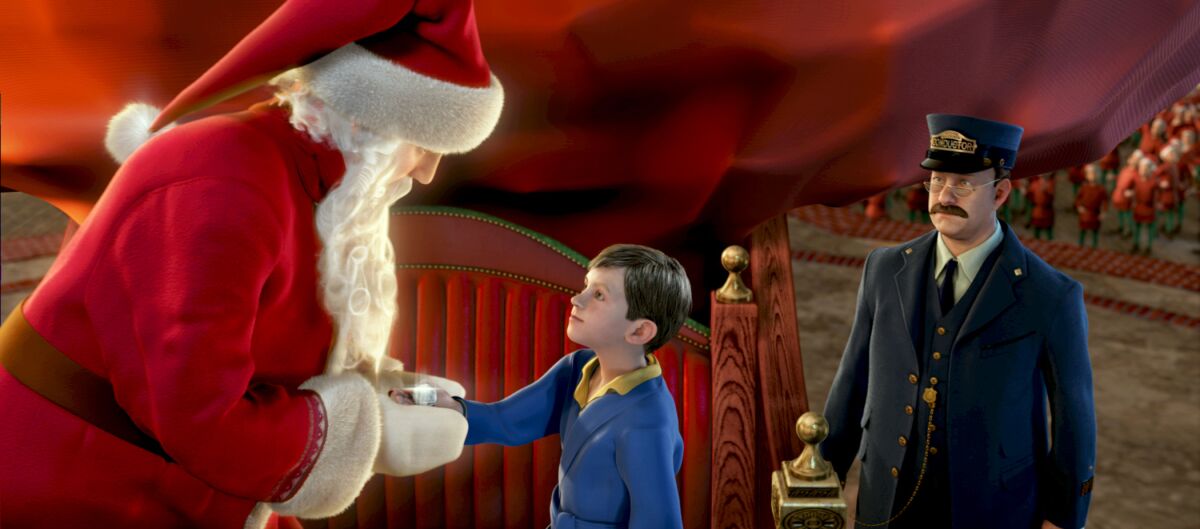 Great books for young children, and that includes Chris Van Allsburg's modern classic "The Polar Express," are united by the sense of pure wonder they evoke in readers of any and all ages.
But wonder is a noticeably quiet emotion, and quiet is not what the noisy core of the moviegoing audience wants to experience. And when you are spending a reported $170 million to make and another $125 million to market and distribute a film, connecting with that core is more than a priority, it's a necessity.
So it comes to pass that the extravagant computer-generated version of "The Polar Express," directed and co-written by Robert Zemeckis and starring Tom Hanks in five roles, is something of a devil's bargain, a bipolar experience if you will.
Yes, there is wonder for us to cherish, courtesy of a spectacular visual sense. But there are also moments that deliver shock and awe instead, sequences of such exhausting, turbocharged jeopardy that it seems like we've wandered into a Jerry Bruckheimer movie tailored to toddlers. Grateful as we are for the good things, when you add in scenes of indifferent slapstick and unnecessary spookiness, it's hard not to wish this film were more of a piece and less like loud music at the wrong party.
"Polar Express' " greatest success is its look, one that beautifully echoes and expands on the oil pastel originals that Van Allsburg used to tell the fantastical story of a young boy who gets to take a magical Christmas Eve train ride to the North Pole.
Hard to beat are moments when the film brings the book to larger-than-life life — when, for instance, that huge train with a balding conductor (Hanks) majestically pulls up to the boy's house. Or, in the film's absolute high spot, when a team of dazzlingly high-stepping waiters serve hot chocolate on the train like it's never been served before.
When it comes to its people, however, "Polar Express" is striking, but not the epochal success the reams of publicity about its new "performance capture" technology would have you believe. An improvement on the kind of motion capture that brought Gollum to life in "The Lord of the Rings," performance capture uses sensors placed on an actor's body to come up with, in the press material's words, "a human blueprint for creating virtual characters" that in turn can be realistically placed in any kind of computer-generated environment the filmmakers can dream up.
While all this is quite impressive, the niggling fact remains that these people do not in fact look drop-dead real. Because sensors can't be placed on eyes, those have to be animated from scratch, and that gives the characters more of a chilly, zombie-like aura than should be the case. The people in "The Incredibles," caricatures though they may be, are easier for us to connect to as fellow humans.
Given that the original Van Allsburg story is less than a thousand words spread over 29 pages, co-writers Zemeckis and William Broyles Jr. ("Apollo 13," TV's "China Beach") had to come up with a lot of incident to fill up the film's 97-minute length.
They started by making a subtle change in the character of the unnamed boy (voiced by Hanks) who takes the journey. While the book presents him as a believer who gets his faith reaffirmed, the film takes the more dramatic approach of painting him as a youthful Santa skeptic who gets converted by his journey north to meet the powerful Mr. Claus.
The film also gives the boy three specific kid companions on his adventures, all voiced by adult actors. There's a self-possessed girl (Nona Gaye), a know-it-all (Eddie Deezen) and a lonely boy from the wrong side of the tracks (Hanks' "Bosom Buddies" costar Peter Scolari).
Most of "Polar Express' " screen time is taken up by adventures that are not in the book, even though they sometimes expand on hints in the text. We have the entire train steaming down Glacier Gulch, "the steepest downhill grade in the world," which turns out to be such a perilous journey that the thought of having to experience it on the Imax 3-D version also in theaters is a terrifying one. It's almost as if director Zemeckis, a veteran of tech-heavy films such as "Who Framed Roger Rabbit" and "Death Becomes Her," got so infatuated with the technology his team came up with that he did these stunts simply because he could, not caring what they did to the fabric of the film in the process.
"Polar" is on firmer ground, in more ways than one, when it finally gets to Santa's truly magical North Pole kingdom. This is a genuine city of wonders, inspired in part by the former Pullman Palace Car factory and conceptualized by production designers Rick Carter and Doug Chiang as a metropolis with a marvelous sense of scale.
When "The Polar Express" takes the time to slow down and catch its breath, it does nicely with its quieter moments, especially in the emotional scenes that close the story. When a character says, "sometimes the most real things are those you can't see," it makes you wish the filmmakers had taken their own advice more to heart.
'The Polar Express'
MPAA rating: G
Tom Hanks... Hero Boy/Boy's Father/The Conductor/The Hobo/Santa
Michael Jeter... Smokey/Steamer
Nona Gaye... Hero Girl
Get our L.A. Goes Out newsletter, with the week's best events, to help you explore and experience our city.
You may occasionally receive promotional content from the Los Angeles Times.