With 'Black Panther' and 'Black Lightning' emerging, the 'Encyclopedia of Black Comics' is here to help
Marvel Entertainment's ultrasuccessful release of "Black Panther" and the CW's recent launch of "Black Lightning" have put a spotlight on black superheroes, and their success illustrates how popular they are and that audiences outside of the African American community celebrate them.
This newfound interest in these characters may spur some to look into black comics and black creators; luckily, the "Encyclopedia of Black Comics" came out just last year. Edited by Sheena Howard, who has a doctorate in rhetorical and intercultural communication from Howard University, the book is a collection of essays written about influential black writers, illustrators, inkers and creators of black comic books and comic strips.
"I think that's a really important distinction because a lot of fans today are into the superheroes and the comic book superheroes in the movies, but my interest is in the history of comics," says Howard.
Making a contemporary connection, there are entries about the comic book creators who helped shape the Black Panther, including Reginald Hudlin and Christopher Priest — who writes the book's afterword. Howard, an associate professor of communications at Rider University, is part of comics history herself since becoming the first black woman to win an Eisner Award, the equivalent of an Oscar or Pulitzer in the comic book world, with her book "Black Comics: Politics of Race and Representation."
Like any encyclopedia, though, one of the first things people tend to do is point out what's not in the compilation. Dwayne McDuffie, probably the most influential African American figure in comics and cartoons over the past few decades, was not included in the book. He died in 2011, but it's a notable omission, and there are a few others: William Wilson, the first black independent publisher to list digital comics on iTunes, Percy Carey (the rapper MF Grimm), who was the first black Eisner nominee, and Michael Davis — who could claim a place in the book.
Deadlines and oversights from volume 1 mean Howard has begun taking names for a second volume. As "Black Panther" mania continues, a more comprehensive look at black comics and comic strip creators is warranted, and this encyclopedia is a start. .
It was a huge undertaking that resulted in over 100 entries. Howard answered some questions about the genesis of the book and what she learned in creating it.
---
How did this all start?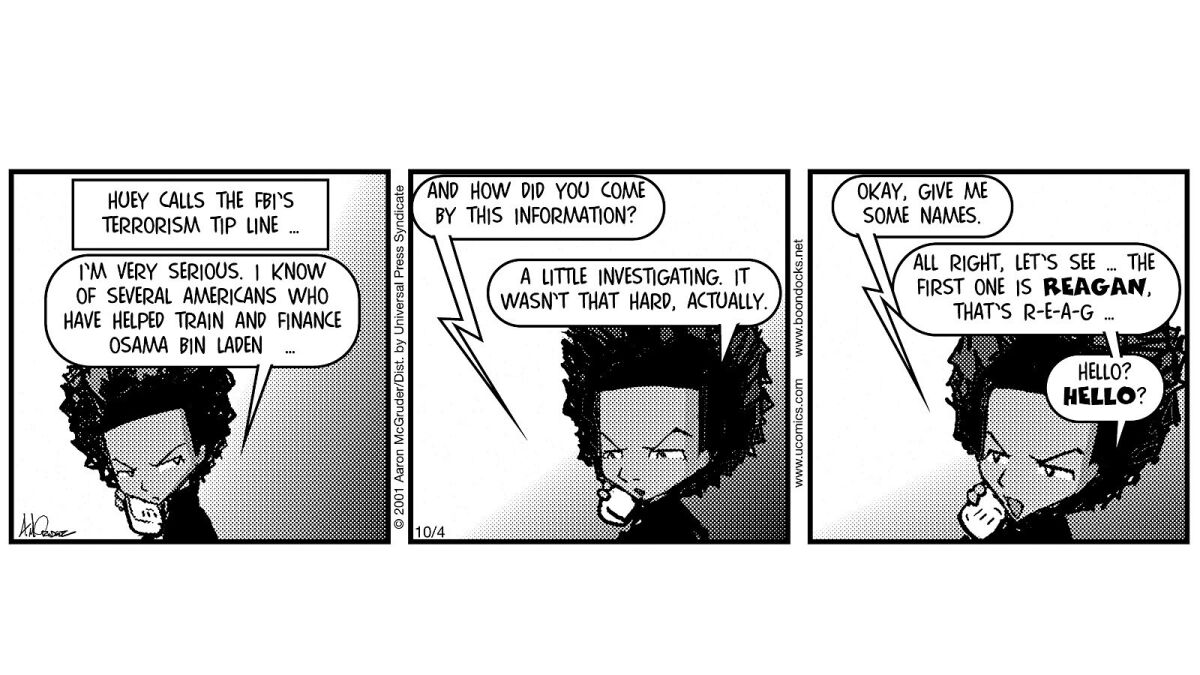 So I really liked "The Boondocks" [comic strip] and I started reading it in 2007, when I was at Howard University. I was 23 when I started my PhD and I finished at 26, so I was still young and didn't have a goal in terms of what I wanted to study at Howard. I thought about "The Boondocks" as something I could write about and something I enjoyed. I really thought that it was a cultural icon for some of the things that it had accomplished. This is the comic strip, not the television show.
You didn't particularly care for the television show?
No, I didn't. I thought it played too much on 'isms' and phobias, and it wasn't as clever or as politically savvy as the comic strips. It makes sense because Aaron McGruder had total control over the comic strips as opposed to the television show, where it was a whole production team who had their hands in that. I thought it was pretty sexist and obnoxious some of the time.
So that PhD research led to the idea to look into comic books in general?
Exactly. I really thought that I was just going to be able to go to the library and find a book about the history of black people in comics. I'm looking for months for this book. I found books like "The American History of Comics," but they very rarely mention black people in the industry in any real way.
I differentiate between comic strips and comic books. What was the tipping point for you in terms of looking into comic books as well?
That's a thing that people don't really ask me cause they just lump everything into one big basket. Particularly, I have a wide knowledge base about black comic strips, and I'm interested in more independent comics, whether they be books or graphic novels that implement history into the comics conversation. I'm not really into the superheroes and the comic books, per se, especially on the mainstream level. That's why when people say that there are no black people in comics, I say: Yes, there are, but you're limiting yourself to DC and Marvel and you're not interacting with the vast world of comics.
After submitting your dissertation, what did you know and find out about black comics and the culture that it inhabits?
I knew a lot about some of the people who had led black comic artists and creators to do some of the things that they're doing today. "All Negro Comics" [1947] was the first black comic book, created by Orrin Cromwell Evans. So I knew those sorts of people. From there, I started to meet the people today [who] are creating the works and doing political work in comics that interest me.
A broad question, but from your research, who would you consider to be the most influential black comic strip or comic book figure?
I definitely think that Aaron McGruder has to enter the conversation of most influential because what he did has never really been done. There's only a handful of syndicated comic strips created by black people. McGruder created this comic strip that crossed over to a wide audience — both black and white and everything in between — and then he made it into a television series. I don't think we've seen that level of popularity as far as comics are concerned, from a comic strip.
Describe what you were trying to do with the "Encyclopedia of Black Comics."
The encyclopedia is over a hundred entries about black people of African descent who have published significant works in the United States. It's about the movers and shakers in the industry, both old and young, dead or alive. Almost half the book is black women — most of whom have never worked for a major publishing company and are actually self-published. That was really important to me too because black women still haven't broken into the industry.
Who are some of the new contemporaries in comics?
Brumsic Brandon was really important in the conversation. He's older and he's passed away, but his daughter Barbara Brandon-Croft has broken into the comic strip industry. The only father-daughter duo in the industry. Contemporary — I really like a comic called "(h)afrocentric" by Juliana "Jewels" Smith. I think she's on the West Coast. It's a feminist version of "The Boondocks." It's not published by a major media company, but she's doing her thing.
Now you're writing your own comic book for Lion Forge Comics. Was it all of this research that made you want to do that?
I have been trying to transition into creative writing for a while. I'm a professor, so I write from an academic perspective. But in 2016, I did produce and direct a documentary called "Remixing Colorblind." That really was a primer for me -- a nice segue for writing comic books. Lion Forge approached me because they were familiar with me from winning the Eisner Award and being on the convention circuit. They asked me if I'd be interested in co-writing a new comic book that they had inside of a new universe they were creating called Catalyst Prime. I immediately said yes. But honestly, I didn't realize that when you're writing a comic book, you have to give directions to the artist. You have to tell them sideview, rearview, aerial shot — you have to tell them. The same thing you have to do when you're [making a] documentary, you have to do when writing a comic, with camera angles and things like that. The universe came together to prepare me.
How has the writing experience been now that you're inside the industry? Did it reveal anything to you that you didn't know?
Up until writing my own comic book, I was critiquing the industry from a cultural standpoint. Gender issues and lack of representation, and that was from the outside in. Now I can talk about it from the inside out, and I can say that the [lack of opportunities] for women are definitely a problem and there's definitely cultural beekeeping going on as far as women being in the writers' room and in control of content within publishing companies. Also, when women get there, I think it's important for men to realize that they have to value the female perspective, especially when you're writing female characters. Once you get in, you have to fight for your credibility and you have to fight for your voice to be heard. And I think all of those things sometimes discourage people along the way. Hopefully, I can be an inspiration and encourage young girls to follow their writing aspirations and not let the barrier stop you from riding along.
What would you do to improve the experience of reading comics for those in the black community?
I would definitely get more diverse people behind the scenes of these companies. Of course we want diversity in the characters and content we're consuming, but I also want people to get paid. I want people to be the writers, producer and editors — I want people to be behind the scenes.
---
Get the latest news, events and more from the Los Angeles Times Book Club, and help us get L.A. reading and talking.
You may occasionally receive promotional content from the Los Angeles Times.