Fall literary preview: 6 terrific L.A. events
Sometimes a book is not enough. This fall, several fantastic authors — great storytellers all — will be coming to Los Angeles to share their work. Here's a selection of events not to be missed.
Sept. 16
Colson Whitehead
Colson Whitehead's new novel, "The Underground Railroad," imagines a black slave escaping her terrible circumstances — via an actual railroad — that brings her to various points north and different visions of America. Critics have raved about the novel; it was expected it to be one of the biggest books of the fall before Oprah selected it for her book club, propelling it onto bestseller lists. Whitehead, a MacArthur "Genius" fellow, has a wry public persona that can be a little odd and very funny. He'll be in conversation with former L.A. Times book editor Joy Press, with actor Phil LaMarr reading from the book.
ALOUD at the Writers Guild Theater, 135 S. Doheny Drive, Beverly Hills. (213) 228.7500 .
Sept. 22
'Welcome to Night Vale'
Joseph Fink and Jeffrey Cranor are the creators of the brilliant, top-ranked podcast "Welcome to Night Vale," the chronicles of a fictional desert town that's inspired by H.P. Lovecraft but delivered in the style of Prairie Home Companion. After one successful novel, Cranor and Fink are publishing the first two podcast seasons as books — "Mostly Void, Partially Stars: Welcome to Night Vale Episodes, Volume 1" and "The Great Glowing Coils of the Universe: Welcome to Night Vale Episodes, Volume 2" — accompanied by a stage show.
Update Sept. 13 11:50 a.m.: This event, formerly at the Regent Theater, has been moved to Book Soup.
Oct. 11
Brit Bennett
One of the most exciting debuts of the fall is Brit Bennett's much buzzed about novel, "The Mothers." In it, college-bound teens have love affairs, a pregnancy and secrets, and the book continues into the adulthoods they've made. National Book Award winner Jacqueline Woodson writes that the book is "a stellar novel — moving, thoughtful. Stunning," and she calls its author "the real thing." Bennett, who grew up in Southern California, appears at the local bookstore Eso Won, where readers curious about the book will be able to interact with her in an intimate setting.
Eso Won Books, 4327 Degnan Blvd., Los Angeles. (323) 290-1048.
Oct. 13
Bryan Cranston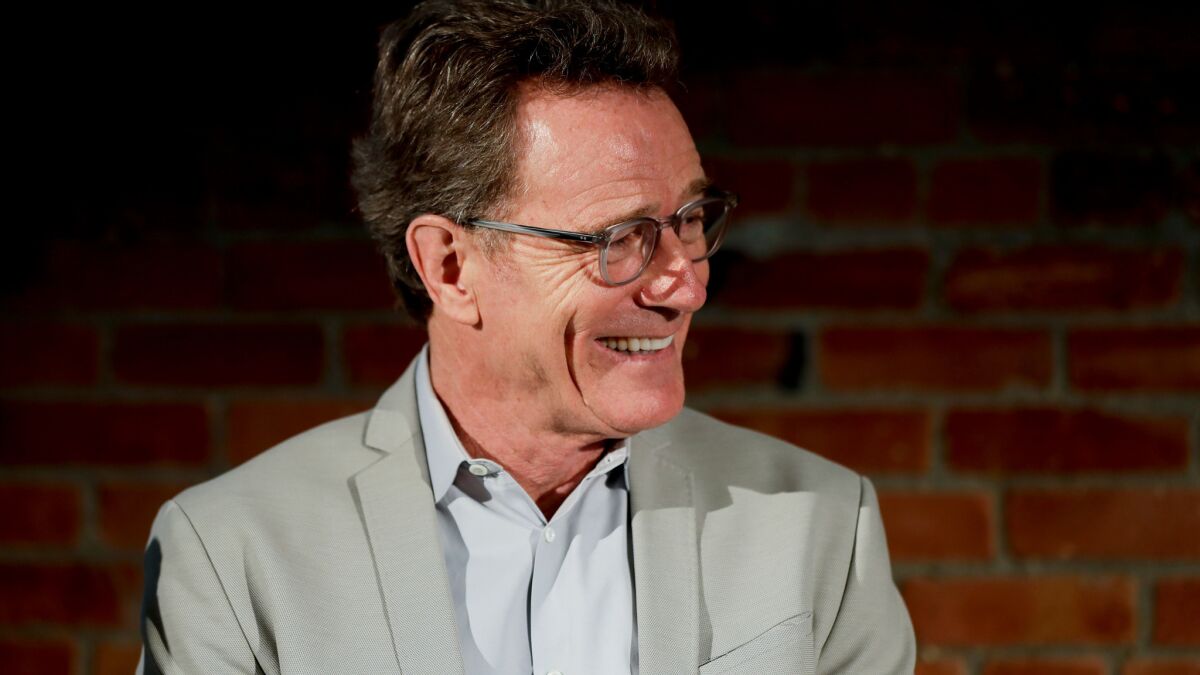 Bryan Cranston won a devoted following as Walter White on "Breaking Bad," the good-guy chemistry teacher whose scheme to deal meth turned him into the antihero Heisenberg. But before that he won fans in an entirely different role, the goofy father in the sitcom "Malcolm in the Middle." From his start in soaps, Cranston tells the story of his zig-zag climb to fame and explores what it took to become Walter White in his new memoir, "A Life in Parts." LiveTalksLA at Barnum Hall, Santa Monica High School, 600 Olympic Blvd., Santa Monica.
Oct. 23
Anne Carson
Poet Anne Carson studied classical languages but is at the forefront of her field, constantly challenging form. One book, "Nox," was an accordion-bound artists book that came in a box; another, "The Beauty of the Husband: A Fictional Essay in 29 Tangos," was a novel in verse. In addition to poetry, she has written essays, criticism and libretti. She brings her "Lecture on the History of Skywriting" — with accompaniment — to the Billy Wilder stage at the Hammer. Two days later sees the publication of her latest, "Float," a book that consists of 23 chapbooks — of prose, poetry, and drama — that can be read in any order.
The Hammer Museum, 10899 Wilshire Blvd., Los Angeles. (310) 443-7000.
Oct. 25
Carrie Brownstein
Carrie Brownstein launches the paperback edition of her memoir "Hunger Makes Me a Modern Girl" at Cafe Largo. The founding member of Sleater-Kinney, now a comic star on IFC's "Portlandia," explores her musical past in the book, as well as her involvement with the Riot Grrrl scene in the Pacific Northwest. At this event, she'll be in conversation with Maggie Nelson, the award-winning memoirist and critic from CalArts, for a conversation that is sure to touch on gender and feminism as well as Brownstein's TV and rock-n-roll fun.
Cafe Largo at the Coronet Theatre, 366 N. La Cienega, Los Angeles. (310) 855-0350.
Get the latest news, events and more from the Los Angeles Times Book Club, and help us get L.A. reading and talking.
You may occasionally receive promotional content from the Los Angeles Times.