Rigoberto Gonzalez's Great Américas Novel: 'The Brief Wondrous Life of Oscar Wao' by Junot Díaz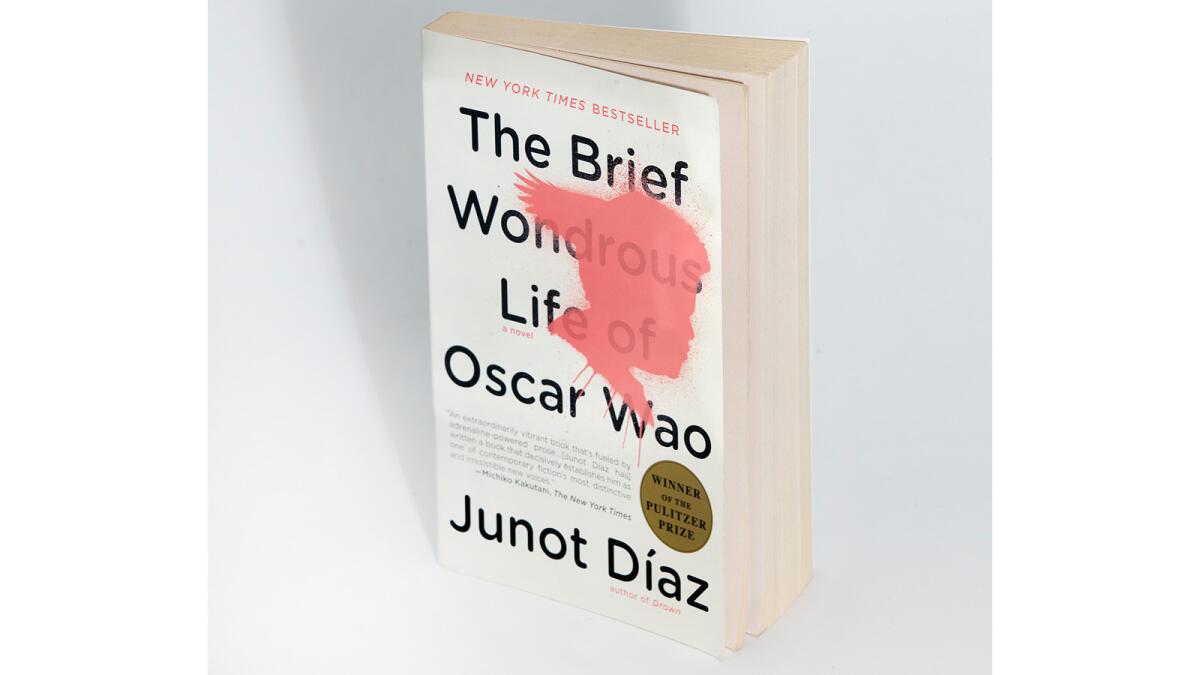 Six months before its official release in 2007, the galley arrived in my mailbox. I was on my way to Switzerland, so I almost passed on reviewing the book because of its length — I had promised myself I was going to dedicate my writing time in Europe to my own work. But on impulse I decided to accept the assignment, if anything, as an excuse to read the long-anticipated novel by the author of "Drown." When I finally picked up the book, I knew I held something special in my hands. This was a book of the Américas. This was the Great Américas Novel.
I have come across enough conversations about "The Great American Novel" to understand that these don't consider an author like Díaz, a book like "The Brief Wondrous Life of Oscar Wao," whose immigrant journey travels vertically, not horizontally, whose cultural identity is cultivated by a pan-American consciousness. Book nerd Oscar de León moves through contemporary New Jersey, while his family history calls him from the Dominican Republic's troubled past, and when the two narratives converge the quintessential 20th century antihero is born.
When I finally picked up 'Oscar Wao,' I knew I held something special in my hands. This was a book of the Américas. This was the Great Américas Novel.
— Rigoberto Gonzalez
The Great Américas Novel considers the big lives of those people American literature has marginalized. Even in the comic books and sci-fi stories that shape Oscar's worldview the central characters are white, so he completes his identity and perspective with family lore — the multigenerational fukú curse, and all that footnoted content about the Dominican Republic's Trujillo dictatorship that becomes relevant to the primary exposition as the narrative unfolds.
Our Critics at Large pick their Great American Novels
But Oscar is much more than his cultural identity. His heroism is in the simple fact of his determination, his commitment to the lost cause of his heart. Though it is called the family affliction, in many ways it is the immigrant's story, the American story — to follow a dream. That doesn't always mean a journey to the West or a journey to the North, sometimes that means a return to where it all began. And in this way too Oscar is exceptional because he recognizes his path is an extension of his ancestors' paths, his destiny inextricably bound to theirs.
I am not giving anything away if I mention Oscar's death — it is foretold in the book's title. His demise, his brief life, might be called a tragedy and it will seem unfair of the author to allow the reader to champion Oscar's fight for his dream only to have him die before he achieves it. But isn't this too the American story? The unhappy ending, or rather, the turn of unexpected events — not a failure but a development, not an end at all. The narration continues after Oscar's death just as the story of the Americas, and las Américas, moves forward after the loss of any great artist, politician or sports figure, everything that much more nuanced because there was this dreamer set upon the world, who saw it, while he — or she — could see it, differently than the rest of us.
González is one of our Critics at Large
Get the latest news, events and more from the Los Angeles Times Book Club, and help us get L.A. reading and talking.
You may occasionally receive promotional content from the Los Angeles Times.