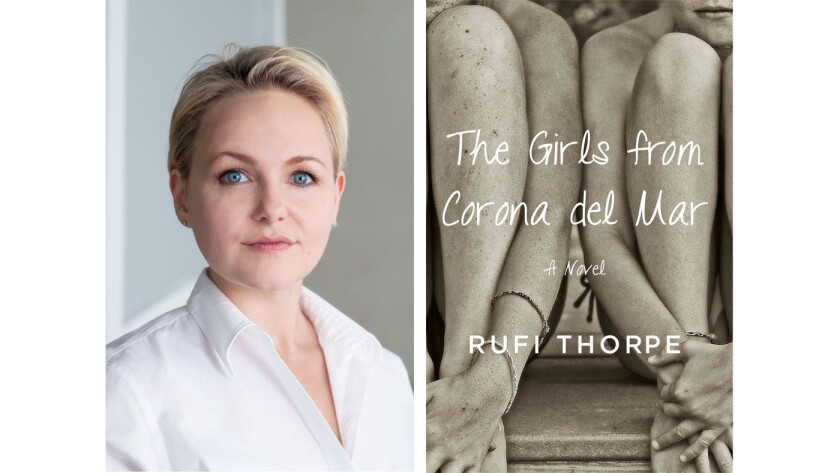 In the opening chapter of Rufi Thorpe's debut novel, "The Girls From Corona del Mar," 15-year-old best friends Mia and Lorrie Ann get drunk on jug wine with the intention of breaking one of Mia's toes. Mia, the narrator, has just gotten an abortion, and she needs to get out of an important softball game the following day. She decides that the broken toe is required as both penance and excuse and tries to persuade Lorrie Ann to do it for her with a claw hammer.
"I needed her, in all her goodness and her primness," she says, "to forgive me, to give her consent by participating in my scheme." Instead, Lorrie Ann refuses, and Mia breaks her own toe, doing permanent damage and leaving Lorrie Ann with the regret that she could have done it better.
This is Mia's gruesome coming of age, the strange moral transaction that allows her to leave behind the "half empty, somewhat decayed, beautifully perfumed" town of 1990s Corona del Mar for Yale and a life as a classics scholar, translating an ancient Sumerian song cycle with her loving boyfriend. When Lorrie Ann gets pregnant after graduating high school, she makes the opposite decision, leaving dreams of college and romance behind to have her unplanned baby.
Mia sees Lorrie Ann as the angel to her devil — where Mia is tough, cunning and sometimes cruel, with a heart the girls joke is a "small, dark stone ... glittering dully like graphite or charcoal," Lorrie Ann is kind and pure (and, obviously, beautiful). And Lorrie Ann's choice to sacrifice her future for her child only cements Mia's belief in her goodness. Mia feels undeserving of her happiness in life, and when things start going wrong for Lorrie Ann, she registers their injustice with guilt. ("And yet it was not me but Lorrie Ann whom the vultures of bad luck kept on visiting, darkening the yard of her house, tapping on the panes of her windows with their musty, blood-crusted beaks.")
While Mia enjoys the life of a college student, Lorrie Ann suffers a traumatic birth that leaves her son, Zachary, with severe disabilities. Zachary becomes the focal point of her life, and Lorrie Ann is expected by everyone, including and maybe especially Mia, to demonstrate her goodness through motherly sacrifice. After a series of tragic setbacks, Lorrie Ann finds herself trapped in a life of martyrdom, in which she has to be miserable to be good. She decides that enough is enough and succumbs to her selfish desires for adventure, freedom and above all, relief.
Many of her choices are unsympathetic, and Mia, who was once obnoxiously "bored with her for being good," now finds herself appalled at Lorrie Ann's behavior. She struggles to reconcile the new Lorrie Ann with the one she's idealized for years and finds that the old pattern — Mia bad, Lorrie Ann good — is not only obsolete but crude in its conception. Mia, who believes that her personality "took shape as an equal and opposite reaction to who [Lorrie Ann] was," must now find a new frame of reference for her identity as she makes important decisions about her own future and possible entry into motherhood.
Thorpe's story, though beautifully embellished with international settings and Sumerian legend, is a simple one about the dramas of long-term friendship, its importance and poignancy, its difficulties and disappointments. Mia's frustrations are recognizable even when they're ridiculous — none of us like to remember that our friends change in ways we can't control; worse, that we may not know them that well to begin with. Over the course of the novel, Lorrie Ann escapes from Mia's stubborn fiction of sainthood and becomes a fleshed-out, often unlikable character with an insistent sense of agency.
"The Girls From Corona del Mar" is a slim book that leaves a deep impression. Mia and Lorrie Ann are vivid and fully formed, and their stories provoke strong emotions that linger like lived memory. Thorpe is a gifted writer who depicts friendship with affection and brutality, rendering all its love and heartbreak in painstaking strokes.
Cha is the author of "Follow Her Home" and the forthcoming "Beware Beware."
The Girls From Corona del Mar
A novel
Rufi Thorpe
Alfred A. Knopf: 256 pp., $24.95
---