Spy novels get shout-out during Jeff Sessions' testimony on the Russia probe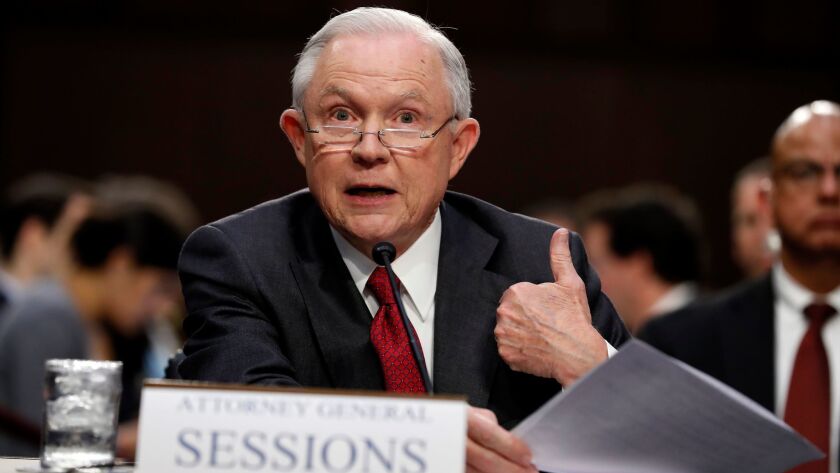 Atty. Gen. Jeff Sessions' testimony to the Senate Intelligence Committee hearing regarding the Russia probe on Tuesday took a brief turn toward the literary, with Sessions and a Republican senator referencing the work of several spy novelists.
Sessions appeared before the committee to deny that he played any part in colluding with Russia to swing the 2016 election in President Trump's favor, which he called "scurrilous and false allegations."
Sen. Tom Cotton of Arkansas, who has been skeptical about suggestions that the Russians might have interfered with the election, used his turn at the microphone to ask Sessions whether he was familiar with "trade craft," a term used to describe techniques used in espionage.
After Sessions confirmed he was familiar with the term, Cotton asked, "Do you like spy fiction, John le Carré, Daniel Silva, Jason Matthews?"
"Yeah, Alan Furst, David Ignatius — I just finished Ignatius' book," Sessions responded.
"Have you ever, in any of the fantastical situations, heard of a plotline so ridiculous that a sitting United States senator and an ambassador of a foreign government colluded in an open setting with hundreds of other people to pull off the greatest caper in the history of espionage?" Cotton asked.
In fact, this is not such a far stretch for fiction. In the recently reissued novel "The Twentieth Day of January" by Ted Allbeury, a Republican president's former campaign manager and his chief of staff are Russian sleeper agents that a British intelligence officer hopes to expose. Slate notes that the book, originally published in 1980, was written by a former British intelligence officer.
Sessions seemed unaware of that book, and appeared to agree that Cotton's proposition sounded too preposterous for even fiction.
"Thank you for saying that, Sen. Cotton," Sessions said. "It's just like through the looking-glass. I mean, what is this? I explained how, in good faith, I said I had not met with Russians because they were suggesting I as a surrogate had been meeting continuously with Russians. I said I didn't meet with them."
John le Carré, perhaps the most famous English-language spy novelist, declined to comment on the testimony, his publisher Viking said.
Le Carré's novels have often dealt with Russian espionage. His 1974 book "Tinker Tailor Soldier Spy" was about a Soviet mole who had infiltrated a British foreign intelligence agency, and he wrote about the Soviet Union in novels like "Smiley's People" and "The Russia House."
His next book, "A Legacy of Spies," is scheduled for release in September. It will be the first book in 25 years to feature his most famous character, British intelligence officer George Smiley.
Daniel Silva, whose latest novel "House of Spies" will be published next month, didn't directly address the shout-out from Cotton, but retweeted a post from his wife, CNN correspondent Jamie Gangel:
The timing of Cotton's question was felicitous for Jason Matthews,whose novel "Palace of Treason" was released in paperback on Tuesday. The book is about a Russian double agent secretly working for the CIA, and includes Vladimir Putin as a character.
Matthews' inclusion in Cotton's question didn't go unnoticed by his publisher:
Commentary magazine editor John Podhoretz seconded Sessions' endorsement of Alan Furst, whose latest novel, "A Hero of France," was published in February:
David Ignatius, a spy novelist and Washington Post columnist, seemed delighted to have been mentioned by Sessions:
Ignatius' next book, "The Quantum Spy," is scheduled to be published in November.
---
Get the latest news, events and more from the Los Angeles Times Book Club, and help us get L.A. reading and talking.
You may occasionally receive promotional content from the Los Angeles Times.