Sherman Alexie on his new memoir, his mother and Donald Trump
Sherman Alexie keeps running into his mother on book tour, catching glimpses of the woman at the center of his new memoir, "You Don't Have to Say You Love Me." He sees her in the quilt decorating his hotel in Boston, a vivid reminder of her artistry and industry. And then there are the sirens that keep going off when Alexie's giving a reading, just at the moments the author finds himself getting emotional.
Lillian Alexie died in 2015. "I assumed I would no longer have to deal with her and her judgment of me," Alexie says. "She continues to haunt me, even more so now."
Sherman Alexie comes to at ALOUD at the Aratani Theatre on Tuesday July 18th at 7:00 p.m. »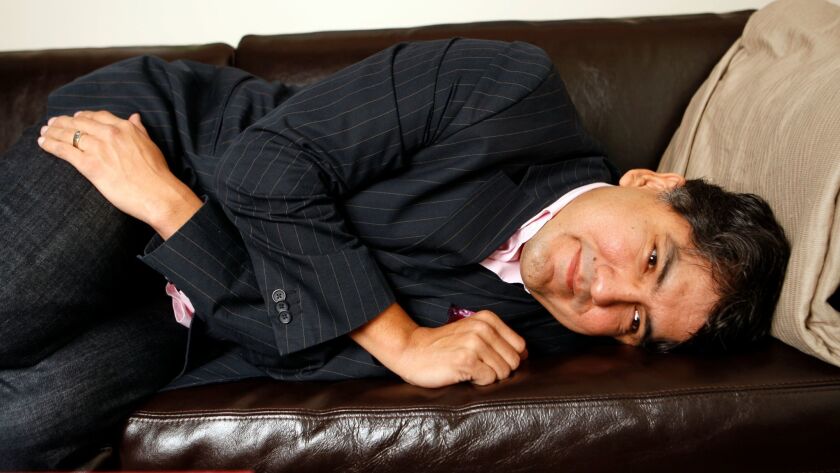 A difficult, complicated human being
Over a career spanning 25 years, Alexie has published two dozen books of fiction and poetry, along with writing and producing films and teaching at the Institute of American Indian Arts in Santa Fe, N.M. All of his work is personal, even autobiographical, wrestling with ideas about indigenous identity, family, politics and pain. But "You Don't Have to Say You Love Me" is his most raw, vulnerable book. In chronicling his childhood on the Spokane Indian Reservation in Wellpinit, Wash., Alexie ponders his brilliant and troubled mother, a woman he deeply loved and, at times, hated.
Lillian Alexie lived her entire life on the reservation; her character was shaped by the racism, poverty, alcoholism and sexual violence she faced, along with what her son figures was likely undiagnosed bipolar disorder (which affects Alexie himself). She was mercurial: cold, critical, withholding at some moments, rage-filled and verbally abusive at others. Alexie writes of the time Lillian hurled a soda can at his head, knocking him out. He was 10. Given his childhood history of hydrocephaly, brain surgery and seizures, this was a particularly cruel act. (In a book mostly about his relationship with his mother, his relationship with his own wayward brain is an important subplot; half a year after his mother died, still in a state of complex grief, he underwent surgery for a benign brain tumor).
"One of the things I realized during this tour, as I talk about her," Alexie says, "is that she was a difficult, complicated human being. And white guys have written hundreds of biographies about complicated, difficult men. You see white men reading them on airplanes all the time!" His book about his mother, he says, "is the same kind of book, except it's about an ordinary — in heavy quotation marks — native woman from an ordinary tribe in an ordinary place, but it's about her unrealized greatness as well," he says, "her unappreciated greatness."
It's no surprise that a woman like that — famous on her reservation for bringing food to funerals, one of the last native speakers of her indigenous language, a pathological liar and narcissist — would manage to hang around after death to haunt her son, no matter that he doesn't believe in ghosts or an afterlife. "I don't believe in magic, but I believe in interpreting coincidence exactly the way you want to," Alexie adds, laughing.
Much laughter
Talking on the phone from his home in Seattle, Alexie laughs easily. His writing often blends humor with sadness, and this wide emotional range comes through in conversation with him. In the new book, short chapters punctuate longer ones, and poems run throughout, with turns from funny to sad to funny that can stop a reader in her tracks. It's constructed, he writes, like one of his mother's quilt — an observation made by his wife, who emerges, along with his sisters, as the book's hero.
"I was consulting them constantly," he says. "I was so unsure of writing about an indigenous woman, even though she's my mother, that I wanted to make sure that I was being fact-checked spiritually, emotionally, technically by the indigenous women in my life. I wanted to make sure that my thought process was constantly going before the jury of the Indian women I love the most."
Alexie left his reservation schools to attend a nearly all-white public high school, where he "was the only Indian except for the mascot." It was the beginning of the bicultural life of an urban Indian. "I might have been indigenous to the land itself, but I was a first-generation cultural immigrant to the United States," he writes, a dual status his mother, who never left the reservation, never shared. "I'm up there standing on a stage or signing all these books, and I'm getting all this attention for these gifts I have," he says. "And I just start thinking about the ways in which my mother's gifts were never recognized. Were it not for racism and sexism and classism and all the difficulties that a native woman faced in her generation, she could have expressed those gifts, she could have been legendary."
Writing about Lillian — her gifts and her curses — changed him, Alexie says: "You ask the people closest to me, they would tell you there's been a small but dramatic change in who I am."
Donald Trump: More of the same
He's always been political. "I'd like to think I'm more pissed off in this moment but I don't think I am. I mean, Trump is horrible for the country and the world, but all presidents have been pretty equal in their horribleness for us. He's not new to us," he says. "When we look at Trump we see Andrew Jackson." But he's enthusiastic about the way our current politics could lead to a flourishing in Native American literature – a new movement of engaged, activist writers and artists springing up in the wake of the Dakota Access Pipeline protests.
"That focused indigenous energy is going to result in some amazing art, and I think it's going to start some amazing careers," he said. "There's this younger generation of natives that's so diverse in their interests, in their approach to the world, they're much more educated and world-aware … it's going to be an Algonquin round table with actual members of the Algonquin tribe!"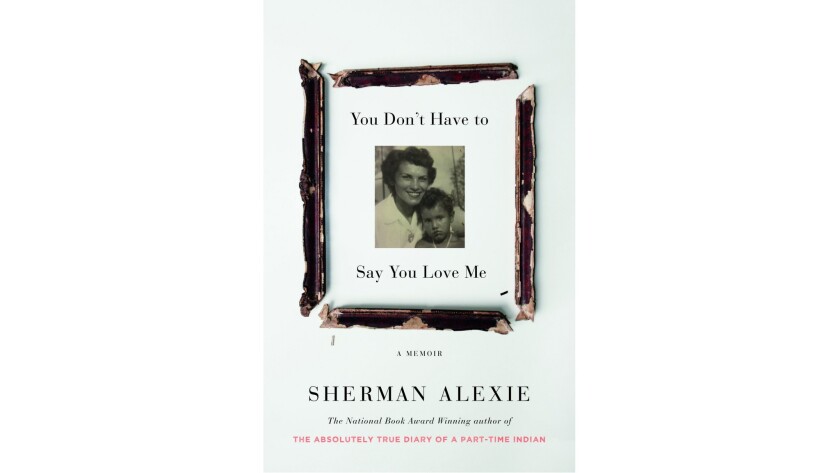 Brief moments of glorious connection
On an individual level, "I'm trying to operate without armor," Alexie says. "I'm going to say emotional things in the moment out of vulnerability, out of pain, things that could be wrong, things that could be wrong-headed, but I hope in doing that, that it inspires empathy in other people, not just Indians." As a writer, he continues, "I've had hundreds of brief moments of glorious connection with other human beings. And on this tour it's happening in an even bigger way than it ever has before. It's making me feel human."
Just being human is a political act, he argues. "One of capitalism's primary goals is to turn us all into wallets, into predictable algorithms. And I'm an inconsistent, messy, dysfunctional human being. I feel like saying, 'I don't know, I'm a mess' is resistance."
At readings, Alexie speaks aloud the Spokane words that were his mother's native tongue, that he had to learn in adulthood. One is the word for wild salmon, another for the mother of a son. "I talked about it with a friend," he says. "I talked about using these words for the first time in public, and how inferior and inadequate I feel, and she said to learn a language all you have to do is have the courage of a child." Here his voice cracks. "And so in writing this book and presenting it to the world and trying to re-embrace my mother, trying to forgive my mother, trying to forgive myself," Sherman Alexie says, "I'm just trying to have the courage of a child."
Tuttle is the president of the National Book Critics Circle.