Bad news times two for Barnes & Noble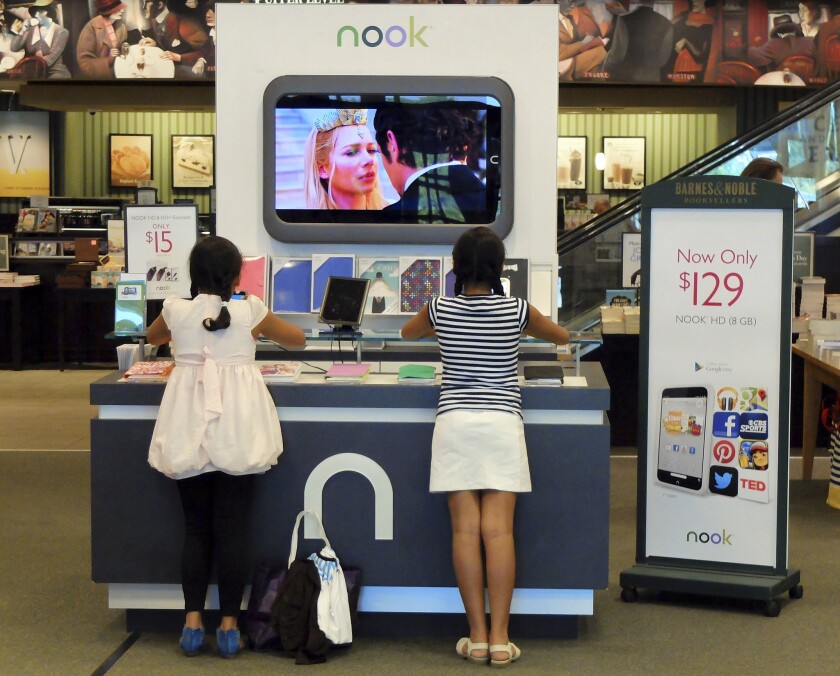 What with a disappointing report on earnings (they're falling) and the disclosure that founder Len Riggio is ceasing his effort to take over the company's brick-and-mortar stores, things are not looking good for Barnes & Noble.
And yes, Chief Executive William Lynch did resign in July, taking a severance of $3.65 million in cash and $5 million in stock.
What's going on? Oh, it's the poor Nook again.
Monday's earnings report shows that for its first fiscal quarter, Barnes & Noble's Nook experienced "a huge loss," according to USA Today. Revenue was down more than 20%, with sales of the e-reader itself and e-book sales slumping.
In June, trying to stanch the bleeding, Barnes & Noble announced it would stop producing its Nook color tablet. It will work with third-party partners to manufacture tablets instead.
Barnes & Noble's efforts to join the e-book revolution do not seem to be working.
Meanwhile, Riggio announced that he would not follow through on his effort to make a bid for the company's 675 brick-and-mortar retail stores. "While I reserve the right to pursue an offer in the future, I believe it is in the company's best interests to focus on the business at hand," Riggio said in a statement.
Such a move would have separated the retail business from the e-book and e-reader business. This sort of division had been underway: In 2012, Barnes & Noble spun off its Nook unit into a new subsidiary with the help of a $300-million investment from Microsoft (which got a 17.6% share of the division in return).
Riggio's announcement seems to have reversed those plans. "There are no imminent plans to pursue some kind of separation of the business," Barnes & Noble President Michael Huseby told the Wall Street Journal.
What does all this means for Barnes & Noble? Investors think it's bad news: On Tuesday, the company's stock price fell as much as 17%.
ALSO:
Should we by crying for Barnes and Noble?
Is J.J. Abrams' mysterious trailer linked to his upcoming novel?
Carolyn Kellogg: Join me on Twitter, Facebook and Google+
---
Get the latest news, events and more from the Los Angeles Times Book Club, and help us get L.A. reading and talking.
You may occasionally receive promotional content from the Los Angeles Times.