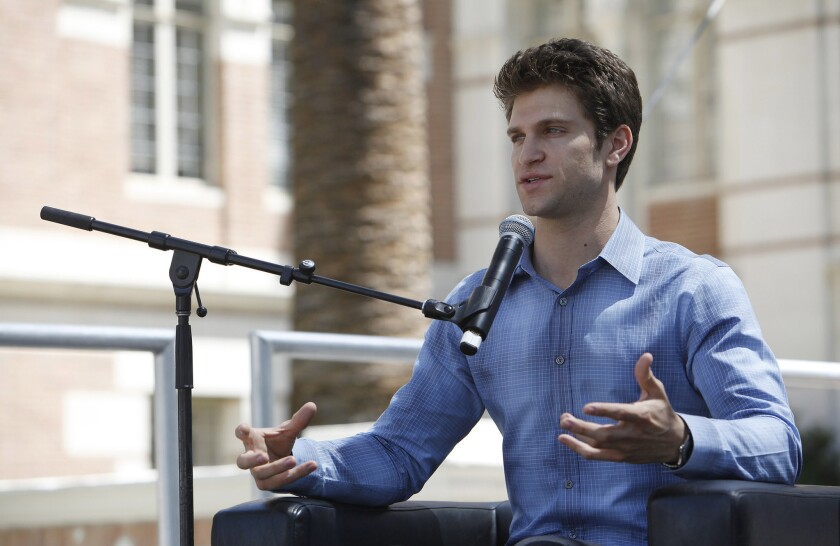 Tweens and young adults clutched copies of Keegan Allen's "life.love.beauty" book as they waited for the "Pretty Little Liars" star to take the stage.
Although Allen, known by his fans as Toby Cavanaugh, immediately snapped a picture of the crowd – whose faces were obscured by iPhones they were using to snap their own pictures – he cleared up any misconceptions about the role of photography in his life.
"I still don't consider myself a professional photographer," Allen said. "I consider myself a hobbyist."
FULL COVERAGE: FESTIVAL OF BOOKS
Although Allen's book is a photo book that takes readers on a journey of his life, he explained that the idea of turning photography into a job would make it less special for him.
"I like the idea of doing my photography as a cathartic thing," Allen said. "The moment it's a job it takes all the joy out of it for me."
When Yvonne Villarreal, the L.A. Times staff writer who interviewed Allen, asked him to talk about selfies, he shared his love of self portraiture and his belief that selfies don't give the same feeling because they allow people to manipulate themselves to look a certain way.
But he quickly added, "I don't think you should stop taking selfies."
"I think some parents here might disagree," Villarreal joked.
Although most of the crowd captured moments of Allen's panel on their phones, posting them to Instagram and choosing their filters, Allen urged the audience to take the time to snap pictures not only on their phones, but on a camera.
"Take pictures of things that you love and really involve yourself in capturing the moment," Allen said. "I think the iPhones are great … but I think having an actual physical camera is great."
Some audience members asked about how to capture moments and parents in the crowd asked for advice for kids, and Allen talked easily with them. He spoke about the book he's working on, but wouldn't give details beyond the theme, which he says is "classic and dark."
When one young attendee asked him to her prom in downtown, Allen stopped to consider it.
"I may be in Ohio shooting … or I may be working. But we'll see," he told her.
The session ended with, of course, a snapshot on Allen's phone of the crowd.
"USC," he shouted and the crowd cheered.
Check out the Festival of Books schedule for this weekend.

MORE FROM THE FESTIVAL OF BOOKS:
What's the secret to making a crime novel work?
Dav Pilkey's 'Captain Underpants' will be made into a movie
Follow the books section on Twitter @latimesbooks and Facebook
---