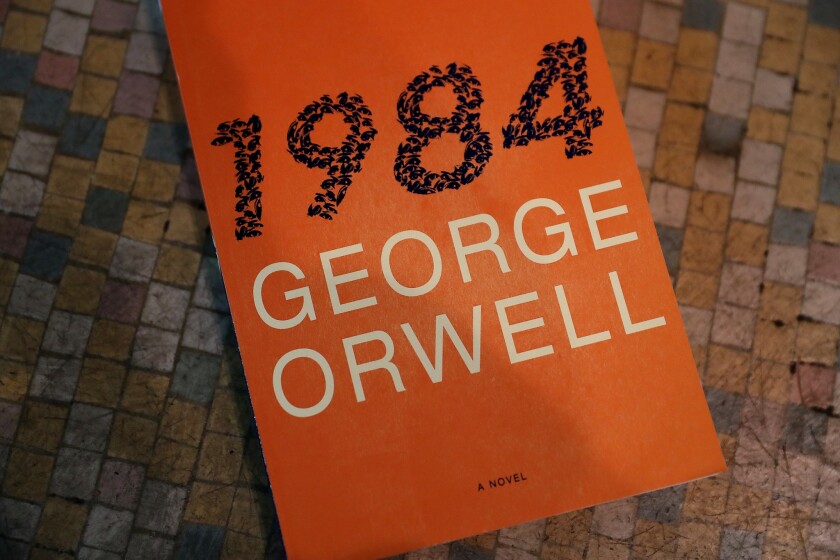 Lucky readers in San Francisco — 50 of them — got free copies of George Orwell's "1984" at a local bookstore.
A "mystery benefactor" bought the copies of George Orwell's dystopian satire at Booksmith and asked that they be given away free to interested customers, the San Francisco Chronicle reports. Booksmith is located in San Francisco's famously progressive Haight-Ashbury district.
The Orwell books were claimed, but the giveaway idea caught on. Another patron purchased copies of Margaret Atwood's novel "The Handmaid's Tale" and Erik Larson's nonfiction book "In the Garden of Beasts: Love, Terror, and an American Family in Hitler's Berlin" to be given away to shoppers.
Orwell's "1984," a dark vision about a Britain taken over by a totalitarian regime that uses "doublethink" and "Newspeak" to mislead and control its citizens, has seen a spike in sales since late January, after President Trump's advisor Kellyanne Conway appeared on "Meet the Press" and used the term "alternative facts" to defend the administration's provably false statements about the size of the crowds at the inuaguration.
The book shot to the top of Amazon's bestseller list, and its publisher, Penguin, announced it was ordering a 75,000 copy reprint of the novel.
As of Monday morning, the book remained the third-bestselling book on Amazon. Atwood's "The Handmaid's Tale," about a theocratic regime that takes over the United States and strips women of their civil rights, was No. 1.
The No. 2 bestseller was "Dangerous," the forthcoming book by "alt-right" provocateur Milo Yiannopoulos.
In January, Booksmith announced that it would not be stocking Yiannopoulos' book, adding that it planned to cut orders from its publisher, Simon & Schuster, by 50%.
The store also said it would donate all its profits from Simon & Schuster books "for the foreseeable future" to the American Civil Liberties Union.
The high demand for "1984" hasn't just affected online and brick-and-mortar bookstores. All copies of the book at the San Francisco Public Library have been checked out, with 65 patrons requesting holds on the novel.
At the Los Angeles Public Library, dozens of copies of the book have been checked out, but as of Monday morning, some were still available at branches across the city.
Christin Evans, the owner of Booksmith, said other would-be benefactors have contacted the store, inquiring about setting up book giveaways of their own.
"This has become a way for bookstores to play a role in this political climate," Evans said. "Bookstores believe greatly in the power of the written word to help inform, educate, inspire and persuade."
ALSO
Joyce Carol Oates tackles abortion in her powerful novel, 'A Book of American Martyrs'
At the last reading of exiled Iranian poet Mohsen Emadi before he is barred from the U.S.
Review: For a doorstopper, Paul Auster's '4 3 2 1' is surprisingly light
---