Google Doodle celebrates the work of John Steinbeck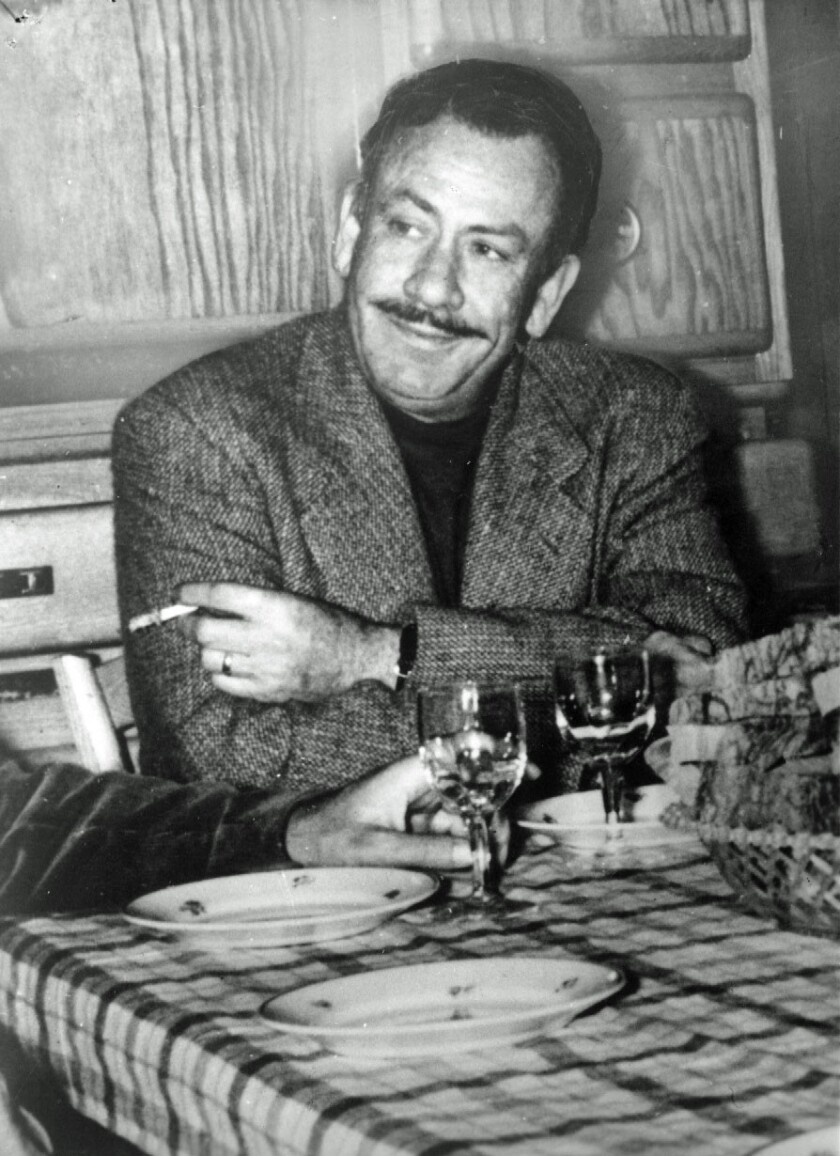 The 112th birthday of John Steinbeck was celebrated Thursday with a Google Doodle dedicated to his work. Born in Salinas, Calif., Steinbeck was a college dropout who won a Nobel Prize for literature in 1962.
The Google Doodle pulls quotes from three of Steinbeck's novels -- "The Grapes of Wrath," "Cannery Row," "Of Mice and Men" -- all of which sympathetically portray working-class men in difficult conditions. That kind of social novel is rarely found in contemporary literature; it's interesting that Google has chosen to highlight his writing.
The Google Doodle features illustrations that portray the stories in his books and quotes from them. The fourth and final book highlighted in Steinbeck's 1960 memoir "Travels With Charley," about his road trip in pickup accompanied by his dog across America. The country he found, he wrote, was "This monster of a land, this mightiest of nations, this spawn of the future turns out to be the macrocosm of microcosm me."
Steinbeck was born ito a former schoolteacher mother and a father who was never particularly successful in business. Steinbeck attended Stanford intermittently over six years, never quite finishing. He tried living in New York briefly but returned to California, where he began publishing books that didn't find traction.
Steinbeck's breakthrough was "Tortilla Flat," the humorous 1935 novel about life in Monterey. He then quickly published the more serious "In Dubious Battle" (1936), "Of Mice and Men" (1937) and "The Long Valley" (1938). Those books built his reputation.
But it was cemented by "The Grapes of Wrath," published in 1939. The book followed a family displaced by the Dust Bowl who move to California to become migrant workers. Touching a chord in the Depression, it was at one point so popular that the novel sold 10,000 copies per week.
He went on to publish a dozen more books, including "East of Eden."
During his acceptance speech for the Nobel Prize, Steinbeck made a case for literature being an urgent, lively art. "Literature was not promulgated by a pale and emasculated critical priesthood singing their litanies in empty churches -- nor is it a game for the cloistered elect, the tinhorn mendicants of low calorie despair," he said.
"Literature is as old as speech. It grew out of human need for it, and it has not changed except to become more needed. The skalds, the bards, the writers are not separate and exclusive. From the beginning, their functions, their duties, their responsibilities have been decreed by our species....
"The ancient commission of the writer has not changed. He is charged with exposing our many grievous faults and failures, with dredging up to the light our dark and dangerous dreams for the purpose of improvement," he said.
"Furthermore, the writer is delegated to declare and to celebrate man's proven capacity for greatness of heart and spirit -- for gallantry in defeat -- for courage, compassion and love. In the endless war against weakness and despair, these are the bright rally-flags of hope and of emulation."
ALSO:
'Fifty Shades of Grey' trilogy tops 100 million in worldwide sales
Jack Black to star in 'Goosebumps' film adaptation due in 2016
Carolyn Kellogg: Join me on Twitter, Facebook and Google+
---
Get the latest news, events and more from the Los Angeles Times Book Club, and help us get L.A. reading and talking.
You may occasionally receive promotional content from the Los Angeles Times.